1 Comment
Published on:

July 10, 2020
Last updated:

January 10, 2022
Do you want to start selling jewelry online or in-store? Whichever selling path you take, we've got the steps and tips for you on how to start a jewelry business. Read on!
One of the greatest feelings on earth as an artist is the immense joy that comes from sharing your creations with the world and seeing people appreciate the beautiful things you created. Such is the case for jewelry designers who long to extend their space from creating to selling. In the first place, no jewelry is complete until it is worn.
However, selling is an entirely different world from your design space. Jewelry making or designing is a designed expression in which it seeks to communicate the values of the makers. The challenge in selling lies in your ability to transfer that meaningful expression to your potential wearers or buyers so that they, too, can see the value in your creation, assign personal and unique meanings to it, and ultimately, define it beyond its tangibility.
Selling is convincing, but persuasion is extremely difficult especially in an over-saturated market where millions of you are trying to convince millions of buyers to buy the same product category. In fact, Allied Market Research, a global market research and business consulting firm, expects the fashion jewelry market to reach $59.7 billion by 2027 and the global jewelry market at $480.5 billion by 2025. It's a highly competitive landscape but worth a try.
If you're a newcomer who wants to start a jewelry business, continue reading! You can wiggle your way into the jewelry market with an impeccable project plan and a fresh outlook on this age-old craft. Here's how!
How to Sell Jewelry in the New Normal
If you were struggling before COVID-19, you will struggle more post-crisis, that is if you're still in business. Thankfully, you don't have to just sit and watch your business crumbles...
5 Essential Tips on How to Start a Jewelry Business
1. Conduct thorough market research.
Market research is crucial for those of you who are starting a new business. It helps get to know your target audience, your competitors, and your competitive edge, which prepare you for any threats and weaknesses. Further, it also shows you the potential of your business and the strengths that you can leverage to healthily compete in the market.
For instance, if your target audience is the millennial generation and your research shows that 90.4% of millennials are active social media users, you'd know that your marketing strategy should focus on Facebook and Instagram more than on traditional print; otherwise, you'd be missing your target audience.
Never shrug off market research. When done thoroughly, it will help you make better business decisions.
2. Clearly define your goals.
Goal setting has always been the first step to achievement. Define your goals clearly before you start with all the demanding tasks as those goals will give your business a direction and help you identify ways to measure your successes while at the same time, motivate you to do all the work.
If you can, try to separate the short and long-term goals. Never underestimate the power of short-term goals. These goals will pave the way for achieving your long-term goals by serving you like a step-by-step system that guards you towards the end goal. Unlike long-term goals, short-term goals tell you where to start and make those broad and often complex and distant long-term goals achievable by a series of milestones.
This is also the point where you write your mission statement, which includes essential components such as your target audience, your product, and the things that make your product unique or the reasons why your target audience should buy it.
3. Create a realistic cashflow forecast.
You should be able to predict the amount of cash you need to run your business while waiting for profit.
Cash flow is the flow of money in and out of your business. Forecasting your cash flow is critical so that you know where to save money to keep a positive cash flow, especially during your pre-trading period; Otherwise, you'll be out of business as soon as suppliers start to demand payments and your bills start coming in.
Make it a habit to maintain your cash flow forecast regularly, analyze different business indicators, and make the forecast as accurate as possible.
4. Complete the necessary paperwork.
This pertains to the legalization of your business; hence, it involves licenses and business permits. If you're planning to run your business from home or online, make sure that you are familiar with all the requirements for home businesses.
As a budding entrepreneur, legalizing your business is a smart choice as it would help you establish business bank accounts, serve as proof in case of a business loan application, and an assurance to your customers of your business legitimacy.
5. Design your brand identity.
Brand identity refers to the visible components of your brand.
Your brand identity includes the following:
Logo
Packaging
Web design
Business cards
Social media graphics
Your brand identity should be consistent across all platforms as this is what will make you recognizable instantly to your customers, and in the process, creates a deeper connection between your brand and your customers; thereby, increasing brand loyalty. In fact, customers' increased exposure to a brand logo leads to increased brand recognition and elevated brand recognition can aid you in analyzing your overall brand health.
Now that we've laid down the foundation, keep them in mind as you inch your way along.
Below, you will find a brief step-by-step guide on how to start a jewelry business. Read on and unleash the savvy entrepreneur in you!
How to Start a Jewelry Blog for Your Business
Do you want to start a jewelry blog for your business but don't know how to start? Make your downtime count by business blogging! A jewelry blog is another marketing...
How to Start a Jewelry Business
Step 1. Find your product category.
Starting a jewelry business is like writing a short story. In writing a short story, literary idol Kurt Vonnegut offered his advice and said, "Write to please just one person. If you open a window and make love to the world, so to speak, your story will get pneumonia."
The same applies to a jewelry business. Create and design for a particular market; otherwise, you'll end up speaking to and trying to convince the wrong audience, and then you'll wonder why your business is not taking off.
Finding your product category is crucial because you can't compete with everyone, you can't do everything, and you can't talk to different people with different behaviors, needs, and wants using the same tactic.
The two most common jewelry categories are:
Made of precious and semi-precious stones and assembled with excellent craftsmanship. With precious gems and metals, fine jewelry is considered a luxury; hence, it has a higher price point.
Unlike fine jewelry, fashion jewelry is usually made of less expensive materials like brass, aluminum, or copper. As such, it tarnishes easily. Meanwhile, others are made of textiles and other decorative materials. Fashion jewelry is not made for special occasions but usually to make a fashion statement or compliment a daily wardrobe.
As you can see, simply identifying your product category can easily set your direction, especially since each jewelry type has its own materials, price points, production processes, and selling points.
Once you have decided on which direction to go, it would be easier for you to identify your ideal customers. For instance, if you decide to sell fine jewelry, you can focus on selling wedding bands and engagement rings. Brides, grooms, couples will be your ideal customer. As such, you can say your jewelry is occasion-specific, particularly ideal for weddings, engagements, and anniversaries. This step will tell you how to speak to your market.
How to Find Your Jewelry Niche Market
Does your niche hit your target market? Your goal of gallivanting around the world while managing a profitable online jewelry business is driven by the desire to live your passion....
Step 2. Decide on your production process.
Once you have identified your product category, decide how you'll develop your jewelry pieces. You should consider the job that needs to be done for your chosen product category, the knowledge and skills you have, and the tools and equipment.
There are many ways to start production. For instance, if jewelry making is your passion, then you can produce your own products. You can also make the design and look for a manufacturer who can make them for you.
Let's take a look at the tasks involved for each category.
Fine Jewelry

Fashion Jewelry

Production Processes
Designing a 3D model
3D wax printing
Cutting and metal forming
Soldering
Casting
Assembly
Stone setting
Enameling
Polishing
(depends on the type of fashion jewelry you're making)
Bead weaving
Metalsmithing
Wiring
Clay heating/marbling
Tools and Equipment
Burs and drills
Casting supplies
Files
Metal forming tools
Solder
Welding system
and other supplies
Pliers
Wires
Awl
Hammer
Scissors/Tweezers
Beads, bead needles, and beadboard
Adhesives
and other supplies
Fashion jewelry is easier to scale. The supplies cost less and you can find a bevy of suppliers that provides an attractive offer for bulk purchases. Outsourcing the assembly process is also possible.
How to Sell Jewelry to Self-Purchasing Women
How to sell jewelry to self-purchasing women (SPW)? If you have observed the recent trends, you've probably already noticed the way women are transforming the marketplace – Women no longer...
Step 3. Explore places where you can sell your jewelry.
After settling your supplies, explore different places where you can sell them and decide on them. You can put up a small physical store, sell them online, or go for hybrid channels. Note, however, that setting up a brick-and-mortar store is more costly. Hence, other budding entrepreneurs would start retailing online first and once they acquired an established following, will extend their operation offline.
There's a vast market for you online, but the competition here is fiercer. Below are a few of the e-commerce platforms where you can list your jewelry products.
Aside from listing your products on any of those e-commerce platforms, you can also build your own web store. Owning a standalone web store gives you more freedom and selling operation control. It is also an excellent option to build a more personalized customer shopping experience and establish a more meaningful, deeper connection with your customers.
What Makes a Good Jewelry Website
There are two key elements of what makes a good jewelry website. The first key element is an amazing visual representation, and the second key element is an exceptional user…
Step 4. Plan your visual product presentation.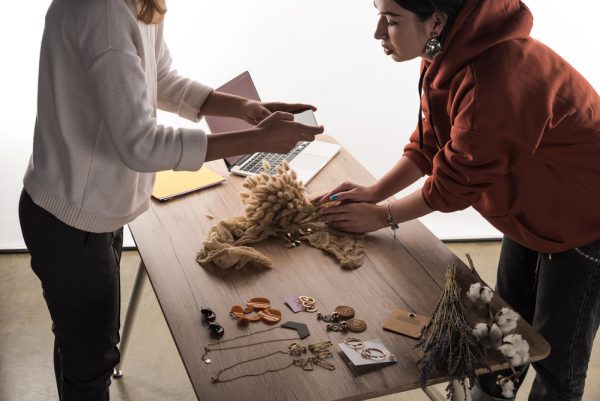 According to one of Etsy's customer surveys, 90% of shoppers said that the quality of product images was extremely important to a purchase decision. Hence, product photography is a major component of your overall jewelry business plan as it can make or break a sale.
Your visual product presentation can be divided into two categories:
If you're not a professional photographer, you'd find that jewelry is one of the most challenging products to photograph. This is largely due to the characteristics of its materials which are reflective, tiny, often with intricate designs, and the color accuracy of gemstones could be tricky to master. Don't be scared, though. With constant practice, you'll soon be your own master jewelry photographer, but first, you must have the necessary photography equipment to get it done.
The equipment includes but is not limited to the following:
Camera (DSLR/Smartphone)
Macro lens
Lighting sources
Jewelry holders and other props
Light tens and light boxes
If you plan to DIY your photography process, be prepared to source alternative tools. For instance, you will need a white foam board or rolls of white paper for a perfectly white background jewelry image. However, getting your DIY set up ready for every photoshoot could be time-consuming in the long run, especially if you have a massive jewelry inventory.
The jewelry industry is not alien to innovation. Over the past years, a lot of tools and technologies have been introduced to the market. This innovation has even extended to jewelry photography. For instance, Picup Media's GemLightbox, an all-in-one jewelry photography solution, was designed to make jewelry photography simple and convenient — so straightforward that you can capture studio-quality images with just a click of a button using your smartphone.
The second component of your product visual presentation is 360 jewelry videos.
There are many reasons to use 360 jewelry videos when you start selling your jewelry products. Among these are:
Jewelry videos enhance your customers' online shopping experience.
Its ability to show jewelry from all angles helps reduce the rate of product returns.
Not all jewelers leverage jewelry videos; hence, it makes you stand out from the competition.
Your desire to improve your customers' visual shopping experience aids in establishing trust and customer confidence.
Lastly, it increases the conversion rate.
Shooting 360 jewelry videos is more complicated than capturing still images. Innovations like the GemLightbox have solved this difficulty by enabling jewelers to capture 360 videos in just a click.
How To Create 360-Degree Gemstone Videos
Following up from our gemstone photography series, in this guide we'll teach you how to create 360-degree gemstone videos with no photography knowledge. Similar to jewelry, polished and rough gemstones…
Step 5. Sell your jewelry and promote it.
Finally, it's time!
Open your store to the public and promote it on different social media platforms. There's a lot of noise on social media, but don't be scared or intimidated. As you go along, you'll learn to navigate the interactive and engaging world of Facebook, Instagram, Twitter, or whichever platform you chose.
Don't forget to apply the brand identity tip we mentioned at the outset. Have a consistent business profile and logo so that your customers are aware that it is your brand. This increases the level of brand recognition.
Aside from consistent brand identity, always be consistent with your social media posting as regular activity will help you gain followers faster than being a passive account. However, don't be too spammy as this could annoy your followers and they might 'unfollow' you, in the process.
Despite the concept that the more you post, the more visibility you get, you should be careful about the type of content you're putting out there. Remember that quality posts beat quantity all the time. Further, Hubspot reports that the majority of marketers post between 1-6 times per week and this should be optimal unless you have online events, campaigns, or multiple product launches that require frequent postings.
Overall, build a social media routine that supports your business until you're able to establish a strong social media presence. When you finally reach it, don't neglect the online community that you built. Engage with your followers, build connections, and watch your brand grow.
Are You Ready to Start Your Jewelry Business Today?
And there you have it!
Starting a jewelry business seems daunting but successful businesses exist because they all made a courageous decision. It's time to make yours!