GemLightbox Pro Bundle

Revolutionize your jewelry photography.
The GemLightbox Pro enables jewelers to effortlessly capture high-quality images and videos using only their smartphone.
Showcase your entire inventory, from dangling pieces to flat designs. Simply download the GemLightbox App, connect via Bluetooth, and click to capture.
---
GemLightbox Pro features include:
x2 built in turntables - base and aerial

Adjustable lighting - 'yellow' and 'sparkles' add-on lights

Burst mode - capture 4 photos and 1 video at once
12 month complimentary Unlimited GemHub
Unlimited Background Removal
Unlimited Retouching
Unlimited catalog creation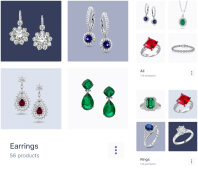 Unlimited AI Description
Key words:
Luxury
Diamond
Short
This beautiful diamond ring is perfect for any occasion. Its brilliant shine and elegant design will dazzle anyone who sees it.
And many more features
Trusted by 20,000+ Jewelers
How it Works
Effortlessly capture studio-quality photos for all your diamonds and gems with the power of AI.
GemLightbox PRO
Gemlightbox Pro Features
Adjustable lighting technology
PRO comes with 2 additional add-on lights ("Yellow" and "Sparkles") to help you bring out the true color and sparkle in all your jewelry items.
Built-in Aerial turntable
Built-in GemLightbox Aerial turntable allowing you to hang and dangle your jewelry. Capture 360 videos of watches, necklaces, pendants and earrings using the built-in turntable.
Place all your larger jewelry items like rings, watches, brooches and other pieces onto the flat base turntable.
Simply plug and play - no setup required!
Become a Digital Jeweler Today!
Tanya Newbould from Del Pozzo Jewelry
Tanya Newbould of Del Pozzo Jewelry enthuses over the revolutionary influence of the jewelry virtual try-on feature on her business. Absolutely upping her game, Tanya raves, "This is the best product on the market!"
GemLightbox PRO
Photography Automation
Use burst mode to automatically capture 4 photos and 1 video in 15 seconds.
Dominate Social media
Shoot and upload images and videos directly to your social media and websites.
Adjustable Pro Lighting
Add "Yellow" or "Sparkles" to your fine gems to capture true color!
Plug and Play
No setup! Download the GemLightbox App and you're ready to go!
30 Days
Money back guarantee*
Got a question? We're here to help!
How long does shipping take?
All order are shipped out of our warehouse with tracking and insurance. Shipping will be 3-7 working days depending on country. Orders to the United States generally arrive within 5 working days.
What's the difference with PRO and Original?
GemLightbox PRO is bigger, faster and has adjustable lighting. The Pro comes with 2 built-in turntables and has a 30% larger photography shooting space than the original.
What's the return & warranty policy?
You have 30 calendar days to return the GemLightbox from the date you purchase it. The warranty period is 1 year from the date you receive your GemLightbox. For complete details on our returns, refund & warranty policy, please visit this page here.