3 Comments
Published on:

November 18, 2018
Last updated:

January 10, 2022
Table of Contents
Following up from our gemstone photography series, in this guide we'll teach you how to create 360-degree gemstone videos with no photography knowledge.
Similar to jewelry, polished and rough gemstones are now increasingly making its way into e-commerce and social media platforms. Gemstones face problems similar to their jewelry counterparts when it comes to photography. That is, most gemstones are very small in size and exhibit special properties when interacting with light. However, under the right lighting conditions gemstones, can be presented beautifully and professionally to create positive buying behavior.
In fact, product images influence the buying decision for 88% of online shoppers. So if you have poor images, it's very likely you'll have poor sales. On the flipside, great images mean greater sales chance of sales. Now with the introduction of 360-degree product videos, conversions have been reported to increase by up to a further 30%. It's a no-brainer for the modern gemstone trader to post video content as part of their sales and marketing strategy.
Now the question is, how? In normal circumstances, 360-degree product videos require extensive photography knowledge and equipment, as listed out in our 360-degree jewelry product video guide.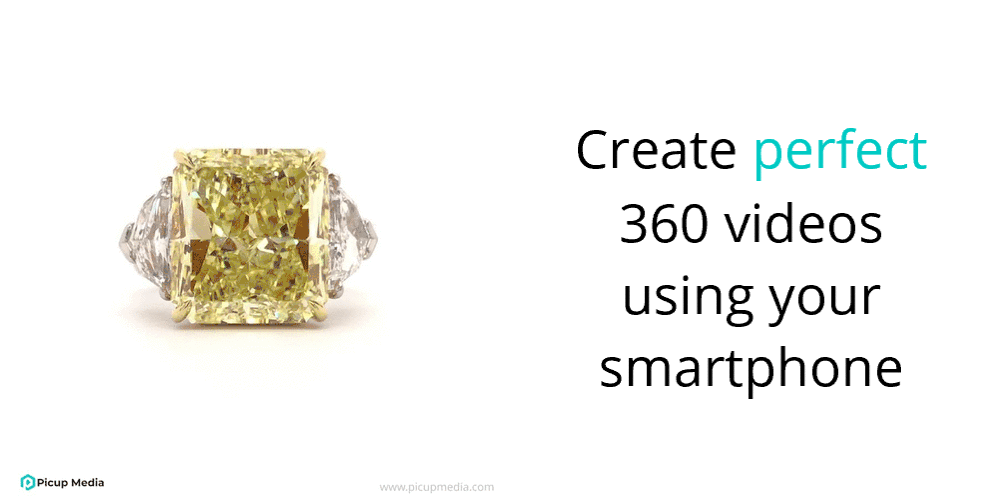 At Picup Media, we've simplified both the gemstone photography and videography process. If you're new to 360-degree gemstone videos, you can start shooting perfect 360-degree gemstone videos using just the following:
1. Your smartphone
Before smartphones, we had just phones. The phone camera has progressed significantly since the initial release of the first camera phone in November 2000, the Sharp J-SH04. The camera had a 0.11MP rear camera and a 256 color display which is hardly anything exciting. Fast forward to 2005 when the Sony Ericsson K750i with a 2MP camera was released. Then began the race of camera phones to have the highest number of megapixels in the camera, with the release of Nokia 808 Pureview boasting a 41MP camera in 2012.
After years and years of development, mobile phone companies had decimated the camera industry, with your point and shoot cameras literally gone extinct. The modern smartphone allowed users to use a single device to capture high-quality images and videos and instantly share them with the world. It's not different for doing business – images and videos are essential parts of selling where customers expect information to readily available. There's no need for your everyday gemstone trader to use professional cameras and lens kit for their photography.
How to Photograph Jewelry With Smartphones
Learn how to photograph jewelry with iPhone and other smartphone devices with these five social photography tips for jewelry retailers.
Photography derives from its Greek roots, which translates to the "drawing of light". What means is the better the light, the better the drawing. We estimate about 80% of the quality of images is the result of lighting. Luckily for you, we have created the perfect lighting conditions for gemstone photography inside of GemLightbox so that 80% of the work is already done for you. Each LED inside of GemLightbox has been programmed to give the highest possible color accuracy with your images.
Earlier we mentioned that many gemstones exhibited special properties when interacting with light. There is iridescence in opals and ammolites, and pleochroism in tanzanites and tourmalines. To highlight these unique features, simply turn on "Sparkles" which fitted inside every GemLightbox.
Also, you can attach a polarising filter to your camera lens to further capture the unique features of gemstones.
The GemLightbox Turntable is the latest addition to the Picup Media's range of jewelry photography solutions, allowing anyone with a smartphone and a GemLightbox to capture studio-quality white background videos.
The GemLightbox Turntable operates by inserting the unit into an existing GemLightbox. Using the supplied power cord, plug both sides in the power socket located in the interior of the GemLightbox and on the side of the Turntable. Once the power is turned on, users can control the GemLightbox Turntable by connecting wirelessly via Bluetooth through the GemLightbox application. The GemLightbox application is available to download for free on both the App Store and Google Play.
Once connected, users can adjust the rotation, speed, focus, and brightness before capturing a perfect 360 gemstone video. Be sure to handle your gemstones carefully by using gloves or tweezers to avoid oil or dirt marks as these will be captured in your video.
The images and videos captured are saved in your phone's native formats (.jpg, .mp4 or .mov) before being safely stored on the GemLightbox gallery, separate from your personal files. Watch the video below to see a demonstration of a perfect 360-degree gemstone video using the GemLightbox Turntable.
It can't get simpler than that right?
4. Share your Videos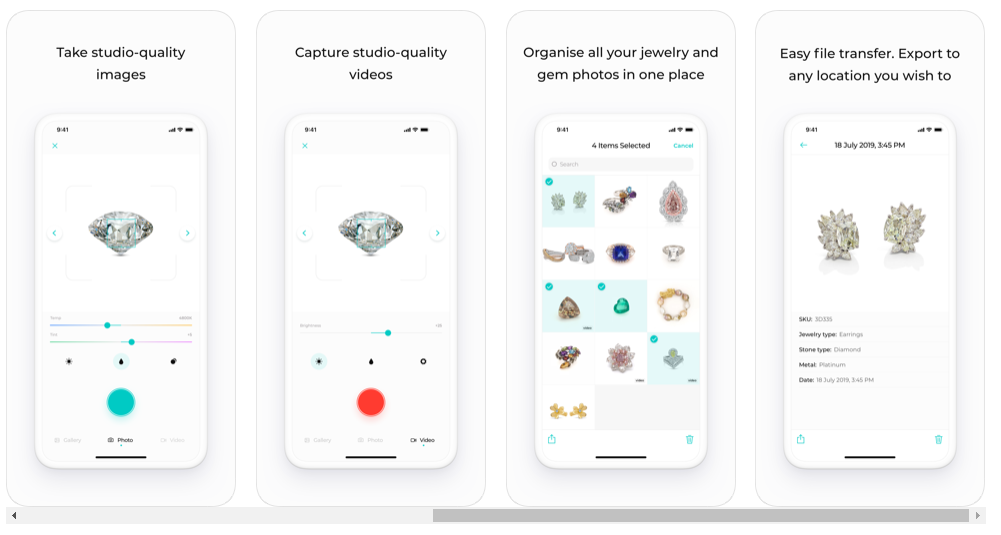 Sharing your videos is very easy with the GemLightbox application. Simply go to your gallery in the GemLightbox application and tap "Select" in the top right-hand corner. Now in "Select" mode, choose the videos you'd like to share. Once selected, tap "Export" in the bottom left-hand corner. Several options to export the file should appear. Choose the platform you'd like to export the video. You can read our blog here on how successful jewelers are using 360-degree videos recorded from the GemLightbox Turntable to sell more online. The same concepts will apply to gemstone traders.
And there we go! Only 3 pieces of equipment and no training required. How easy was that! To see some of these 360-degree videos in action on the Picup Media Instagram page. Your Instagram page can be like this too!
Anything is possible with the GemLightbox. If you have any questions about GemLightbox or GemLightbox Turntable, feel free to get in touch here!