0 Comments
Published on:

May 30, 2022
Last updated:

July 20, 2023
SYDNEY, AUSTRALIA— Following his company's remarkable triumph at the Jewellery World Awards last February, entrepreneur and inventor of the jeweler-favorite GemLightbox, William Chu has made it to the prestigious Forbes 30 Under 30 Asia 2022 List.
Now in its 7th edition, the list features 30 notable honourees selected for each of the ten categories such as The Arts; Entertainment & Sports; Finance & Venture Capital; Media, Marketing & Advertising; Retail & Ecommerce; Enterprise Technology; Industry, Manufacturing & Energy; Healthcare & Science; Social Impact; and Consumer Technology.
Chu, 29, is one of the 30 outstanding honourees in the Retail & Ecommerce category. In his Profile for the list, Forbes recognized Chu's business thinking as he successfully identified a gap for an alternative in the jewelry market. Filling the gap with the production of the GemLightbox and all other GemLightbox products that came after the smashing release of the former, Hongkong-based Picup Media, headed by Chu, is now a company that provides solutions to over 12000 jewelers and has captured over 5 million jewelry images using just a smartphone.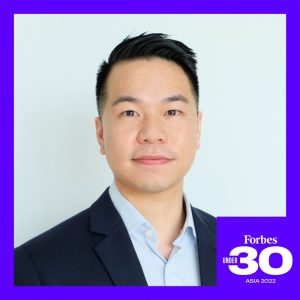 Born in South Africa and raised in Australia, Chu is not a stranger to the jewelry industry. He was born to a family of jewelers, a trained goldsmith, and a bench diamond jeweler for over ten years before he started carving his own path in the same industry. As a former jeweler, there's no better man than him who can offer solutions to jewelry photography-related problems. He knows the market because he was once the market. Today, he's focused on providing more innovative solutions to help jewelers navigate the digital jewelry world—from hardware like the GemLightbox products to software like the GemLightbox application, augmented reality, and artificial intelligence all within the Jewelry Hub.
The Forbes 30 Under 30 Asia List started with over 4000 online nominations before it was cut down to an initial shortlist of 500 semifinalists where the final 300 get selected. Honourees were vetted and selected by a panel of veteran judges and industry experts including the judges for the Retail & Ecommerce category Miki Mikitani, CEO Rakuten (Japan); Kishin RK, Founder & CEO, RB Capital Group (Singapore); and Allan Zeman, Founder & Chairman, Lan Kwai Fong Group (Hong Kong).
The criteria for judging include the demonstration of leadership, impact, potential for success, and the embodiment of the entrepreneurial spirit. Other factors like innovation, disruption, and the size and growth of ventures in their respective category are also significant in making the final decision.
"I am truly humbled and honoured to be in the company of such brightest young entrepreneurs. I thank Forbes Asia, the Jewellery World Awards, the jewelry industry, and my team for the trust and support. Let's continue to advance the global jewelry and gemstone industry by encouraging innovation and excellence."

-William Chu
When not globetrotting his way to the next jewelry exhibit (sans the pandemic) or designing new solutions for jewelers, Chu stays at home in Sydney but never not challenging the norm and doing the impossible.