GemLightbox Macro
GemLightbox Macro
Watch how to capture studio quality images and videos
GemLightbox Macro
Take photos and videos of your loose stones!
Pioneered by our team at Picup Media, GemLightbox Macro is engineered using market-leading technology to capture magnificent 10X magnified images and videos of loose diamonds and gemstones ranging from 0.1 carat to 50 carats – in just one click using your own smartphone!
Trusted by 20,000+ Jewelers
Introducing GemLightbox Macro
Everything you need to know to get started
GemLightbox Macro
Results that sell
Examples below have been shot using GemLightbox Macro
Become a Digital Jeweler Today!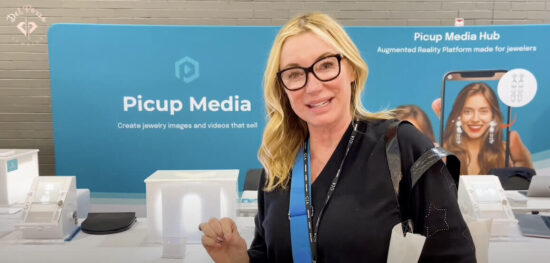 Tanya Newbould from Del Pozzo Jewelry
Tanya Newbould of Del Pozzo Jewelry enthuses over the revolutionary influence of the jewelry virtual try-on feature on her business. Absolutely upping her game, Tanya raves, "This is the best product on the market!"
GemLightbox Macro unique qualities
4 lighting options
Light your photos like a professional with 4 lighting options for utmost color accuracy.
One click photography
Save time! Photograph studio-quality photos in one click with your smartphone.
10X Macro
10X magnification lens to capture all the details of your gemstone or diamond
0.1ct - 50ct
Macro supports loose stones of all types from 0.1 carats to 50 carats in size
30 Days
Money back guarantee*
Frequently Asked Questions
Have a question? We've got you covered.
How long does shipping take?
All GemLightboxes are shipped out of our warehouse with tracking. Once the order has been placed and confirmed, our team will take up to 3 business days to ship the item out. Shipping takes between 3-10 working days depending on the destination.
What size loose stones can I capture?
The GemLightbox Macro can photograph stones from sizes of 0.1ct to 50ct. We have 3 different sized stone holders to cater for all your gemstones sizes.
Are there any additional lights?
GemLightbox Macro has a white light (5500K), blue light (6500K) and yellow light (3500K). It also has a "Sparkle" light for bringing out the sparkles in faceted stones
Can GemLightbox Macro capture rubies, emeralds and sapphires?
Yes, GemLightbox Macro can capture photos and videos of rubies, emeralds, and sapphires. We have 3 different lighting settings allowing you to capture gemstones of all kinds. Every LED is color calibrated at a high color accuracy to ensure true colors of your gemstones are reflected in your photos and videos.
What's the return & warranty policy?
You have 30 calendar days to return the GemLightbox from the date you purchase it. The warranty period is 1 year from the date you receive your GemLightbox. For complete details on our returns, refund & warranty policy, please visit this page here.
Can you ship to my country?
Yes, we work with jewelers from all over the globe and can ship to anywhere in the world!
Still need a Photography hardware?
Get your jewelry images edited to perfect by our retouching team, remove fingerprints, blemishes and scratches.