5 Comments
Published on:

July 31, 2018
Last updated:

July 17, 2023
How important is jewelry photography?
If you're one of the online jewelry retailers who hasn't thought about it, try again. You'd be surprised at how much you're letting potential customers out in the cold just because you don't know the determinants of their purchase decision.
One of these factors is the quality of your jewelry photos.
According to one of the few studies, pictures exceed texts in efficiency and effectiveness when buyers are purchasing familiar products. Additionally from a different study, product photos proved to increase customers' enjoyment and trust in the brand, especially when combined with social presence; for instance, using human models in photos.
What does this mean for you?
High-quality jewelry photos = product understanding = customers' enjoyment = brand trust = purchase intention = SALES
Don't let poor-quality jewelry photos hurt your sales.
Read on so you'll know whether your jewelry photography department is screaming for help.
9 Undeniable Signs You Need Help With Jewelry Photography
Do you recognize any of these unmistakable signs when you look at your jewelry photos?
1. Your jewelry photo has a busy background
When it comes to jewelry product photography, a simple background can go a long way because simplicity will often serve the purpose. Remember that your jewelry photos should painlessly tell your buyers what you're selling. You should present it in a way that will make your buyers understand your item in one look, including its features and details.
You've probably noticed that a white background is the gold standard in the industry because it makes your jewelry stand out. It also looks professional and visually appealing. Take a look at the sample image above, the cluttered background brought about by too many props easily overpowered the rings. Moreover, its poor composition did not help.
They say that the background used in your image can quickly reveal your skill (or the lack thereof) as a "photographer." You can improve your background by taking off your seller hat for a moment and looking at your image as a customer. Does it immediately draw your eyes to your subject or you're too distracted by the background that your eyes wander away from it
White background photos are effective for your product pages while Jewelry photos like the one above can be good for social media; however, don't forget the boundary of the creative freedom associated with it. Every time you shoot photos, may it be for your business website or social media, make sure that your subject remains to be the star despite the props so that you're still selling without being too salesy. Don't let it get lost in the background.
Additionally, you can use other colored backgrounds without overpowering your piece. After all, some gemstones look more attractive in dark backgrounds while others, depending on cuts, look better on white/bright backgrounds. Check out some of the jewelry background ideas we've made for you in the link below.
2. You shoot photos under poor lighting conditions
Jewelry photos captured under poor lighting condition sabotage your sales because it makes your jewelry look unattractive. Lighting is the key to stellar product photos. It helps you capture clear and bright-looking photos so that your customers don't have to move closer to the screen to examine its details thoroughly.
There are many lighting setup ideas you can use in your next photoshoot. You can do side lighting, and backlighting, or use a soft, diffused lighting source like a lightbox, which is the next most recommended after natural lighting. Natural lighting is the easiest and most accessible, not to mention its even distribution of light.
When photographing jewelry, make sure that your subject is well-illuminated. Further, turn off all other artificial sources of lighting. Don't use an on-camera flash because it's too bright and can create harsh shadows.
3. Your jewelry is out of focus
Always aim for full-focus jewelry photography. Avoid focusing on just one element of your item, especially if you're selling an engagement ring. The shank, the prong, and the gallery are just as important as the center stone.
To capture clear and crisp jewelry photos, always make sure to adjust the aperture setting of your camera. This will prevent the corners or edges of your subject from appearing blurry. An aperture setting between f8 and f16 should help you achieve the quality you want in terms of focus. Click the link above to understand how the aperture works.
4. Your jewelry photos have unwanted reflections
Does your jewelry image make a good first impression?
When your customers look at your jewelry piece, you want them to perceive it favorably; however, unwanted reflections can ruin that first impression. For instance, look at the wedding ring on the right in the image above. Do you look at it and wonder if that's the seller's reflection? Reflections such as this can be equally distracting as the cluttered background. The last thing you'd want your customer to think is that those reflections are product flaws.
Jewelry is a reflective item, but you can block reflections by manipulating your lighting. For instance, you can diffuse your light source using an umbrella or a roll of white paper. Put a white foam board/paper under your jewelry piece. Then, position a white paper between your product and your light source while supplementing it with two more white foam boards/paper on both sides. The foam boards or paper will reflect the light onto the jewelry while also blocking any possible source of unwanted reflection.
5. You have too few jewelry images on your website
It's disappointing for a customer to click your jewelry photo expecting to see more visual details only to find out that it's the only image available on your page. The fact that they can't touch your item should be more than enough not to deprive them of images. It's like you don't want them to buy your item.
Take a look at the sample image above. Aside from the fact that it lacks a professional primary photo, it only has one product photo and an appraisal report. Maybe the customer wants to see the shanks or the gallery part of the ring. Take pictures of all critical angles so that they understand what they're about to buy. This will minimize the chances of returns or complaints. A perfect visual presentation is one where you show the critical angles of your jewelry, like in the image below.
6. Your jewelry photo is too small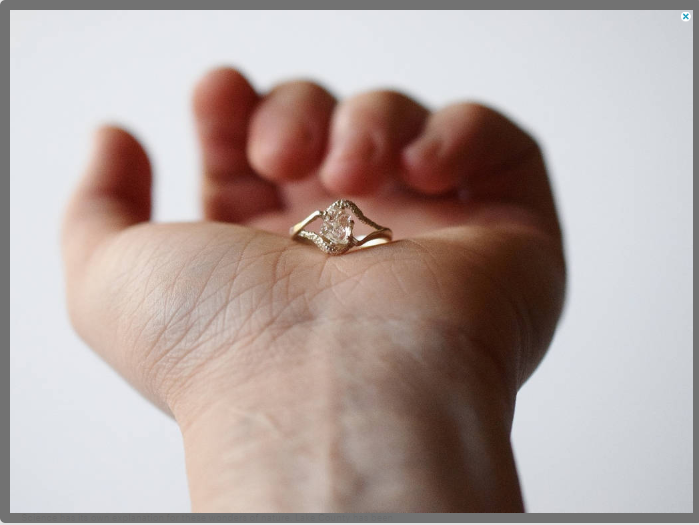 Statistic says that larger product images can increase your sales by 9%. However, in e-commerce platforms like Etsy or Amazon where photos are commonly in the same size, it's best to test the size of the product on the product photo. For instance, the zoom capability does not help enlarge the ring in the photo above. Potential customers would have to hunch over their laptops to see the details of the ring, but even so, almost none would be visible.
Moreover, researchers showed that customers prefer product photos with a large key object because it's easier for them to examine the item. They also found out that large key objects get more likes. This is because it's easier for them to appreciate the item, especially if it's of good quality; hence, leading to purchase intent. As such it's not only necessary that you get the actual photo size right; the key object must also be of proper size.
Remember:
Larger photo = customers receive more visual information = increase purchase intention
7. None of your jewelry photos show a sense of scale
Showing the scale of the jewelry you're photographing is critical. You can do it in several ways. For instance, you can place the ring beside a coin, and it will serve as a frame of reference for the customers. However, be mindful of the coin you use, especially if you're selling worldwide. The differences in currency mean that not everyone may understand your size reference.
Despite this, try as much as you can to provide such an element for your customers to know how big or small the item is. Don't give them additional work by mentally figuring out the size.
8. None of your jewelry photos have an element of social presence
Are you the type who uses mannequins or human models?
Research showed that the use of human models could increase purchase intention because it lends the image an element of social presence. In this case, social presence refers to the ability of the image to make the customers experience others as being psychologically present.
It is one of the determinants of purchase intention because it bridges the barrier between the customer and the computer screen. Human models can minimize this limitation by providing what online shopping commonly lacks — human warmth. The right image above uses a real woman's hand, which signals human involvement. Meanwhile, the image on the left uses a mannequin. Between these two images, it's clear that the one on the right conveys more emotions. This, according to the study, makes your website more trustworthy.
This style of jewelry photography is advantageous if you're selling on an e-commerce platform where many sellers sell the same items. This is because the more social presence signals you use in the photo, the more emotionally connected the customer will be to your item compared to those sellers who don't apply the same style. This eventually leads to higher purchase intent.
9. DIY gone wrong
We get that sometimes jewelers would try to be the jack of all trades, especially if the resource is scarce. However, some jobs are better left to the experts. A badly retouched photo can quickly derail all the hard work you put into the production process. Hence, if you don't have the required technical skills to polish your jewelry images, it would be best to weigh your options. First, you can invest your time learning the skills required to navigate whatever software you're using, or second, hire a professional post-production team/company to retouch your photos to perfection. Try a cost-benefit analysis and go for the option that serves your long-term goal.
Where to find Jewelry Photography help?
If you think most of the signs above reflect your jewelry images, don't worry. Here's a quick rundown of where you can find help.
1. Invest time to learn free jewelry photography tutorials online including tips and tricks.
2. Pay and enroll yourself in any jewelry photography or related courses.
3. Hire a professional photographer
4. Outsource your post-production jewelry photography process to a professional photo retouching company like the Picup Media
5. Invest in a specialized jewelry photography lightbox like the GemLightbox and get to shoot jewelry photos using your DSLR or any smartphone with just one click. Watch the video below for a quick bracelet photography tutorial.
Bonus?
If you need help with optimizing the images for your website or if you are looking for any jewelry photography solutions, Picup Media can surely help you. To get in contact with a specialist for a FREE consultation, simply contact us here.
Alternatively, you can click here and submit your sample jewelry image for a risk-free trial, and Picup Media will retouch your photos for FREE.