0 Comments
Published on:

April 21, 2021
Last updated:

September 19, 2023
How ready are you for this year's Mother's Day celebration? This year might be more different from the last as more and more people are getting vaccinated and boosted. Restrictions have also been removed for most parts; thereby, giving the public a lot of freedom to spend time with their loved ones. Still, the risk is present though warded off by following health and safety protocols. As a jewelry retailer, you should know your customers' sentiments and be able to meet their needs at their convenience, especially on special occasions. Let's help you kickstart your Mother's Day sales with timely and relevant jewelry marketing ideas.
Celebrating Mother's Day, Post-Pandemic
Mother's Day is just around the corner!
After almost two years of heavy restrictions and limited movement, there's no better time than now to appreciate the selfless women in your life and thank them for the tremendous work they do for the family. And we all know that. In fact, people have been good at adapting their spending and gifting plans in light of the ongoing crisis.
What are moms getting for Mother's Day?
In 2021, categories like electronics and jewelry had seen record levels of spending based on the National Retail Federation's (NRF) Mother's Day 2021 Report. Other top categories would include the classics like greeting cards, flowers, and gift cards.
Jewelry has always been one of the top Mother's Day gift categories. The pandemic did not change it at all, but you're probably wondering how you can put your brand in the spotlight considering all the changes in consumer spending and plans during and post-pandemic.
Based on the NRF's Annual 2021 Mother's Day Spending Survey, there are four considerations that shoppers look out for when picking out a Mother's Day gift.
Do you fall under any of these categories? If so, take your jewelry products and design a creative marketing strategy around them to put your brand on shoppers' list of gift options. After all, shoppers often look to retailers for Mother's Day gift inspiration.
Let's begin!
5 Jewelry Marketing Ideas to Implement this Mother's Day
1. Email your Mother's Day gift ideas to your customers
Put your brand in your customers' radars by leveraging email marketing. Go to your email list and create a Mother's Day campaign that's tailored to the objectives of your target shoppers.
As we've mentioned, an email marketing list is important for your jewelry business because of the following reasons.
Emails are more personal, private, and intimate.
They allow more room for personalization; hence, they're purposeful, which makes them more effective.
With emails, you're not at the mercy of social media algorithms.
Customers favor custom content, which can increase their purchase intent and your conversion rate.
By putting your brand out there in your customers' inboxes, you're one step closer to building top-of-mind awareness.
Your email communication can be varied. For instance, you can send a Mother's Day gift catalog similar to the catalog created by the Wholesale Jewelry Website. This will help ingrain your brand in your customers' memory; thereby, making them think about your business or products when the time comes for them to buy a Mother's Day gift.
To create a Mother's Day Catalog using the Jewelry Hub, simply follow the steps below.
Step 1: Log in to the Jewelry Hub and click "catalog" on the left-hand side
Step 2. Click "Create a Catalog"
Clicking the "Catalog" will open the catalog board, as seen in the image below. Click "Create a Catalog" in the upper right section.
Step 3. Complete your Catalog information
In this section, you have to supply all the details for your catalog. Give your catalog a name. For instance, "Mother's Day Top Picks" make the buyers feel that by opening your catalog, they'd be able to find a collection of perfect Mother's Day jewelry gift ideas.
After adding a catalog name and description, start adding the jewelry products you want to include in your Mother's Day collection. You can add up to 10 jewelry items. Make sure that the products you want to include are already uploaded from the gallery so you can easily choose them as you create.
After adding all the products, click "create" and you will see your Catalog from the list of Catalogs, as shown below.
From there, you can click on the Catalog's name and you'll see all the products you've added. This is convenient, especially if you want to edit the product information for each product. Don't forget to add captivating jewelry descriptions for each one using the Jewelry Hub's AI-powered jewelry description generator tool. Otherwise, you're all set.
Step 4. Share the catalog link with or email the catalog to your buyers
Your catalog will look like this.
Your buyer can easily click on the item they like and be able to view all the product information for each piece of jewelry. It's easy, fast, and means seamless shopping for your buyers.
2. Create a Mother's Day gift guide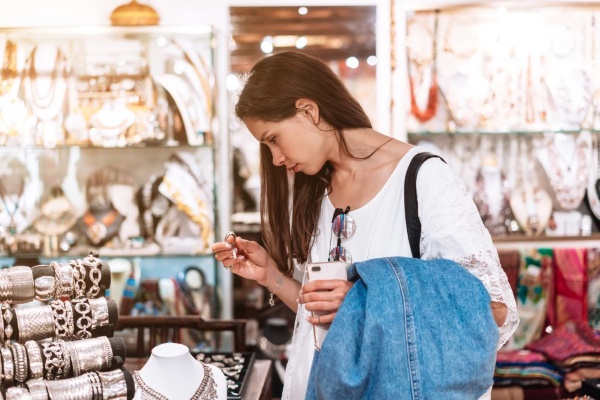 Buying a gift can sometimes feel overwhelming, especially with numerous options online and offline. Simplify the gift-buying process for your customers by creating a Mother's Day gift guide so that they can shop according to categories.
Some gift guide categories may include the following:
By price point (Jewelry gifts under $100, $50, etc.)
According to recipients (For moms, wives, sisters, and friends)
Based on product categories (necklaces, bracelets, rings, earrings)
Make the gift guide categories as organized as possible to make customers' browsing a breeze. This way, they can find the perfect gift for their loved ones without spending most of their time browsing through irrelevant product items.
3. If possible, partner with other local businesses
As customers favor a unique gift that creates a special memory, partner with other local businesses to provide not only a special tangible gift but also an experience, at once.
When partnering with other businesses, find a business that's not a competitor but also complementary to your offering. For instance, if you can find a local entrepreneur who's willing to hand out salon gift cards, then you can offer a jewelry package that includes two gifts in one. You can also collaborate with artists to give customers a chance to design a free custom greeting card that will come with every jewelry purchase.
This partnership is a win-win opportunity for both of you. It widens each other's exposure while it increases customer engagement.
4. Run a giveaway
Don't forget the reason for the occasion. More than the tangible gifts, it's the heartwarming stories that capture the hearts of the public. Elicit meaningful, loving reactions by running a giveaway infused with human emotions.
For instance, encourage your social media followers to share touching stories about or photos of their moms. Ask them questions like what makes their moms their heroes or what makes their moms special to allow them in a welcoming environment where they can honor their moms and tell you more about them. Then, pick your giveaway winner/s. It could be a pair of earrings or a gift card—whatever your business can afford to give.
When running a giveaway, lay out the rules as clearly as possible to avoid confusion and conflict along the way. A giveaway is one of the many jewelry marketing ideas that offer a lot of benefits. These benefits include the following.
Giveaways help you build your social media network.
They generate quality leads.
A carefully thought-out giveaway increases brand and product exposure.
And increases customer engagement with your brand.
They are fun and give life to your online community.
5. Add that extra little touch
Turn every Mother's Day transaction into a relationship by adding a dash of fun but a wholly meaningful value.
Customers like extras and Mother's Day is an ideal moment to pamper them with those extra little touches. Some extras you can offer are free gift-wrapping services, gift bags, small greeting cards, coupons that they can use for future purchases, and other little gifts that come with purchases. For example, offering a small pair of earrings for a minimum single-receipt purchase of earrings worth $300. These gifts with purchases can spark ideas of a mother-daughter earring pairing, which is cute, touching, and fun at the same time.
Extras leave a good impression on your customers, and these extra little touches can go a long way towards building positive customer shopping experiences—a feeling that they will always remember long after the checkout process.
How are you connecting with your customers this Mother's Day?
At the end of the day, a Mother's Day campaign is more than just about increasing sales; it's also about building a connection that will last you through the years. Be savvy and genuine with your marketing approach and you will be rewarded.
What other special plans do you have for Mother's Day? Let us know more of your jewelry marketing ideas in the comment section below!