0 Comments
Published on:

March 3, 2021
Last updated:

May 24, 2023
How do you build an email list for your jewelry business and does it still work?
With the rise of influencers and social media power, you're probably still wondering whether emails are still an effective marketing channel. In fact, it is!
Statistics have shown that 78% of marketers have seen a significant increase in email engagement over the last 12 months. This is a strong testament to the resiliency of email marketing as it withstands the growing emphasis on influencer marketing strategy.
So, how do you create and grow an email list that can help springboard your jewelry business to success? In this two-part post, we'll show you how to create a vast email list, but first, let's see why an email list is a crucial part of your entrepreneurial journey.
What is an Email List?
An email list is a collection of names and email addresses of people who permitted you to send them updates, promotions, and free downloadable materials, among many others, from your business.
If you have subscribed to a newsletter or a blog, then you are on the email list of that website.
What makes an email list important for your jewelry business?
There are currently about 4.2 billion email users worldwide. This figure is expected to increase to 4.43 billion by 2024; thereby, making it more relevant than ever for business communications.
While it is true that apps and the influencer culture can displace not all but some of the features and functions of emails, the truth remains that emails are still alive and working.
There's nothing wrong with all the instant messaging technology sprouting here and there, but your modern communication methods should not prevent you from taking advantage of one of the oldest and most effective messaging and marketing channels—email. If you're wise, you can actually have a mix of both.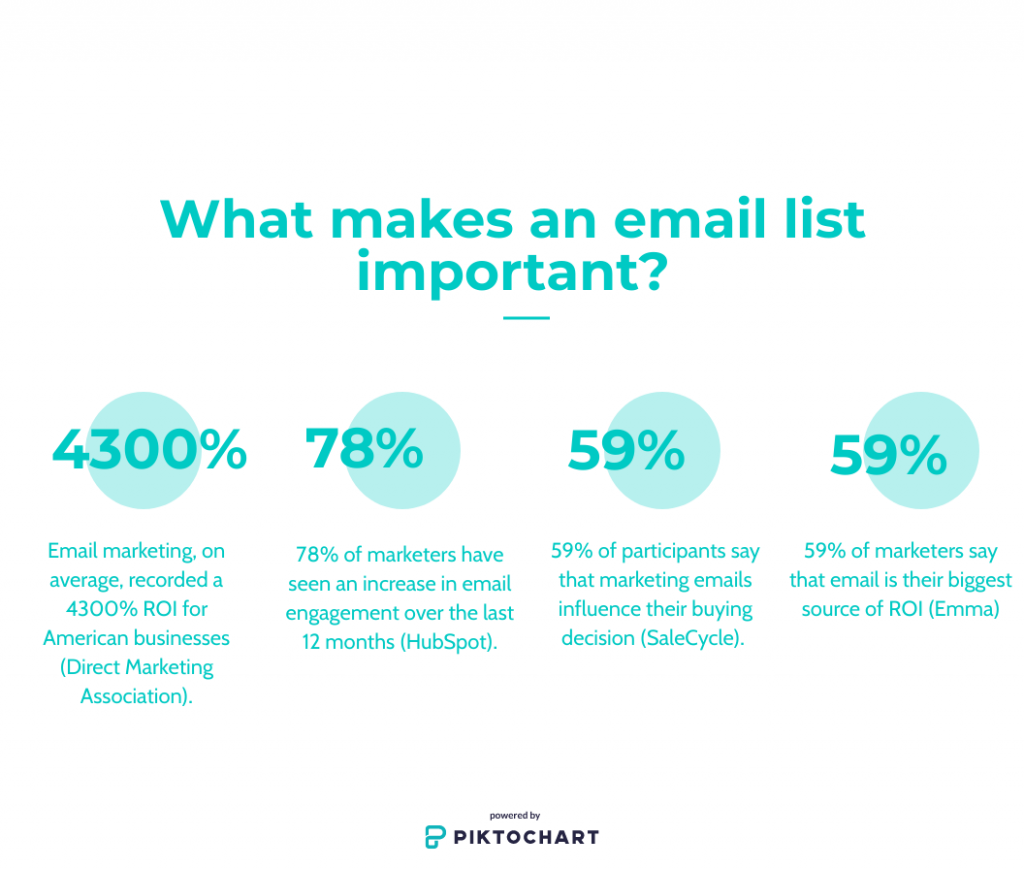 Below are more reasons why emails are a powerful marketing tool.
1. Emails are more personal and intimate.
Unlike a social media status or post that follows the dictate of any ranking system or algorithm, email is personal, private, and intimate. Here, you land in someone's inbox and you stay there until the email is read.
It is also more useful for recipients. With social media, the posts are easily lost in the internet clutter. Email is different. It is searchable so the recipients can refer to them as often as they want.
2. It allows for more personalization.
Literary genius Kurt Vonnegut once said, 'write to please one person. If you open a window and make love to the world, so to speak, your story will get pneumonia.'
A social media post doesn't target a specific person or group of people. It's up to your followers to filter through posts that address them and apply to them. This is not the case with emails.
Emails allow for more personalization, which is one of the reasons why it's effective. For instance, if you create a lead magnet called "10 Tips for Buying a Diamond Online," you can safely assume that everyone on your list is thinking or planning on buying a diamond online.
It is targeted and purposeful.
3. Emails give you the broadest reach.
The visibility of your posts on social media is dependent on the recency of the post and the engagement it gets. This means that as soon as it goes stale, it's gone. It only lasts for a few hours or minutes.
Emails don't work similarly. They stay in the recipient's inbox until they get deleted, which makes it possible for you to still get clicks and traffic even several days after sending the campaign.
It's also true that not all emails get clicks, but while 16% of all emails never make it to the recipient's inbox, a large percentage of them get the attention they need.
Welcome emails have proven to be the most effective with an open rate of 91.43% and a read rate of 42% higher than average emails.
Further, if you send more personalized emails, your open and read rate could be higher. Statistics show that emails with personalized subjects are 26% more likely to be opened.
4. Emails can increase your conversion rate.
Email outperforms all other social media platforms. In fact, email is said to be 40% better at converting compared to Twitter and Facebook.
A reward awaits you if you can identify the type of content that's actually useful for your recipients. Data shows that 90% of consumers find custom content useful. Further, high-quality and relevant information makes them more likely to take an action.
Below are some types of content you can use to drive action.
Product introduction/new releases
Promotional content. Mix a sell/offer with additional free content to supplement the initial offering.
Guides, blogs, and how-tos
Loyalty and rewards
Testimonials and reviews
Customer satisfaction surveys
Strive to deliver an effective content mix that is fun, entertaining, sales-driven, and informative. After all, interesting content is what makes people follow brands on social media. If you can incorporate that into your email marketing, you're way ahead of your competition.
Are you ready to start building and growing an email list for your jewelry business?
Now that you know the importance of an email list for your jewelry business, it's time to start building one! Click here and read further to know more about some of the incredibly effective strategies for building your email list from scratch.