0 Comments
Published on:

April 14, 2021
Last updated:

January 10, 2022
Table of Contents
Are you planning to reopen your jewelry store soon, but unsure how to communicate store changes to your jewelry shoppers? Learn how to communicate effectively with our five practical customer communication tips.
Read on!
The Post-Pandemic World Has New Requirements
There's a lot of talk about learning to live in the new normal after pandemic.
But what does 'new normal' mean?
The 'new normal' consists of changes and levels of adaptations. Until the world finds a cure for COVID-19, people must have to adapt their lifestyles to live with the virus. In fact, medical experts advise people to continue the precautions even after vaccination because there's a lot left to learn about the vaccines. For instance, despite the ongoing vaccinations in many countries, the transmission remains out of control, which poses the question of whether the vaccines can protect against getting infected and transmitted to someone else.
Adaptive measures vary based on the evolution of the pandemic and the characteristics of the spaces. Some examples include providing a limited access point to indoor spaces, allocating checkpoints for monitoring and recording, and putting restrictions on shared facilities. Some stores have adopted these measures already. Instead of letting shoppers come from two different entry points, they provisioned one entry point only for easy monitoring and curtailing the spread of the virus.
What are the changes?
Below outlines some of the changes that have been implemented by other establishments including those that you might have to consider in the post-pandemic world.
Built-in distancing markers
Improved filtration
Advanced heating, ventilation, and air-conditioning systems and technology.
Interactive and experiential showrooms
New delivery processes including curbside pickups
Virtual consultations or shop by appointment only
Physical barriers between shoppers and employees
Given all the necessary changes that you must implement as a responsible business owner, how do you communicate store changes to your jewelry shoppers without causing any confusion and misunderstanding? Getting this one right is critical to the success of your jewelry store post-COVID 19 because shoppers will easily favor stores that make them feel safe and secure.
Let's address shoppers' sources of fear with some practical steps on how to communicate store changes effectively to your jewelry shoppers. Read below!
How to Communicate Store Changes to Jewelry Shoppers
1. Send them emails
Known for revenue-boosting and cost-effectiveness, email marketing remains to be one of the top avenues for customer communication. In fact, 87% of marketers use email marketing to disseminate information.
Nothing can beat the power of emails, because…who doesn't have an email address?! It's also more personal as it allows you to speak directly to your shoppers in their inbox at their convenience. Compare this to Facebook or Twitter, for example, and you're at the mercy of their algorithms. Hence, sending emails is one of the most excellent ways to connect to your shoppers, especially in terms of communicating store changes that relate to their security and safety.
When sending emails, send them ahead of your scheduled reopening. but if you haven't done it yet, there's still time. Do it now. Remember, it's better late than never.
2. Utilize social media
While not as effective and personal as email marketing, social media communication is the most obvious choice to communicate store changes to jewelry shoppers. According to Global Web Index, 53.6% of the world's population uses social media. Hence, it sends the message out there faster; however, don't rely heavily on traditional posts; apply variations.
For instance, you can go live on Instagram and do a walk-through of your jewelry store. Show your jewelry shoppers the new setup to help them visualize the new process and understand what to expect when they come back to shop.
3. Position meeters and greeters
A meeter and greeter is a person who greets and welcomes customers into an establishment. Position a meeter and greeter by the door to explain to shoppers what to expect and to answer any questions shoppers might have before entering.
When positioning a meeter and greeter, ensure that the person has all the accurate and updated information regarding your safety measures. Train them to be as helpful as possible and if necessary, provide a script not only to the meeter and greeter but to every employee inside the establishment so that the information given to the customer, is always consistent.
Avoid causing confusion and enforce new policies consistently. Practice what you preach to discourage violators.
4. Good old signages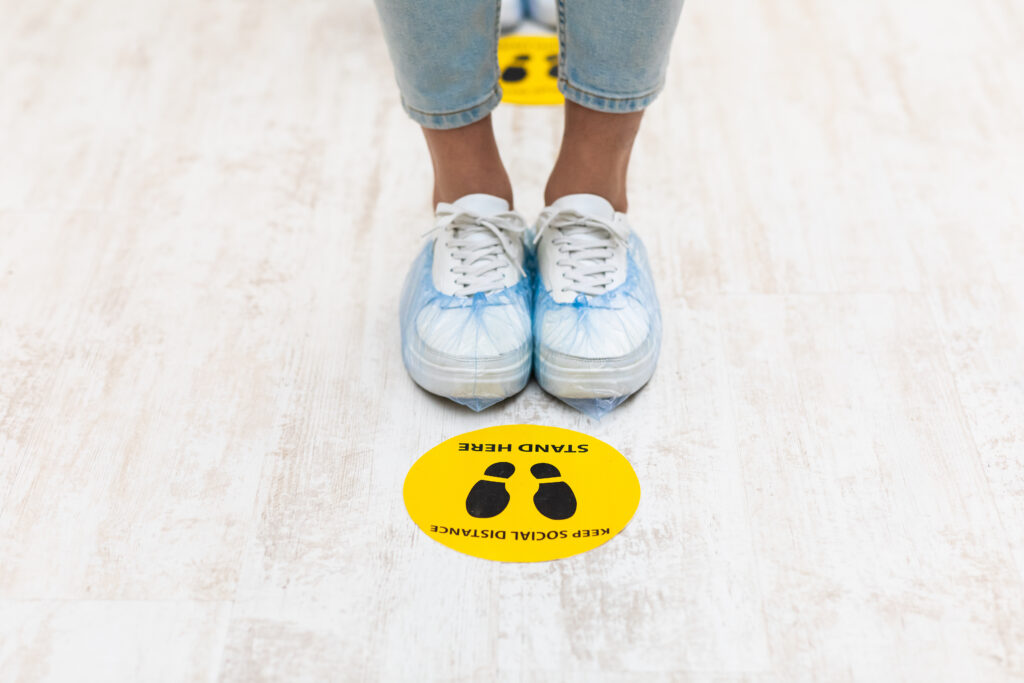 Establish a culture of good hygiene by using signages, including markers and symbols, to name a few.
Signages serve as a daily preventive action that reminds jewelry shoppers of their responsibility to keep themselves and others safe and healthy.
Follow the tips below to ensure that you communicate your store changes to your jewelry shoppers through signages effectively.
Make the texts easy to see and read.
Infuse a compassionate and friendly tone. This is where designs would matter as they would dictate the tone of voice in your signages. Don't forget to consider the color palette and typography to communicate a common purpose—one that seeks to inform and educate rather than to alarm.
Position each marker based on user journey. For instance, you can put the "Let's wear masks" sign at the entrance so they won't enter without one, physical distancing markers on the floor, and a "Don't forget to wash your hands" sign in restrooms.
Inject your brand's personality into the visual design. Integrate it into the architectural space as much as possible as it helps transform these challenges into opportunities while providing jewelry shoppers with a positive and uplifting experience.
5. Keep your message unified across all platforms
Lastly, keep your message unified.
It's okay to see your customer communication plan evolved from the original. What matters here is your level of transparency with jewelry shoppers and being timely about communicating these changes to them. You can change it as many times as necessary but keep your messaging consistent across all platforms to prevent confusion.
The safety measures and other business changes you will implement should have to be unified. This includes the following:
Updating your website about your reopening plans and health and safety protocols.
Posting frequent updates on your social media network ahead of reopening.
Emailing your subscribers ahead of time.
Sending text messages, if this is part of your communication channel.
Training your customer support staff on how to address shopper concerns regarding health and safety.
How are you communicating store changes to your jewelry shoppers?
Overall, consistent communication with your jewelry shoppers is very important post-pandemic. When communicating, no matter which channel you use, remember to be timely, empathetic, and considerate of their concerns and needs. Be friendly and approachable as this is the only way you can regain their trust and confidence. Above all, keep everyone safe and healthy.
How do you communicate health and safety protocols to your jewelry shoppers? Don't forget to leave your tips below!