1 Comment
Published on:

October 30, 2019
Last updated:

August 7, 2022
Table of Contents
360 Jewelry Videos in 15 seconds, is that even possible?!
If you answered NO to the question above, likely, you haven't seen or experienced the revolutionary impact of the GemLightbox yet.
In this blog post, we will transform your jewelry photography experience, so, join us as we catch up with some of the jewelers whose visual production processes have truly been revolutionized and transformed for the better.
Jewelry Business Name: Haniken Jewelers, NY
In our effort to immerse ourselves in the natural environment of our jewelers and understand their needs, Rocky from Picup Media partnered with Haniken Jewelers in New York and sat down with Christine to demonstrate how to capture 360 jewelry videos for social media using the GemLightbox.
Haniken Jewelers, creators of fine jewelry since 1985, is your premier destination for engagement rings and diamonds. If you're planning to propose or about to get married, make sure to check out their exquisite diamond inventory and huge engagement ring collection and be ready to fall in love with their impeccable craftsmanship all captured in timeless style, sophistication, and exceptional quality.
GemLightbox: The Game Changer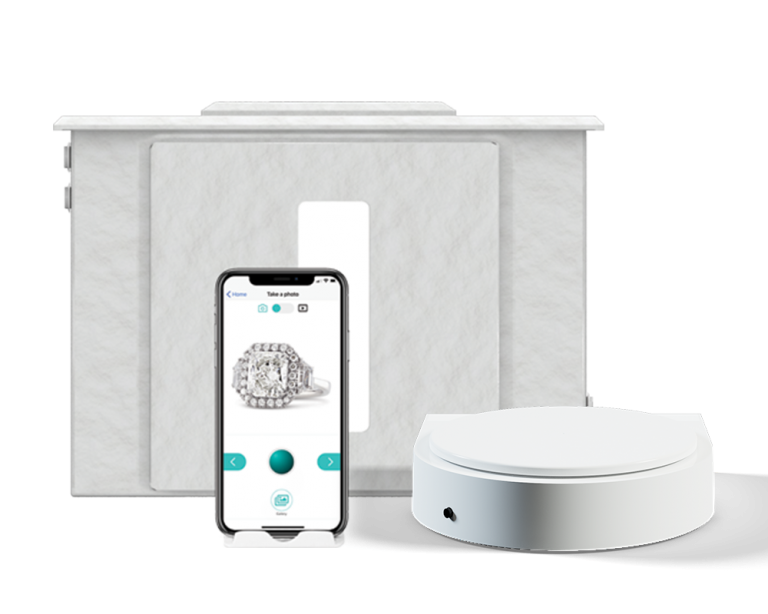 The GemLightbox is a revolutionary lightbox specially made for jewelry. It allows you to do so much in seconds like capturing jewelry images and videos on a white background for your e-commerce store, capturing images and videos for your social media pages, shooting 360 jewelry videos with the add-on GemLightbox turntable, and helping you build an accessible digital inventory.
If you're worried about common photography issues like lighting, worry not! The GemLightbox was developed with a strong focus on creating a genuine solution to common photography mistakes. We know that most jewelers are not professional photographers and have no (or have very little) professional knowledge in photography, so we took the effort to simplify the process just for you.
To do this, we added features to ensure that you can capture and go, so you'll still have more time to spend on the crucial aspects of your jewelry business. These features include the following:
1. You can capture amazing facets with "Sparkles" or use "Daylight" to bring in a natural sunlight effect.
2. Show your jewelry's intricate design by capturing it from all sides with front and top shooting angles. Make sure to download the GemLightbox App for consistency. Download here if you're an Android user.
3. Say goodbye to complex video and photography setup; simply plug and play.
Now that you know the basics of the device, let's test its efficiency!
How to Capture 360 Jewelry Videos for Social Media With GemLightbox
As you can see, capturing 360 jewelry videos for social media requires no effort. Simply get your jewelry pieces ready and ensure that you have your desired background on the shoot. Christine opted for a branded social media video; hence, the use of a photo background showcasing the Haniken Jewelers brand. You too can do the same as we demonstrated in the following link and more. See five of the hottest jewelry background ideas and how to achieve each in this post.
Once you're all set, position your background paper inside the GemLightbox and atop the GemLightbox turntable. Then, place your jewelry inside and make sure, it's centered. Feel free to adjust the position according to your liking. When ready, click the button to record the video.
Evidently, in just 15 seconds, you already have a social media-ready 360 jewelry video that you can upload to any of your social media pages.
There are many things I like about it.

It's compact, which is perfect for small working spaces.

It's also easy to use and doesn't require any professional skills to be able to achieve professional videos.

Christine, Haniken Jewelers NY
Check out Haniken Jewelers' 360 jewelry video below!
Do You Want Your Own GemLightbox?
You, too, can have the same professional quality 360 jewelry videos without sweating and wasting most of your time. Contact us and let us know what you need and how we can help you!