1 Comment
Published on:

January 27, 2018
Last updated:

August 5, 2022
Here are five of the most common jewelry photography mistakes that most online jewelry retailers experience along with the proper steps to avoid and fix them. Are you guilty of any of these mistakes?
1. Poor lighting and inconsistent white balance
One of the most common jewelry photography mistakes is incorrect lighting. Harsh lighting and contrasting white balance in all jewelry images only push your potential customers away. This inconsistency in lighting creates an unprofessional look for your jewelry products, and as a result, makes online shoppers switch quickly from your storefront to competitors'.
How to Correct:
Do not underestimate the power of natural lighting. When you are photographing jewelry products in an indoor setting, outdoor environment, or even using soft studio lighting, this technique creates a soft finish and gives metals and stones a more prominent appearance.
It is also recommended to explore your camera settings to achieve the right kind of lighting that will enhance the details of your jewelry. For example, diffused lighting furnishes your product with a romantic vibe which is an ideal emotive depiction of jewelry images. On the other hand, side lighting helps to showcase the texture of your item.
2. Busy and distracting backgrounds
Over-creativity is also one of the challenges observed among those who made the most common jewelry photography mistakes. If your jewelry product has to compete against the patterned background or the unnecessary and excessive use of props, you might be confusing your customers. This could eventually make them bounce away from your site.
How to Correct:
You will never go wrong with white background product photography. It will end your pursuit of a clean and professional photography look while placing all the focus on your subject. Do not let your background rob your jewelry of its sparkle.
3. Neglecting the critical role of lifestyle photography
'Do you have photos of this jewelry on a model?'
If you have been consistently getting this type of message from customers, your jewelry photography is not doing its sales job. Get your camera and start fulfilling your product's promise.
How to Correct:
Wear that stunning sapphire ring and take a compelling shot. Remember that your jewelry items, just like any products, have made a promise to your potential buyers. Whether it will make their lives easier or make them look more beautiful, this statement should be visible in the images.
In the absence of physical touch, providing buyers with lifestyle photographs is another way of illustrating that promise as it helps them visualize how it will look on them when worn. It also solves the long-standing issue of scale since it will give buyers an idea of how big or small the jewelry is in real life.
4. Untidy jewelry items
Diamonds are a girl's best friend except when they are dusty! Nowadays, digital cameras do not only capture intricate details of your sparklers, but it also highlights evidence of what a sloppy seller you are.
How to Correct:
Get rid of dust and fingerprints before photographing to ensure that your jewelry is properly cleaned at all angles. Sometimes all you need is a pair of gloves, a gem brush, and effective cleaning liquids to enhance the look of your product.
Further, consider removing tags as it might block the feature of your jewelry. A product that is camera-ready saves you time when it comes to jewelry product image retouching.
5. Capturing undesirable reflections when photographing jewelry
Jewelry items are prone to unattractive reflections due to their reflective materials. But while a shiny diamond engagement ring poses an alluring factor favored by buyers, it could also create distractions that sellers may easily overlook.
How to Correct:
Don't let things in your surroundings reflect on your jewelry. To avoid this, familiarise yourself with the different photography lighting setups. Once you're ready, take photographs of your jewelry products in an enclosed lighting system. It will aid in bringing a balanced lighting distribution around your area of focus.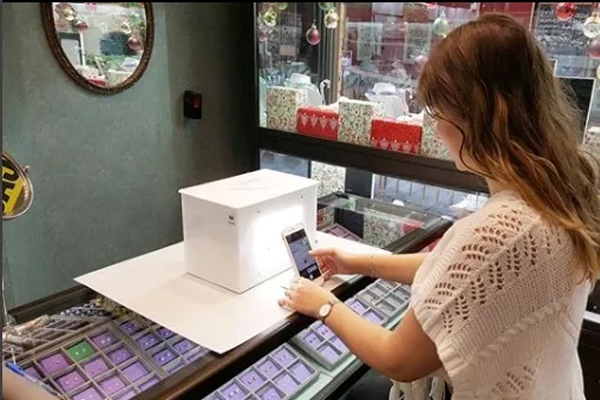 Overall…
Jewelry items are investments. Don't let your lack of professional photography skills depreciate its value. While it is always advantageous to seek help from expert jewelry product photo enhancers/retouchers who provide professional photo retouching services, building basic knowledge in jewelry photography gives you leverage as it influences every buyer's decision-making behavior.
Let your images charm online shoppers and watch your sales pull up!
Intrigued by our use of the GemLightbox? Watch the video below and find out how it works!