5 Different Jewelry Background Ideas You Need to Know
Just starting out your jewelry website or social media page? Or maybe just run out of creative juices?
Don't worry, because we have you covered! In this blog post, we go through 5 different background ideas you can use for your next jewelry photoshoot. You'll be surprised how resourceful and creative you can be.
At the end of this post, you should have some fresh ideas that you can implement immediately. Here they are!
Background 1 – White
White is undoubtedly the most used background in jewelry (or any sort of product) photography.
And there is a good reason why. White background images eliminate any distractions and pinpoint your audience's focus on your subject matter. The result is a clean, professional image. This is especially important when you are trying to sell your jewelry online, where 88% of online shoppers' buying decision is influenced by detailed product content. We even recommend at least 3 white background shots for every piece of jewelry, especially with smaller items such as rings. That way your customers can see your pieces in full detail.
Creating a white background image isn't too complicated. You can simply layout a white piece of paper or white vinyl backdrop – either will work just fine. The hard part comes when removing unwanted shadows (distractions) from your jewelry pieces, removing bad reflections and seeing the true colors in your stones. That's when you need to play around with your lighting sources to create a lighting environment suitable for your products. To see our guide on how to shoot jewelry on a white background, click here.
We've also linked a quick video below on how we capture studio-quality white background images using just our smartphones and GemLightbox. Check it out!
For most online marketplaces, they are very strict as to what is defined as a white background. In the worst-case scenario where you cannot achieve the desired result by light manipulation alone, you can always hire a professional to remove the background and tidy up your images for your jewelry e-commerce needs.
Background 2 – Black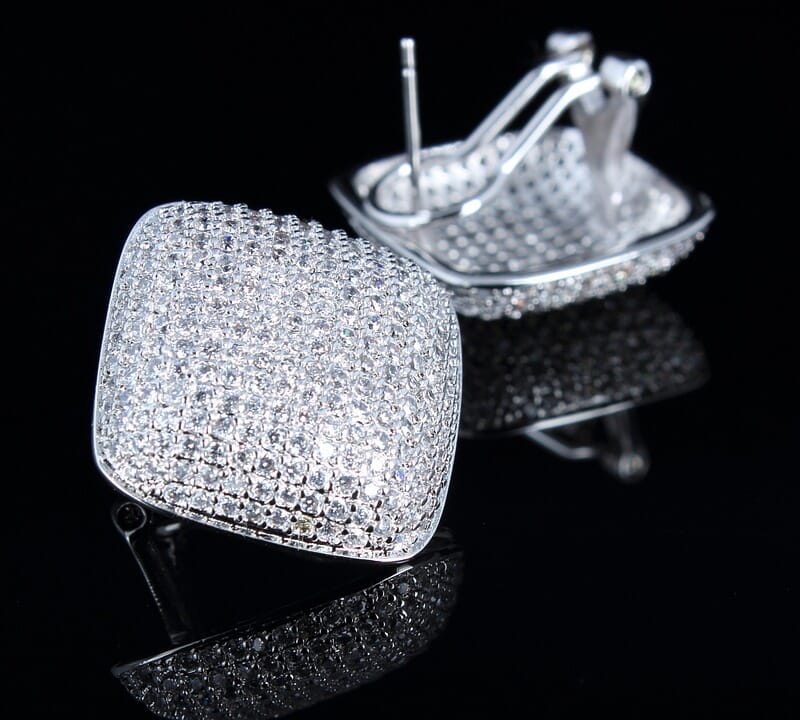 Second in popularity to white is shooting jewelry against a black background.
A black background is useful in accentuating the reflective surfaces of metals and the rich colors of the gemstones. It creates a subtle yet dramatic look while still maintaining neutrality. You may find that many black background images are associated with luxury products.
Others prefer using a black background because it is much easier to remove unwanted shadows and helps cover up imperfections. Therefore, using a black background makes a great alternative for product shots.
Black backgrounds are relatively easy to obtain from your local hardware store. Look for black plexiglass – a square piece of under 30x30cm is more than enough. When shooting against a black background, you may want to use a combination of white cardboard to reflect light and bring to life your pieces and small mirrors to highlight certain details.
Background 3 – Grey
Grey backgrounds of the lighter shade are used for websites and branding, however, they are used less widely for jewelry compared to white and black backgrounds.
Lighter shades of grey are still relatively neutral and will not draw attention away from the subject matter. This makes it a great alternative to white background images, especially on online marketplaces that use white as their page background. The grey background will help distinguish your products from others.
Grey backgrounds are becoming more increasingly popular for online fashion stores and we may even see the trend move to jewelry.
Background 4 – Patterns, Gradients & Textures
Patterns, gradients, and textures make great backgrounds and add plenty of flair to your jewelry images. They can be incorporated in two ways. You can add your own custom backdrop or edit it in by a professional. Your background should not be overly stimulating or you risk distracting your audience from your jewelry.
Common patterns, gradients, and textures used for jewelry photography include marble, pearl, granite, charcoal and different shades of grey. You do not need to go out of the way to find the actual backgrounds – you can find plenty of backgrounds that are ready to print from the internet or available to purchase from your local arts and crafts store. For the image below, we purchased a pack of 30 patterned papers from K-Mart for under $5!
Here's another example.
You will find most jewelers will use these backgrounds for one of their final product shots or social media posts.
Background 5 – Branded and Themed
Finally, but not least, many jewelers are using branded and themed backgrounds to establish their own identity on social media. Similar to Background #4, branded and themed backgrounds are designed digitally and printed off to be inserted as a backdrop, or they are edited digitally by a graphic designer. You will find that many savvy jewelers and marketers turn their logos into very subtle patterns.
For themed backgrounds, you are adding many elements to your photo. Remember – the subject matter should always be your jewelry. Avoid overly-distracting props and play around with different filters.
In the image below, we have printed off a background with tools to give the feeling that we're inside of the goldsmith's workshop. Notice how the area of focus is the stack of rings.
Bokeh is a popular technique used where the subject matter is in full focus while the rest of the background is blurred. Bokeh will help give your jewelry the most attention while enabling your audience to better understand the mood created in the background.
Our advice to you is to pick a theme that resonates with your branding and stick with it. You can only build your brand through consistency. If you decide that you want to change themes, try to make the transition as smooth as possible. A perfect example is how Pandora slowly changes the tonal shades of light pink to salmon-orange over a period of 2 weeks.
So what are you waiting for? Get started with your jewelry photography with these fresh ideas!