0 Comments
Published on:

February 1, 2021
Last updated:

February 2, 2022
Are you looking for some Valentine's Day retail tips to drive your sales on this special day? Look no further! We're letting you in on some of the most relevant and customer-convincing strategies when selling jewelry to sweethearts and lovers of all kinds.
Over two years into the pandemic, people are already hungry for human connection. And what better way to satisfy this hunger than showing humane gestures of love and care this Valentine's Day. If you're a jewelry retailer looking for Valentine's Day retail tips, stick around for some tricks on selling jewelry gifts on this special occasion. Read on!
Valentine's Day Predictions
If winter holiday expenditures would be the basis, the National Retail Federation (NRF) predicts that this year's Valentine's Day celebration is looking optimistic as they expect the spending trend to continue. The data shows that 53% of polled participants in the USA plan to celebrate the romantic day this year, a bit higher than last year's 52%. Overall, 76% of the participants believe that celebrating Valentine's this year is important given the current state of the world where many have lived in isolation and often with limited social interactions.
Although candies, greeting cards, and flowers remain to be the most popular gift items, jewelry retailers have no reason to despair as jewelry items continue to be part of the list. In fact, 22% of the participants plan to spend on jewelry gifts; thus, giving the industry an overall estimated total spend of $6.2 billion, which is $2.1 billion higher than last year's.
With an optimistic outlook, jewelers are all set for this year's Valentine's Day jewelry sales events. Do you wish for this prediction to manifest in reality? Read further for some Valentine's Day retail tips to amplify your sales
10 Valentine's Day Retail Trips for Jewelers
1. Explore partnerships and collaborations
Give your sales a boost as early as February by exploring potential partnerships or collaborations to broaden your audience. A winning strategy like this is a guaranteed way to expand your reach through your partner's following.
A good example of a timely and perfectly-matched collaboration is the Godiva X Le Vian Chocolate Diamonds with Kay Jewelers. This collaboration features mouthwatering fancy color chocolate diamond collections—each jewelry designed decadently to symbolize a woman's individuality. Needless to say, it's a clever move with jewelry and chocolates from the two master chocolatiers being two of the most popular gift items to express love on Valentine's Day.
If you're short on time, it's unnecessary to force an overly ambitious collaboration. It doesn't have to be a major one, anyway. A simple partnership like teaming up with a greeting card artist or company would do.
2. Train your salespeople how to describe your jewelry in a virtual setup
Are you familiar with this popular oddball interview question, "how would you describe a color to a blind person?"
You can apply this concept when describing jewelry products, too. In a world of digital shopping where tactile experience is not available, your salespeople should be competent enough to communicate "touch" to prospective buyers who cannot touch your products.
For example, how would you describe the weight, feel, and texture of the jewelry to your buyers online or over the phone in a way that would make them feel that they're touching them themselves?
Aside from using texts and words, you can also utilize visual assets. For example, a high-quality 360 video of jewelry can convey these characteristics clearly. Take a look at the example below.
By looking at this 360 video of a silver ring, you'll know right away that it has a soft, feathery texture. It also shows its cut-out band as it rotates.
3. Introduce an irresistible Valentine's Day offer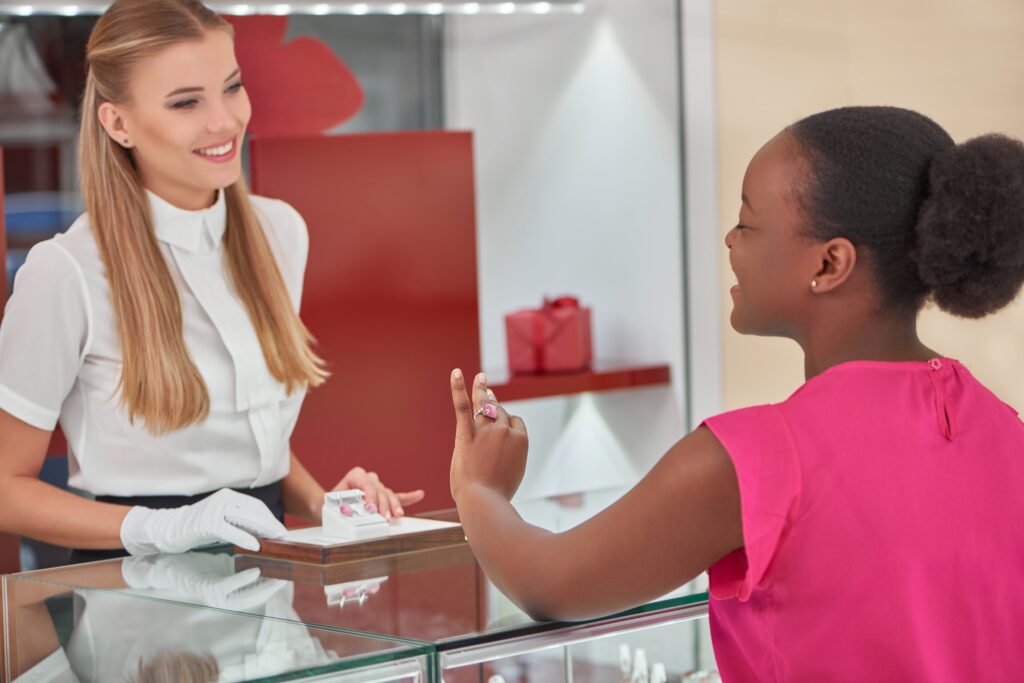 Is your storehouse packed with slow-moving stocks? Perhaps a "buy one get one (BOGO)" deal would be a more productive route for you.
Another example of this is cause marketing where a part of the purchase price will go to a nonprofit that you support and believed in. For instance, you could promise to donate $3 from each sale of your Valentine's Day jewelry collection to an organization that you support like The Valentine Project or any other nonprofit whose advocacy aligns with you and your customers. Remember that Valentine's Day is not only about romantic love, so encourage people to see love in all forms possible.
Allocate time when thinking of promotion ideas so you can come up with a well-targeted tactic and one that resonates well with your potential buyers. This way, it would be difficult for them to resist the offer.
4. Dedicate a section on your website or physical store for Valentine's Day
As a customer, I don't like spending too much time on a page trying to look for what I want, especially when I'm ready to buy. The same could be said of your customers. A lot is going on in this world already—so many bigger things to think and worry about so avoid overburdening your customers with thoughts that you could eliminate by making the shopping process frictionless.
One way you could make things easier for them is by having a special section for Valentine's Day either online or in-store. This will help them quickly find the jewelry gifts they want to buy.
Always, always shorten the path to conversion.
5. Celebrate love in all forms
As I mentioned earlier, Valentine's day doesn't have to be solely about lovers. Times are changing. We now live in a world where women are financially capable to purchase their jewelry. In some countries, it's now acceptable for a woman to propose to the man they love while in others, same-sex marriage has become legal. In addition, let's not forget the dominating narrative of self-love. Have you heard about the rise of the self-love ring?
Why limit your sales by focusing on lovers only when love comes in all forms and shapes? Jewelry gifts can be for friends, family members, a relative, or even a stranger. Recognize everyone's space to celebrate their love and seize that opportunity to maximize your sales.
6. Aim low this year instead of over-promoting your higher-priced jewelry pieces
Given that the average spend this year has decreased from $196.31 to $164.76, it's important to promote or stock up on jewelry pieces under $200.
According to Crabtree Consulting, as quoted by Instore Magazine, Valentine's day is a hallmark holiday where the average spend usually falls under $200. Many jewelers might forego promoting Valentine's Day, thinking that customers don't spend on gifts under $200 or feel that there's no reward in selling these items, especially when they factor in their tangible and intangible investments. However, it is these low-priced items that often lead to bigger sales. Further, data shows that women who received an engagement ring often received another jewelry gift within 12 months before receiving their engagement ring.
Look at the bigger picture and try not to exclude these customers. After all, statistically speaking, going against the curve only sets you up for failures. So, go ahead and install your designated visual display of products in this price category.
7. Direct the conversation towards an upbeat path
Sometimes customers, especially long-time, repeat buyers, tend to overshare or talk about their feelings before purchasing. For example, with this pandemic going on, it's inevitable to have a conversation without touching on the negative situation. When negativity leans on your counter, greets you online or over the phone, be empathetic, but try to direct the conversation towards a more optimistic path. Do not dwell on the misery.
Remember, your customers are buying gifts for Valentine's Day. They are longing for normalcy, and this gift is a way for them to escape and forget, even for a day, all the bad things around them. Make them feel good.
8. Organize a virtual showroom
A virtual showroom is one of the many live content ideas that can boost your sales; thus, if you're running Valentine's Day sales and promotions, couple it with a live event to make it more interesting.
To plan it, send discount vouchers, coupons, and codes to your repeat buyers or target customers and invite them to your virtual showroom where they can use those coupons.
On the live event, connect with them on a personal level—talk about their Valentine's Day plans and ask them about their gift ideas. You can also suggest trending gifts and, at the same time, showcase your new designs, upcoming collection, and ready-made jewelry in their price category. It's like a VIP event for your loyal customers and/or avid followers, so make it fun and lively.
9. Attract them with your packaging
Indeed, a no-brainer⁠—packaging attracts customers.
I recently bought a gift for a friend, and when he received it, the packaging was so beautiful, he almost didn't want to open it. Right away, without seeing what was inside, the recipient already felt special. This is the kind of feeling you want to establish with the recipient, and in the process, with the giver.
Jewelry packaging is one of your selling points. While it matters all day, every day, it matters more on special occasions like Valentine's Day. On this day, people give gifts to celebrate love; sloppily wrapped gifts could ruin the mood.
You must note, however, that beautiful packaging doesn't always mean expensive. Take time to look for affordable but excellent packaging materials. After all, the packaging is more than just a box. It is your brand image.
10. Make it fun!
With the power of social media, anything can be fun!
If you have the means, you can always organize a game or activity on social media to encourage customer participation or engagement. For instance, create an inspiring post and ask your followers to tag their special someone or any loved one, for that matter, and tell that tagged person how much they love them. You can, then, choose one participant's comment and give the chosen winner a gift or a gift card that they can use to purchase in your store.
There are so many activities that you can do on social media right now but games like this are usually the favorites because they not only focus on the material aspect of the celebration but also highlight the true essence of love.
Tinker with different ideas until you find the right one.
How do you sell jewelry for Valentine's Day?
And there you have it!
Which of these tips are you trying, and do you know other Valentine's Day retail tips to share with our readers? Leave them in the comment section below!
Happy selling!