0 Comments
Published on:

October 13, 2021
Last updated:

July 27, 2023
Table of Contents
If Gem photography remains to be a struggle after all the equipment you've tried, we're here to turn the situation around. In this special blog, we're going to tell you everything you need to know about GemLoupe, including all the bits and pieces that make our newest device the perfect jeweler's companion.
Why GemLoupe?
GemLoupe is the world's first smartphone loupe that features a 5X zoom and a custom Sparkle lens that allows anybody to capture gemstones anytime, anywhere. Aside from its no-nonsense look, GemLoupe offers a lot of advantages to jewelers and gem dealers, some of which you can find below.
It's light and compact. You wouldn't even notice you're carrying it in your pocket. You can take it with you on business trips anywhere in the world, which means you can have a diamond photoshoot whenever you need to.
It's a jeweler's loupe, but revolutionized. GemLoupe's 5X zoom captures amazing fine details in one click.
Get rid of grand jewelry photography setup. GemLoupe is compatible with any smartphone.
GemLoupe makes a diamond sparkle using its custom Sparkle lens. No more lackluster gems!
It has all the lighting options you need in one clip!
Gem Photography in a Kit
When you purchase your GemLoupe Kit, you purchase a complete gem photography setup.
We put so much thought into the design to make it a convenient companion anywhere your business takes you.
The Right Lens for the Right Goal
GemLoupe comes with three different lenses. You can use each lens depending on the outcome you want to achieve.
1. The 5X Lens
This lens captures your jewelry and gemstones at a 5X zoom. It allows you to take better macro shots and is the perfect option when you want to capture all the fine details of your jewelry.
2. Empty Lens
Use this lens to capture jewelry and gemstone images and videos with your native camera zoom.
3. Sparkle Lens
Our custom Sparkle lens is compatible with both lens cases. We designed it to make capturing all the gem scintillation easier for all jewelers. When using Sparkles, use it together with the Sparkle light on for sparkling results.
All the Lighting Options with Flexible Settings
Aside from lenses, GemLoupe also comes with three different lighting options. But we didn't just stop at that. We went the extra mile and made sure you get the right blend that you desire.
1. Sparkles
Sparkles is a direct light source. We created it to make sure you can showcase your gemstone products at their finest by bringing out the natural fire and scintillation of your diamond and other gemstones. It's removable but effortless to use. You just simply plug it in its designated spot to turn it on and pull it out to turn it off.
2. White Light
Configured at 5500K, white light is a neutral light setting that's ideal 90% of the time for diamonds and precious stones like sapphires.
3. Yellow Light
The light that's perfect for emeralds, rubies, and alexandrites. Yellow light is a 3500K soft lighting that you can also use for hand photography to enhance your beautiful skin tone.
Further, the white light and the yellow light offer adjustable light intensities. To adjust the intensity, you just press the side button up to three times for low light intensity, medium, or high.
But First, Meet the GemLightbox Application
If this is your first introduction to our portfolio of simple jewelry and gemstone photography solutions, let me introduce you to our GemLightbox Application—your reliable gem photography assistant.
We created the GemLightbox application to assist you in capturing pixel-perfect jewelry and gem images and videos. Basically, the app optimizes your smartphone camera settings for jewelry and gemstone photography to ensure the best result in every single click.
As we've added the GemLoupe to our portfolio, we've also created a custom filter, of the same name "GemLoupe", in the application. This filter will give you the best photography results complete with amazing details captured using the 5X lens.
Please note, if you've been a GemLightbox ally from the start, you probably already have the app on your phone; so just rest, relax, and capture.
Taking Gemstone Photos and Videos with the GemLoupe
GemLoupe maintains the simplicity and convenience factors that all GemLightbox products are known for.
For fuss-free gemstone photography, follow the steps below.
Step 1. Install the GemLoupe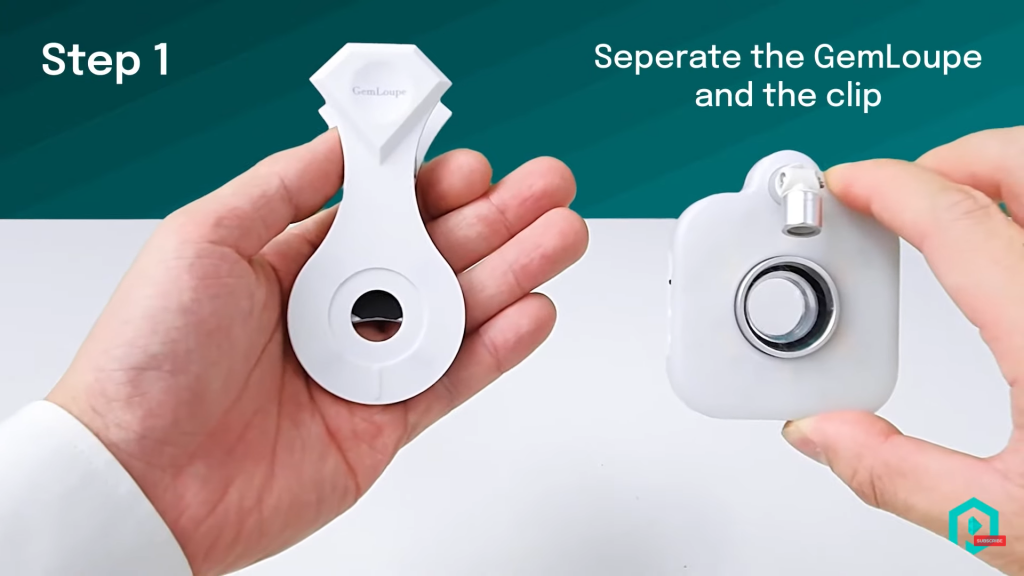 Step 2. Align the clip's opening with the camera lens
Step 3. Place the GemLoupe onto the clip
After clipping the device, ensure that your smartphone camera lens is aligned with the GemLoupe lens to avoid a black screen. Take note that you need to remove your phone case, if you're using any, to set up the device properly.
Step 4. After setting up, power on by sliding the side button
Step 5. Open the GemLightbox app on your phone and select the GemLoupe filter
Step 6. Click to capture a photo or video of your gemstone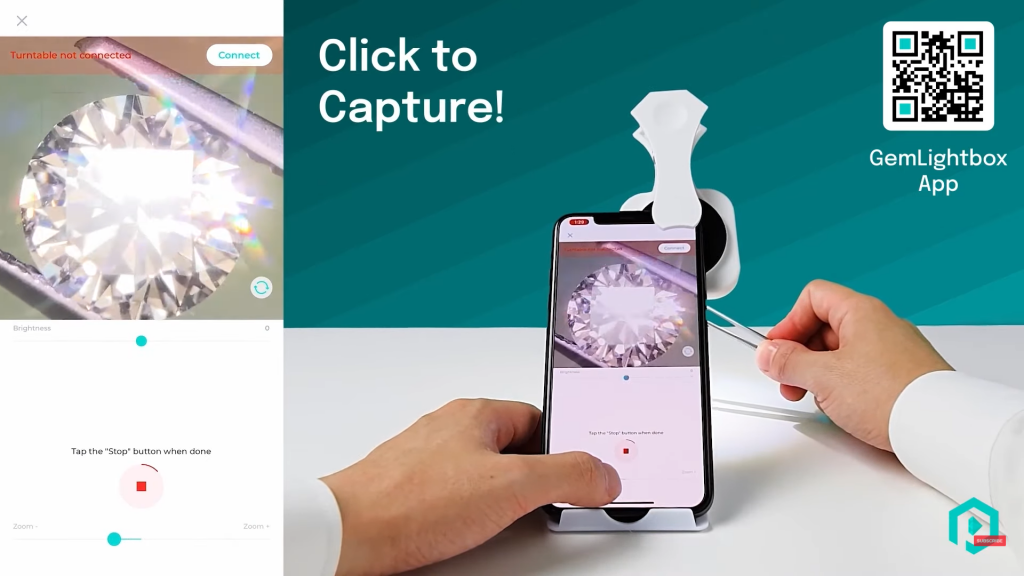 Videos Captured Using the GemLoupe
Ready to Start Your Gemstone Photography With Us?
To learn more about the GemLoupe or for product demos, samples, and other GemLoupe requests, contact us now. We can't wait to hear from you!
Don't forget to watch the complete GemLoupe tutorial below.