0 Comments
Published on:

October 27, 2021
Last updated:

May 29, 2023
Writing a jewelry product description is not always an easy-peasy task but it doesn't always have to be tough. With the right jewelry description tool and knowledge sprinkled with a dose of creativity, you should be able to articulate your jewelry products in ways that resonate with your target buyers. Previously we talked about writing product descriptions for earrings. In this post, we'll learn how to write a product description for necklaces.
Let's get straight to the point!
How to Write a Product Description for Necklaces
1. Know the type of necklace you are selling
There's power in knowing the type of necklaces you're selling. More often, customers would come to you bearing only the descriptions of the style they're looking for but not knowing what it's called. As a jewelry seller, it's your responsibility to fill that missing knowledge and be able to explain style anatomies to your customers. By doing this, you increase your chances of selling, especially if the specific design they're looking for is not available but you have a lot of interesting designs in the same style.
Let's go through some of the most common types of necklaces below.
Bib necklace
As the name suggests, a bib necklace covers the same area as a bib does. This type of necklace is usually bold and chunky enough to cover up the neck-to-upper-chest area.
Chain necklace
One of the most popular types of necklaces, if not the most popular.
Chain necklaces are strands of metal links that come in a huge variety of lengths, sizes, metals, and styles. When selling chain necklaces, it's best to identify the subtypes of chains for a more accurate product description.
Continue reading below to know how to call each type of chain.
Choker
Normally 14 to 16 inches in length, chokers fit closely around the neck and match any type of neckline you have. This type of necklace can be dressed up or down depending on the materials.
Lariat Necklace
A lariat necklace looks exactly like a lariat. It wraps around the neck with one strand hanging down the other.
This type of necklace is typically 30 to 50 inches long and has no clasp or closure on both ends. Another distinctive attribute of lariat necklaces is how it often forms a Y shape with the end of the strand hanging with a decorative element like a gem, a bar, or a tassel.
Charm Necklace
If you're familiar with charm bracelets, charm necklaces are similar in the way that they are both designed with charms or small trinkets. These charms usually carry sentimental meaning to the wearer. They are like wearable memories or individual expressions of one's personality. Think of Pandora and you already know the essence of charm jewelry.
These are just five of the most common. Many more types of jewelry didn't make the list but are worth knowing to be able to help your customers find the exact match through your accurate necklace product descriptions. Other types would include graduation necklaces, opera, multi-colored, collar, plastron, and princess to name a few.
2. Pick out your product attributes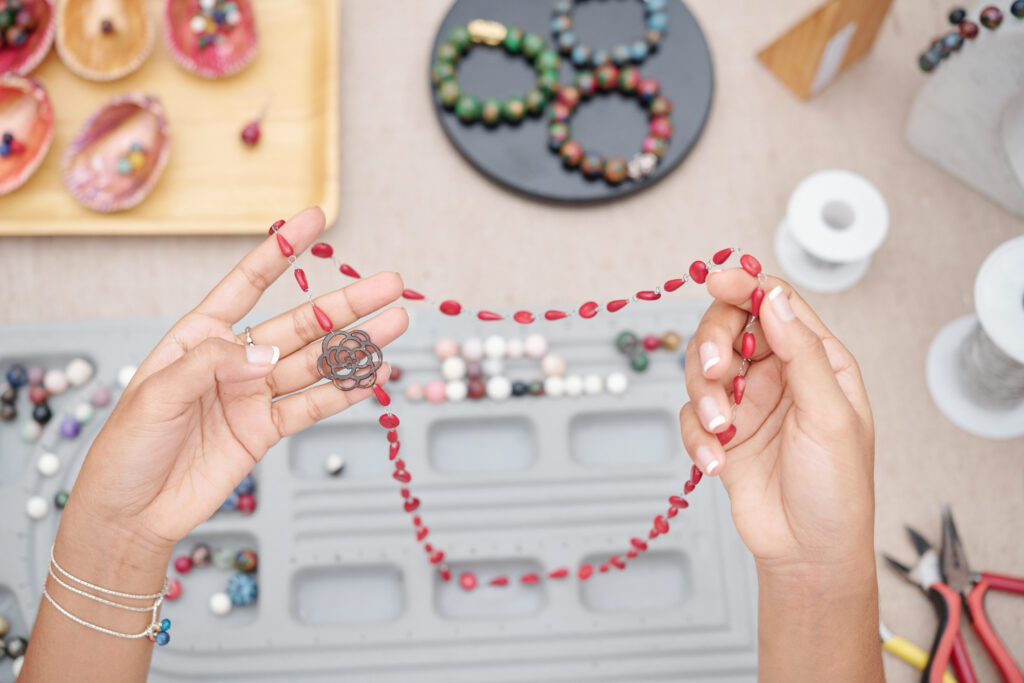 Product attributes are tangible and intangible details that best describe your product. These attributes are important because they allow your shoppers to comprehend what you're selling to assess if it's the right product for them. For example, a shopper may search for a princess-cut yellow diamond and find two yellow diamonds from two different retailers. Both products may state "yellow" in the product description (and in photos) but the "cut type" provides the right information that matches the shopper's intention.
There are several examples of product attributes such as the following.
Gemstone
Length/dimension/size
Color
Closure
Occasion
Cut type
Setting
Metal
Style
Theme
Carat weight
Take note that product attributes change according to the type of jewelry you're selling. For example, if you're selling necklaces, necklace length, adjustable length, and the number of strands are a few of the attributes you may add to your product description.
As a jewelry retailer, you must be specific when it comes to the 4Cs as color, clarity, cut, and carat weight determine the value of the gemstone you're selling. It also pays to know the different cut types, chain styles, settings, and closures. To give you a quick guide, we listed down specific attributes to make it easier for your buyers to find your jewelry products.
Chain Style
Ball
Bead
Box
Byzantine
Cable
Curb
Figaro
Figure 8
Foxtail
Herringbone
Omega
Rolo
Serpentine
Rope
Snake
Stone & cup chain
Specialty chains
Wheat
Closure
Alligator clip
Ball & joint
Barrel & torpedo
Box
Buckle
D-ring
Hinged clip
Hook
Interlocking
Lanyard
Lobster claw
Magnetic
Screw
Slide clasp
Slide lock
Snap
Snap lock
Spring ring
Swivel
Tie
Toggle
Twister
Cut type
Ascher
Baguette
Brilliant
Crescent
Cushion
Emerald
European
Heart
Hexagon
Marquise
Oval
Pear
Pentagon
Princess
Radiant
Round
Trilliant
Setting
Bar
Bezel
Channel
Cluster
Double halo
Halo
Flush
Half-bezel
Illusion
Pavé
Prong
Tension
Three stone
3. Provide fashion styling tips or hints
As you probably know, necklace styling is not that straightforward as it has to consider different necklines. Whenever a shopper gets to your shop for a necklace, they don't only consider the material, the price, or the design. At the back of their head, they also consider whether the necklace they're selling would be easier to style based on the type of wardrobe they have.
It gets tricky online because shoppers cannot try necklaces on. They can only rely on your photos, videos, and necklace product descriptions. Hence, make the visualization process as seamless as possible. To do this, you may also indicate styling tips in your texts. Find a way to incorporate tips or hints without being too wordy or lengthy.
When adding styling tips to your necklace description, consider who you're selling it to, the occasion, their personality, and their style. For instance, a long string necklace or a long pearl necklace would go well with a little black dress with a boat neck.
Don't worry about not getting the occasion right. There's no way to ace that. Just give them ideas so that they know what they're buying and what to do with it.
4. Give tips on how to mix and match
Once you're good with the rational part of your description, consider adding more value by giving them tips on how to mix and match with other accessories. This is an opportunity for you to upsell. Do you have other jewelry pieces that would go well with your necklace? Definitely pitch that in!
Mastering the Basics of Necklace Product Description
Now that you know the basics of writing product descriptions for necklaces, what do you think of some necklace product description examples? We'll get there but first, go back to your studio, pick a necklace, and list down all the product attributes you found just by looking at it. Keep brainstorming and watch this page for product description examples. If you think you're not cut for this, there's a jewelry description generator created just for you. Stay tuned!