0 Comments
Published on:

February 10, 2021
Last updated:

January 10, 2022
Table of Contents
Are you planning to propose to your beloved this year? If so, read on as we bring you the 5 biggest engagement ring trends of the year. Jewelers, watch out!
Will You Marry Me?
According to WeddingWire, a global marketplace that connects engaged couples with wedding professionals, proposers begin their research for rings over five months ahead of the proposal. Hence, if you're planning to propose in December, which is the most popular month to pop the question, we got just what you need to make her say YES⁠—an engagement ring!
Love in the Time of Corona
By now, you should already know that not even coronavirus could stop the celebration of love. In fact, marriage proposals are thriving, proving time and again that love conquers all things. Perhaps it's the isolation that forced people to take a pause and evaluate what matters most in life. What comes after this evaluation is the realization that, in times like this, it's not actually the grand material things that we kept on chasing pre-pandemic that would keep us alive; rather, it's the quality time that you spend with the people you loved. And now that it's clear as day that you don't have the luxury of time, you realized that you want the rest of your life with your loved one to start as soon as possible.
This world of disarray has changed most of the marriage proposal plans, but one thing remains the same⁠—engagement rings are still forever.
So whether you want it to be unique, classy, simple, or trendy, we got the list that would surely make her heart skip a beat.
Ready?
Sprinkle the love confetti!
5 Engagement Ring Trends to Make Her Say, 'Yes!'
1. Make it personal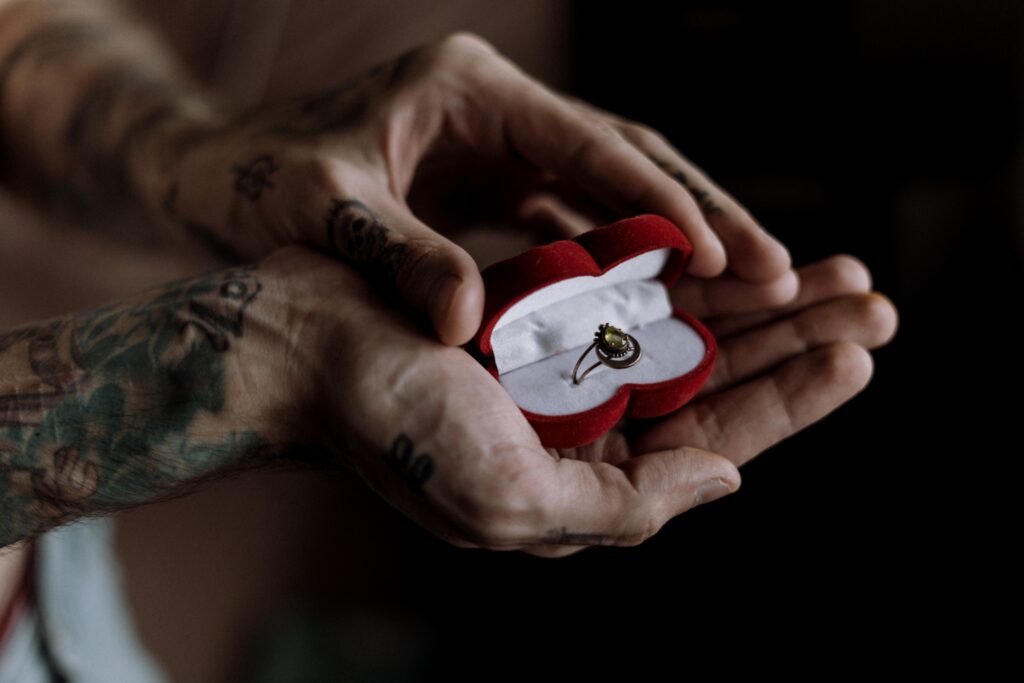 Whether you want a unique cut or an unusual custom setting, the engagement ring industry can serve it to you.
This pandemic has pushed couples to be more sentimental, and there's no better way to show this sentimentality than through engagement rings. This year, couples exercise control over details and take more time to incorporate as many personal details as possible into their symbols of love.
With more time and space available on their hands, couples take more liberty to explore what they really want in terms of designs and alternatives. If you're packed with thoughtful and personal ideas on how you want the engagement ring to look, jewelers are waiting to serve you exactly what you want.
For instance, Jared allows you to create the engagement ring of her dreams through their online platform. Whether you want an heirloom stone in a setting or a design that hasn't been created yet, sketch it, and the master jewelers will breathe life to your idea within your ideal budget.
However you like it, go for it because doing things differently is the theme of the year.
2. Preloved diamond engagement rings
The supply and demand for diamond engagement rings have been on the rise during the pandemic and one of the trends developing from this supply and demand is the booming resale market for engagement rings.
Apparently, quarantining with loved ones has become the ultimate make-or-break test. As married couples call it quits, others are developing deep commitments to each other; hence, creating an upward preloved engagement ring market trajectory.
I Do Now I Don't, an online global marketplace for buying and selling preloved diamond engagement rings, has recorded a 28% increase in the number of people purchasing preloved engagement rings and wedding bands during the pandemic. This figure goes to show just how couples are embracing the trend, especially in this uncertain time. Love should not push you to the brink of bankruptcy.
3. The King of Jewels, emerald
Emerald is the stone of hope and renewal; hence, if there's anything this year would need, it's emerald.
Classic and timeless with a pop of color⁠—there's no reason to doubt this gem's consistent popularity in the engagement ring industry. Not only does it symbolize new beginnings that make it highly appropriate for the occasion, but it also does not come with the same price tag. Be wary, though, because emerald is not as hard as the diamond, ranking only as a 7.5 to 8 on the Mohs scale of mineral hardness. This means emerald engagement rings require extra care and regular cleaning to preserve its beauty.
4. Toi et Moi engagement rings
Perhaps, the most romantic style, this two-stone engagement ring, popularly known as Toi et Moi (French for You and Me), rates high on the world's romantic scale.
Toi et Moi is an engagement ring style where the two stones sit side by side or close to each other, symbolizing the unification of two souls. Traditionally, Toi et Moi rings are made of two stones of a similar size and cut, but nowadays, it's common to see different stones of different sizes and cut.
A Toi et Moi ring with two different stones speaks volumes. For example, in the image above, the emerald stone represents new beginnings and life, while the diamond represents love and constancy.
You couldn't be more expressive and romantic than that!
5. Statement bands
Break the rules and rebel your way through love with statement band style engagement rings.
Times are tough and couples are continuously finding alternative ways to express their love for each other without breaking the bank. Band style engagement rings are ideal for couples who are adventurous, less traditional, and wild at heart as this ring can serve both as an engagement ring and as a wedding band. It's also easy to clean and can endure constant cleaning and washing.
Don't worry, just because it's a band, it doesn't have to be as basic as the solid metal band. Nowadays, you can go big and bold with most upgrades showing bands encrusted with diamonds and other gemstones.
Which of these engagement ring trends would you say YES to?
Have you got your eyes fixed on something yet?
Whatever style of engagement ring you choose for her, always remember that it's not the ring that matters, but what it represents. Celebrate love any way you like it.
Cheers to love that can stand troubling times!