0 Comments
Published on:

March 13, 2023
Last updated:

August 22, 2023
Are you interested in the new GemLightbox Pro-AI Bundle? In this post, we'll show you how our new AI Bundle can help grow your jewelry business while solving all your jewelry video and photography woes.
As technology adoption and transformation accelerate, jewelers and shoppers are now embracing the blur that is omnichannel shopping. But there's another problem — JEWELRY PHOTOGRAPHY.
Your Jewelry Photo is Worth a Thousand Sales
90% of Etsy shoppers said the quality of the product photos is 'extremely important' or 'very important' to a purchase decision, outperforming other factors like the item's price, shipping costs, and product reviews.
Omnichannel retail comes with a new set of challenges, especially with many jewelers admittedly not tech-savvy enough for modern-day shopping. Yet, after years of working with jewelers, diamantaires, gemstone suppliers, and other professionals in the industry, nothing comes up more frequently than the struggles involved in taking high-quality jewelry photos and videos.
We get it. Jewelry pieces are one of the most challenging objects to photograph. Not only are they tiny and intricate at times, but they are also made of highly reflective materials capturing unwanted reflections that could easily make your piece look poor quality. For jewelers who don't have any expertise in controlling or playing with light, the result could be a disaster.
But this problem could no longer be brushed aside. The statistics are not lying— to entice your target shoppers to stop scrolling to pay attention to your products online and convert them into online purchases or actual foot traffic, your photos and videos must do the sales talk and convince them.
What if we tell you, you can do precisely that and more?
Let us solve your jewelry photography problems, once and for all!
Problem 1: Time and cost
The cost, difficulty of building the studio setup and hiring a photographer, and the time involved are mainly the culprits behind average, if not poor-quality, jewelry images and videos.
Solution: DIY at a fraction of the cost and time with our powerful AI bundle
What happens if you combine the world's first jewelry photography lightbox with superspeedy AI power?
The GemLightbox Pro-AI Bundle allows you to grow your jewelry business on autopilot with the combined hardware and software one-click power. Aside from capturing jewelry images and videos that sell, you also get to leverage the following features to streamline your business.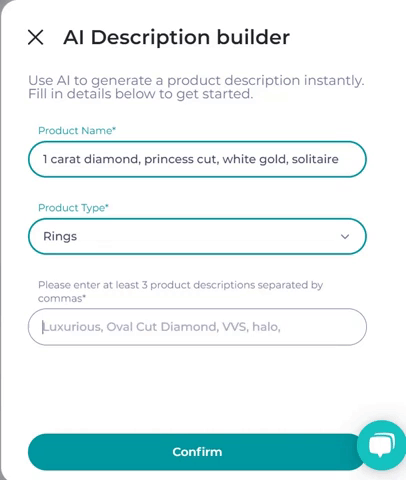 Not a wordsmith? No problem! The Jewelry Hub's AI-powered jewelry description generator tool will write jewelry product descriptions for you, the kind that activates your buyer's intrinsic and emotional brain to make them want to initiate contact with you.
The description generator tool saves you time, increases your social media engagements and purchase intention, and boosts conversion rates.
Running a bridal or season jewelry collection? Save yourself from the backbreaking task of cataloging and let the Jewelry Hub, which you can access with our AI Bundle, do this for you with no effort through its catalog-maker feature. When finished, you can even send the link to the catalog to your prospective buyers so they can browse your products at their most convenient time.
Retouch and remove backgrounds in one click
Don't want to hire an expert photo retoucher? Have full control over your post-photography process when you access the Jewelry Hub's AI-powered photo retouching and background removal feature.
Finally, transferring files from the photography device to the internet is relatively effortless because of the app gallery and the Share a Link feature where inside the Hub, you can save your photos and videos immediately after shooting and from the gallery to various social media platforms. In a matter of minutes, your customers can view the images and videos and make an informed buying decision.
In business, time is money, and wasted time equals wasted or lost money. The GemLightbox Pro-AI Bundle will maximize your time and allow you to allocate your business capital where it is most needed.
Problem 2: Capturing sparkles through images
Indirect, diffused lighting captures the brightness and contrast of the diamond while direct and spotlighting captures its scintillation. When you present a diamond image to your client, what they're mostly seeing is only the former because scintillation requires a dynamic component. In a still image, the picture freezes in time; thereby, only allowing you to capture individual flashes but devoid of the actual sparkle that buyers would crave. This experience becomes disappointing for all parties as it doesn't truly capture the actual beauty you see with your eyes.
Solution: Adjustable lighting technology
The GemLightbox Pro comes fitted with two add-on lights to ensure greater color accuracy in your gemstone and jewelry pieces. The (1) yellow light mimics the natural sunlight environment that's perfect for emeralds, light sapphires, and aquamarines. Meanwhile, the (2) Sparkles highlights the natural fire and scintillation for your diamonds.
The lighting and the built-in turntable are essential parts of the Pro as videos become excellent tools for showing a diamond's scintillation effect or the diamond light performance when it's in motion. In a digital world, a 360 video of a diamond is an excellent exhibition of how the diamond will sparkle in real-world situations.
Product photography is one of the most powerful tools in virtual transactions. The visual image conveys crucial information influencing consumer behavior including their choices and purchase decisions.
We often say that a picture is worth a thousand words and in digital commerce, possibly a thousand sales, if not more. Studies have shown that in products for which appearance is important, the number of images of the product and the quality of photos are both tantamount to providing consumers with a complete product visual representation leading to improved sell-through. A brand that knows the key role of product photography in business can benefit from such knowledge, especially in a highly-competitive online market.
Problem 3: Equipment vs photographer
Taking photographs of diamonds for assessment and taking photographs for commercial use such as advertisements, selling, and other marketing purposes require two different demands. Unlike the former, the latter affords you a lot of control to ensure that the diamonds appear nicer in photos. Understanding the principles of light enables you to have excellent control of light; then, angles, focus, exposure, and composition. These are key in taking good images of diamonds ⁠—but these components also require skills.
Based on a survey conducted by INSTORE Magazine, 87% of their polled jewelers photograph their jewelry products in-house. These jewelers enjoy the fact that doing it on their own allows them to have full control of the process. On the other hand, 13% found it to be more time-consuming, especially with the added stress of not having ample time to do so and the lack of proper equipment.
Solution: Capture four (4) photos and one (1) 360-video in one click using our Pro Bust Mode
Jewelry photography is made simpler and even better with the new Pro Bust Mode in the GemLightbox Pro. Once enabled, the burst mode allows you to capture four photos with different angles during a 15-second video process.
What's more? Forget about the principles of light, exposure, and composition. The GemLightbox Pro requires no training or photography expertise. It's the one-click solution you all have been waiting for and we made sure we ticked all the right boxes.
When you factor in the learning curve for the use of your high-end camera, the lighting equipment, and the post-production work involved—all in the aspects of time, money, and energy— the GemLightbox Pro + Software Bundle emerged to be the perfect cost-saving tool for diamond dealers, jewelers, and suppliers who need to photograph loose diamonds, gemstones, and jewelry pieces for everyday-clients.
Our shoot-and-go solution allows you to save a significant amount of time carrying out what used to be a cumbersome task. Furthermore, it also saves you hundreds to thousands of dollars in commissioned photo shoots.
How Does the GemLightbox Pro Bundle Benefit Me?
Whether you're a jewelry manufacturer, wholesaler, or retailer, the GemLightbox Pro Bundle can perpetually optimize your business performance for guaranteed optimum results.
Drive Sales
Leverage AI to drive sales and increase your revenue.
AI can automate many traditional yet repetitive processes in your jewelry shop. Think of the most labor and time-intensive process in your daily operation and then imagine, not having to do that anymore because of AI-powered automation.
You could be losing potential sales while writing your product descriptions for jewelry pieces that should have been up and listed.
For many jewelry retailers, the most time-intensive could be writing product descriptions for every jewelry piece you need to list on your website or any jewelry e-commerce platform. It's repetitive but essential in communicating product details to your prospective buyers, especially for high-end products. But why spend all your time writing product descriptions when you could have listed your jewelry products with a detailed description in minutes and become instantly ready for prospective buyers to purchase?
Writing product descriptions manually in bulk is not only time-consuming but also takes your focus away from your number one goal, which is to make sales. By automating this tedious task, you or your team can easily devote your time and energy to making more sales.
Increase Efficiency
Create remarkable jewelry listings in only 3 minutes!
The task of buying and selling jewelry pieces, diamonds, or gemstones in bulk poses a lot of challenges. Between transacting with diamond polishers and retailers and listing your wholesale products online, there's hardly any time left to focus on what many of you would probably think are "little tasks" that are part of doing business. But this is tricky because what many would consider "little" may probably be the most important aspect of making a sale. For instance, listing your products in bulk.
From taking photographs and videos of your products to putting them up online for every retailer to assess before placing an order, the GemLightbox Pro Bundle can do this "tiny" but critical aspect of your business in minutes.
Now you may ask, "how is this possible?"
The process of creating remarkable jewelry listings is simple and comes in many ways. For instance, you can create a product catalog and use the feature "Share a Link" to instantly send your catalog to your interested buyers or take photographs of your available inventory and send them directly to diamond polishers or jewelry retailers via email, a social messaging app like WhatsApp or share them to social media to attract more customers. The possibilities are endless and the way to manage your inventory listing efficiently is simple.
Reduce Cost
Significantly reduce workforce-related expenses by 75%
Talent is expensive. Statistics show that 70% of an organization's total operating expenses are workforce related.
Have you been paying overtime work just to get all your jewelry products out to the buyers?
The first way to improve your labor cost efficiency is to avoid overtime. The GemLightbox Pro Bundle can ease your workload by streamlining your processes, leading to a significant difference.
We believe that process improvements are found in almost any area of the business. As long as you understand your priorities —those that impact revenues, morale, and costs), you can always reclaim the cost and time taken away from critical business tasks that grow the business.
The improvements often require systemizing things, using the most appropriate method, and getting the most appropriate person or in this case, the most appropriate device and software.
Improve Customer Experience
Create Stunning visuals and Powerful Descriptions
Did you know that the brain processes visual information 60,000 times faster than text? This means that listing high-quality product photos and videos is more effective in selling, primarily online, where the lack of tactile experiences continues to hamper online purchases.
Therefore, it comes as no surprise that 75% of online shoppers rely on product photos when deciding on a potential purchase. Product images are a more time-efficient method for them as their attention naturally focuses on the product image whether they're just researching the product or ready to make a purchase.
The GemLightbox Pro-AI Bundle helps you create an immersive jewelry shopping experience through (but not limited to) the following:
Using interactive professional-quality video and images that assist buyers in visualizing the piece they are investing in.
Creating jewelry catalogs effortlessly ensures you showcase a bevy of jewelry pieces and gemstones, complete with pertinent product information.
Making your products available for viewing instantly right after photography through our Share a Link feature.
Let's reinvent the way you do business!
GemLightbox Pro—the world's first 1-click AI-powered photography software and hardware bundle makes jewelers equipped for the digital jewelry industry by streamlining your business process in the simplest way possible. It takes the pain out of jewelry photography so you can focus on what you do best.
Futureproof your jewelry business now as we help you navigate the world of smart, hybrid retailing every step of the way. Contact us now or click here to know more about the 1-click GemLightbox Pro-AI Bundle. Together, let's unlock your superpower in the digital jewelry world!