0 Comments
Published on:

January 25, 2021
Last updated:

May 15, 2023
Are you one of the many jewelers struggling to photograph long earrings? If so, this article is made just for you! Read on as we untangle the common challenges you may encounter while taking photos of those beautiful but sometimes pesky long pieces of jewelry.
What's the difference between drop, dangle, and long earrings?
Earrings are ancient. The first pierced earrings could be traced as far back as 3,000 B.C. in the Middle East. Like other pieces of jewelry, earrings were symbolic. They indicated one's social status, tribal identity, and religion, and political affiliations.
For most of history, earrings were primarily donned by men, which was not surprising considering that they dominated wealth back then; however, this didn't mean that women were too far behind. In fact, archaeologists discovered the earliest earrings⁠ worn by Ancient Sumerian women—gold hoops, twisted wires, pendants, and beads⁠—dated around the same period in history.
Such evidence proved that earrings, particularly the long ones, have been in existence since antiquity. Let's learn how to differentiate them.
Three Types of Long Earrings
Dangle earrings are a type of earrings that dangles down or hangs. They can either be short⁠—just below the earlobes⁠—or long enough to hang to the shoulders. They move and swing from side to side.
This type of earring is commonly confused with a drop, but while all dangles can be a drop, a drop cannot be a dangle.
Unlike dangle earrings, drop earrings…well…drop just below the earlobes; however, it doesn't swing or move. If it moves at all, it's only a slight movement initiated by the body's movement.
A pair of chandelier earrings is a long and ornate pair of dangles that look similar to that light fixture hanging down from the ceiling; hence, the name. It has a wind chime effect and sometimes creates a slight clinking sound.
How to Photograph Long Earrings
Now that we've gotten over the confusion, it's time to get to the core. A lot of jewelers often talk in frustration about the challenging nature of these long earrings. They're usually long, and styling them without eclipsing their ornate designs is difficult and time-consuming.
However, not everything has to be difficult, as you will see below. You just have to have the right props and tools, as mentioned in the tips below.
1. Do not photograph long earrings lying down.
Photographing long earrings lying down is one major way of getting it wrong. It displays the earrings poorly with all its awkward composition and out-of-focus parts. It also communicates your disregard for buyers' needs. As you can see, by letting them lie down on a surface, buyers can't have a good view of the jewelry.
2. Avoid hanging them on your bowls and teacups.
Teacups and bowls are commonly used props when photographing long earrings; however, no matter how expensive and daintily pretty your teacups and bowls are, they still will not provide you with high-quality earrings photos. They can easily distract the viewers and are often look amateurish.
What you can do is to suspend them and let them fall naturally. You can do this by getting a few props from nearby stores.
Use a white frame if you want to photograph long earrings on a white background. You can also use a white cardboard folded in half as your background.
Transparent thread or fishing string
Aside from earring holders that you can easily buy online, you can also improvise. Let your white frame stand and use transparent threads or fishing lines to attach your long earrings to the thread and then to the frame. Depending on the earring backs, you can just hook them on the frame or thread or poke the post into the frame. If you're using an open frame, ensure that your earrings are tied securely and tightly to the frame so that they don't sag.
If you choose to use a folded cardboard, attach your transparent thread from one side of the cardboard to the other. Then, let the earrings stabilize. Don't photograph while they are moving or swaying.
If the thread is too visible in the photo, retouch it afterward or send the photos to jewelry photo retouching experts to save time.
3. Try not to photograph different pairs of earrings in one group.
Cluttered, confusing, and distracting⁠—these are three product photo descriptions you wouldn't want your photos to be associated with. When photographing long earrings, try to avoid photographing different pairs in groups. Always photograph with a purpose and target in mind.
Ideally, you would want viewers to look at your earrings and stimulate desire and purchase intent. Presenting different products in one frame only lengthens the buying decision process as they may find the options overwhelming.
4. Communicate details, texture, and design.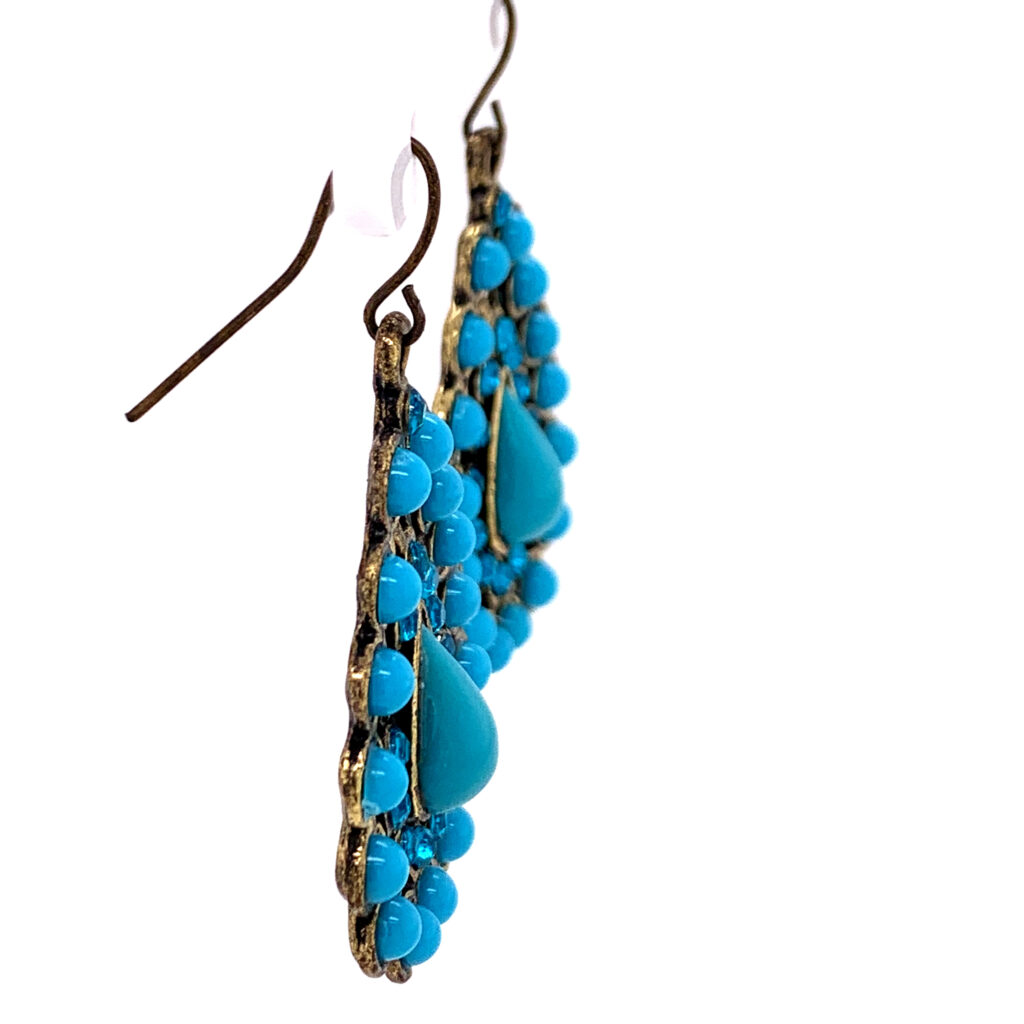 Studies have shown that people remember 80% of what they see but only 20% of what they read; thus, product photos are very powerful tools in online selling.
Use photos (and videos) to address the lack of tactile experiences when shopping online. Product photos can convey more information than texts because the human brain processes images 60,000 times faster than text. Further, a picture might require a hundred if not a thousand words to describe what's in it, but a picture can convey both tangible and intangible characteristics—for instance, a picture can stimulate emotions.
When photographing long earrings, put effort into capturing them from all angles. Show the design, the feel, and the appearance. For example, by looking at the earring's side angle in the photo above, you can see and feel that the beads have a smooth, shiny finish but present a unique texture as a whole.
How to Photograph Long Earrings with GemLightbox Aerial
Let's demonstrate how our clients photograph long earrings using their smartphone and the GemLightbox Turntable Aerial set.
The GemLightbox Turntable Aerial Set is a photography studio in a box designed for capturing long jewelry pieces in style.
Step 1. Turn on the GemLightbox and place the Aerial turntable inside.
If this is your first time using Aerial or are just curious how it works, you may watch the complete GemLightbox Aerial set up here.
Step 2. Suspend the earrings properly using the earrings holder.
The earrings holder attaches magnetically to the Aerial turntable. Position it nicely, hold the earrings steady, and put back the front reflector cover.
Step 3. Position your smartphone and click to capture.
Place your smartphone in front of the GemLightbox, open and connect the GemLightbox app via Bluetooth, and make your desired adjustments. For example, you can zoom in or out for an even white background distribution, tap to focus or adjust the brightness level.
Once you're satisfied, click to capture. Always save your photos and 360 videos to the app gallery for effortless access and retrieval.
See results below.
Do you know other tips on how to photograph long earrings? Feel free to share them in the comment section below!