0 Comments
Published on:

May 19, 2022
Last updated:

August 13, 2022
After two years of COVID-postponed wedding celebrations, expect a significant recovery wedding boom this year, especially this fall. The Knot, a wedding planning website, predicts an estimated 2.6 million weddings this year compared to the 2.2 million weddings pre-pandemic, in the US alone. This makes jewelry retailers one of the biggest beneficiaries of this record-breaking year for weddings. Is your online jewelry store prepared to rack up bridal jewelry sales?
When preparing your online jewelry store (or jewelry business, as a whole), it's critical to consider that not only is the wedding industry making a rebound, but it's also going to be a completely different landscape with new trends and consumer behaviors that inevitably emerged as a response to the pandemic.
Couples have become flexible, creative, and adaptable. Expect your couples to approach their special day with new perspectives on life. Battled by the fragility of everyday life, they'll likely put more weight on the quality of the experience than the little things that don't matter in the long term. With that being said, you'll see them step away from some traditions while keeping the others. How do you position yourself in this changing wedding culture?
Read on and find out how you can boost your online jewelry store and attract more bridal jewelry sales in the post-pandemic wedding market.
How to Prepare Your Online Jewelry Store for this Year's Wedding Boom
1. Make your online jewelry store visually enticing to warrant an in-store visit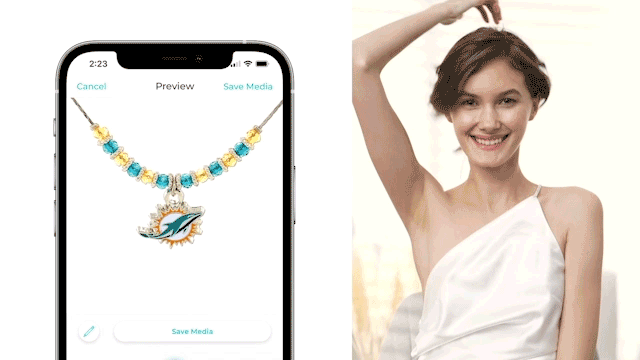 While online shopping has become acceptable during the pandemic, many couples still prefer to buy their bridal jewelry from a physical store, especially as the world slowly goes back to the new normal. Don't be quick to dismiss your online jewelry store though. According to The Knot, jewelry websites and social media remain to be the main authority when it comes to jewelry research and inspiration.
Now it comes down to whether or not your online jewelry store deserves an in-store visit.
The pandemic has also brought about the accelerated adoption of digital transformation for many businesses; hence, a more advanced and tech-driven jewelry product online display should not be a question. There are many ways to come up with an interactive jewelry display that would surely translate online web visits into foot traffic.
Integrate a jewelry virtual try-on tool
Virtual try-on tools, like the Jewelry Hub as seen in the image above and used by the jeweler Under the Crown, are here to stay and they are the next big thing in the luxury industry. Not only are they a timely substitute for in-person fitting which meets the need of those following the sanitary precautions, but they're also the most convenient approach to product visualization. Imagine researching a piece of bridal jewelry online and being able to try it on in one click and really see whether it looks good on you? That's a top-notch online customer experience!
The Jewelry Hub
The Jewelry Hub makes the virtual jewelry try-on tool easier to integrate into your online jewelry store.
Log in to your Jewelry Hub account
Go to the jewelry image your want to use for the virtual try-on or upload it if it's not in the Gallery yet.
Click 'Create try-on link'
Copy the embed code and embed the virtual try-on link to your online jewelry store or share it directly with your prospective buyer.
Use studio-quality images and 360 videos
As I've repeatedly mentioned, 90% of polled online buyers say that the quality of product photos is the most important factor when deciding to buy. This figure highlights the importance of studio-quality jewelry images; however, don't be so restrictive that you limit your customers' visual access to your products by just offering them still photographs. Always mix it with 360 videos to allow them a 360-degree view of your jewelry pieces. The product information they could get from images is superior to any product description in texts. It would help them make an informed buying decision.
2. Create a catalog or section for trending bridal jewelry pieces
While a minimalist website design helps couples search for the right bridal jewelry pieces, it would be more useful and convenient if you allocate a section or create a bridal catalog to assist them in narrowing down their options to the most appropriate or suitable for their budget.
Are you running bridal sales or promotions? Group them under the Bridal Sales Collection (or whatever you want to call it) to help couples save time when searching.
It's also important to know what they're looking for. For instance, despite the changes in ring aesthetics, diamonds have remained to be the forever fancy with oval shapes recording a steady increase in popularity. Furthermore, the interest in white gold has continued to decline as yellow gold increases. On the other hand, the center-stone gemstones continue to carve their space in the industry with moissanite being the most popular among Gen Z.
If you want a more exclusive experience, send your prospective buyers a bridal catalog that they can browse at their most convenient time. Creating a personalized catalog through the Jewelry Hub is fast and easy with no technical skills required.
3. Offer a personalized online concierge jewelry service
Planning for a wedding is already a stressful and sometimes, emotionally-draining experience. Looking for the right bridal jewelry pieces, which could last for weeks, only adds up to that anxiety. Eliminate the guesswork and make the experience of jewelry hunting more enjoyable for couples by extending a digital concierge jewelry service.
A digital concierge creates a win-win environment for both of you and your customers. Here are some of the benefits.
Establish a valuable and meaningful connection with your customers as you match them carefully with you or one of your top-notch jewelry stylists who understands their tastes, budgets, and lifestyle.
A one-to-one appointment or video consultation communicates that you're open to working with your customers at their most convenient time and schedule.
With your specialist providing your customers with informed suggestions and recommendations based on their unique needs, you highlight a personalized shopping experience that your customers would surely remember.
You nurture your prospective buyers right from the start of the buying journey. As we've mentioned earlier, customers search online but they're more confident buying in-store. Your digital specialist can make sure that their online visit would translate to actual foot traffic by sending them pictures or videos of jewelry pieces that suit their taste and later on, arranging an in-store meet-up to hone the options or close the deal.
4. Collaborate with other online bridal shops and promote it on your website and social media
The thing with weddings is that you're never alone. Planning involves a lot of vendors like photographers, caterers, and florists, just to name a few. As such, a strategic partnership with any of the vendors in the industry would help further your reach.
It has proven long ago that collaborative selling is less expensive, more productive, and 70% of consumers enjoy it. The partnership doesn't have to be big. As simple as a referral partnership would do if that's as far as you can go.
Some benefits of brand collaboration:
Create buzz around your brand
Cross-promotions allow you to tap into new customers
Attract user-generated content
Increase your social media engagement and grow your social media following
Boost sales while decreasing marketing costs
5. Host a contest
Since planning a wedding is already stressful, a little fun in between won't hurt.
Host a contest for couples, bride, or groom to increase your social media engagement and brand exposure. This will encourage your customer base, their friends, and their followers to interact with you online. In return, give the winner an irresistible prize. The prize doesn't have to be expensive or grand. Remember, this is all about creating a wonderful experience for couples.
The wedding bells are ringing, is your online jewelry store ready?
Welcome this positive outlook with a full inventory and an energetic vibe! After two years of non-celebrations, it's going to be very busy but don't let it overwhelm you. The couples are optimistic and you should be, too. Spruce up your online jewelry stores, attract more bridal jewelry sales, and say 'I do' to the sparkling year ahead!