Buy 360 Product Photography Turntable Online
When you want quality product photography for your jewelry business, it's important to use the right tools for the job. But that doesn't mean you need to employ a professional photographer or invest in expensive photography gear. Thanks to Picup Media, you can now get professional results using lightbox photography.
The world of jewelry photography and videography is changing, and it's changing for the better. What was once an expensive process involving a professional camera and a studio setup, a jewelry photoshoot is now a simple exercise whereby you can achieve professional results using your smartphone and a product lightbox. And of course, a 360 Product Photography Turntable won't go astray either!
How to use a 360 product photography turntable?
The GemLightbox, coupled with the 360 product photography app, can produce high-quality photos and videos using just the camera on your smartphone. In addition to the stand-alone lightbox, you can also use the 360-degree electric rotating turntable for photography. This professional-grade photography turntable is compatible with the GemLightbox and is a specifically designed motorized turntable for 360 photography. Essentially, this photography turntable is a revolving display base that eliminates the need for camera control and results in smooth image capture and video.
The GemLightbox takes care of all your jewelry photography lighting requirements. To step things up a notch, replace the factory standard photography table with the 360 Product Photography Turntable. It's a foolproof plug & play add-on that provides incredible capacity for you to capture every angle of your item with stunning clarity. Beautiful images will result in more product views on your website with the end goal being more product sales. Our research indicates that a beautiful 360 product video can double the number of times customers spend shopping on your website.
Using the 360 Product Photography Turntable truly is so easy. Once you've connected the product turntable using the cable provided, simply pair your mobile phone to the lightbox using the Picup Media 360 product photography app and your phone's Bluetooth settings. The turntable has a handy indentation marking the center point on which to place your piece of jewelry. Once everything is in place, simply adjust the lighting via the app, select the parameters for your desired rotation and your preferred speed. Tap to start, and watch the magic happen. Within no time at all, you will have created a high quality 360 product video that doesn't require extra editing or processing and that you can pop straight on your website and socials.
Is a 360 product photography turntable worth it?
Gone are the days of you hiring someone to provide product photography services. With the help of Picup Media, you can take care of product photography yourself, and the time and money your business will save when you use the 360 Product Photography Turntable makes it a worthwhile investment. The technology is so easy and affordable, yet the image quality makes it look like an expensive job done by a professional.
There is absolutely no reason why jewelry can't be successfully sold online. These days, to remain competitive, you need to be operating on a successful eCommerce platform and not simply rely on bricks and mortar sales. The challenge for jewelry store owners is to make their online presence look and feel as sophisticated as their physical stores. High-quality jewelry product photography is imperative for a successful online venture.
Is a 360 product photography turntable smartphone friendly?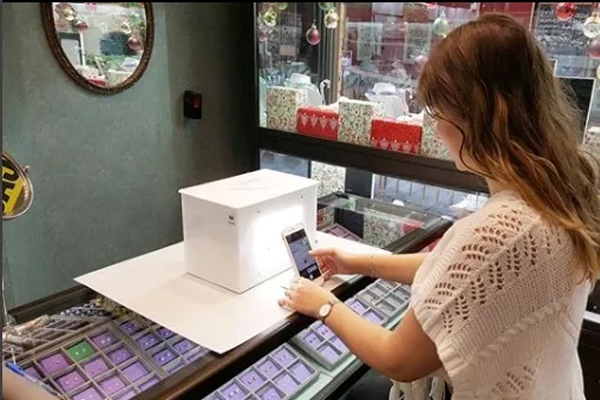 In fact, the 360 Product Photography Turntable is only smartphone friendly! Although the GemLightbox by itself is compatible with a digital SLR camera, the rotating display turntable functionality can only be accessed using the smartphone app.
The settings on the 360 product photography app allow you to choose the rotation angle and the speed at which the rotation occurs. This provides so much flexibility for you, the jeweler, to showcase your creations to their maximum potential. In addition to this, you also have the option to use the top shooting angle function to capture an aerial view of your jewelry pieces. In every photo and video, your jewelry should take center stage, and the GemLightbox in conjunction with the 360 Product Photography Turntable allows it to do just that. The end goal of Picup Media is to help you create product photography that sells more jewelry. With 360 product video, prospective buyers can literally view every facet of the piece, just as they would if they were in a physical store. Whether it be earring photography, necklace photography, or wedding ring photography, a product turntable for video is an essential tool to have as part of your jewelry photoshoot.
If you decide your images require some photo retouching, simply avail yourself of Picup Media's additional services. We can remove any blemishes, scratches, and fingerprints, and provide you with a pixel-perfect jewelry image ready to share on your website and socials. See our client testimonials section to read stories of how we have helped some of our 8000+ customers around the world enter the digital market. Just like them, once you've experienced the stunning results from the GemLightbox and 360 Product Photography Turntable, you'll wonder how you ever survived without it!