1 Comment
Published on:

October 28, 2018
Last updated:

October 3, 2023
Table of Contents
LinkedIn is the world's largest professional networking platform with over 500 million users globally. Amongst the 500 million users, 61 million are senior-level influencers and 40 million are in decision-making positions. With users already encouraged to complete their profiles with the highest degree of accuracy, LinkedIn is a goldmine for marketers and salespeople to create extremely targeted campaigns.
Given these impressive statistics, there are specific strategies that you can implement on LinkedIn to maximize your qualified lead generation and customer conversion. We've put these strategies together in a jewelry and gemstone context.
Make your profile reflect your business
First impressions count. Your profile is a reflection of your brand – think of it as an extension of your website. Potential customers who are seeking new business opportunities may want to do some research on you and your company. They want to understand who they will be working with potentially, and you represent yourself in a social context. The lack of consistency between your company's persona and individual persona could be the deciding factor if the potential customer will engage in business with you. Would you want to buy high-valued goods such as diamonds or precious gemstones from someone on LinkedIn who has no established company details, profile picture, or poor spelling and grammatical errors?
That being said, it is straightforward to optimize your LinkedIn profile so that you appear reliable and trustworthy.
1. Use a high-quality headshot free from any distractions. People want to know who they'll be dealing with
2. Use a headline tailored to your audience. Your headline is the first thing anyone sees after your name on your profile. Surprisingly, many users fail to utilize this useful section. Create a greater impact on anyone who visits your profile by including in your headline 1-2 sentences that best summarize your goal/vision. If you're selling I've screenshotted my headline from my LinkedIn profile as an example.
3. Boost your reputation by adding the relevant skillsets and getting endorsed. If you've connected with any of your customers on Linkedin, send them a quick request to endorse you for your skills, and endorse them back. You can highlight up to 3 of your skills on your profile. For example, if you are a jewelry designer, we recommend that you highlight skills like "jewelry design", "CAD", and "jewelry or jewelry making" and aim to get these endorsed.
4. Get recommendations from co-workers and customers you have strong relationships with. Return the favor and write one back. It will add plenty of credibility to your achievements. This is especially important if you are selling loose gemstones or a jewelry manufacturer. It will reduce the number of questions asked and speed up your sales process.
Share educational content
According to the Foundation, LinkedIn is the #1 channel B2B marketers use to distribute content at 94%. More than 50% of all social traffic to B2B websites & blogs resulting in a conversion rate 3x of Twitter and Facebook. What this means is your target audience is already highly engaged and will read content relevant to them if it is educational. For example, if you are a diamond dealer, share content on how you have sourced your diamonds, if you are a jewelry manufacturer, talk about leading-edge technologies you use in the manufacturing process.
LinkedIn users will also appreciate any engaging group discussions. Studies revealed that 1 out of every 3 LinkedIn group posts that converted included a question mark in the subject line. So don't be spammy and start interesting discussions on current industry issues.
You can join groups relevant to your industry simply by searching them in the groups' function. Some groups are very strict and will only accept users who appear to have expertise in a field, stressing the importance of a complete and consistent profile. We have created our own group on Jewelry E-Commerce & Photography and we follow a stringent approval process and post moderation.
Connect with the right people and build relationships
LinkedIn makes it very easy to connect with people. For starters, you can import your contact list from your email or any other .csv file with the contact details. You can read the full guide here. The benefit of importing a contact list is that it is a quick method of adding hundreds of contacts at a time.
LinkedIn also has smart suggestions to connect with people you may know. This is useful if you would like to connect with other people in the same organization or share the same interests as you.
Finally, you can also connect with people outside of your network. In these cases, it's best to follow them before adding them to your network. When you do add them, always add a personalized note. LinkedIn has capped the number of characters in your personalized note to 300 characters, so be sure to be succinct. The simpler the message the better – something as simple as:
"Hello XXX, I'm Kevin from Picup Media. I noticed that you liked a recent video I uploaded to my page. If you don't mind, I'd like to share how this video was shot and how you can achieve a similar result. No obligation, of course. Kind Regards."
Be sure to follow up with new connections and do not worry if they do not respond to you. In fact, many users prefer to take conversations off the LinkedIn platform. Suggest getting their contact details to stay in touch and keep them updated.
Connecting with the right people means your posts are more likely to be seen by the right people. Consider this: the same content posted on a LinkedIn account with 500 connections vs. 6000 connections. Now which do you think will account will have the greater reach?
Create engaging product videos
According to Sean Callahan, "by 2019, videos are projected to account for 80 percent of all Internet traffic. Jewelers and gemstone dealers need to produce more videos. Your customers want it, and it influences their buying decisions, with 64 percent of consumers saying they're more likely to buy a product after watching a video about it. And with tools such as smartphones and easy-to-learn and inexpensive editing software, video production is accessible to marketers at any size company."
I decided to run an experiment based on these statistics to test the impact of videos on LinkedIn. Over 7 days, I posted several 360 jewelry videos, all captured using my smartphone and the GemLightbox Turntable onto my personal LinkedIn profile (if you haven't connected with me, please feel free to do so!)
The jewelry videos were captured at the recent Hong Kong Jewellery & Gem Fair, where we partnered up with fair organizers UBM as the official jewelry photographers.
I had very few expectations, to begin with. But then I was shocked by the results. Over the seven days, I gathered over 1,000 likes and 100 comments in total – just check out a snippet of my notifications below!

The most shocking thing, however, was that many of the comments were asking for the price, and I had many more people messaging me directly!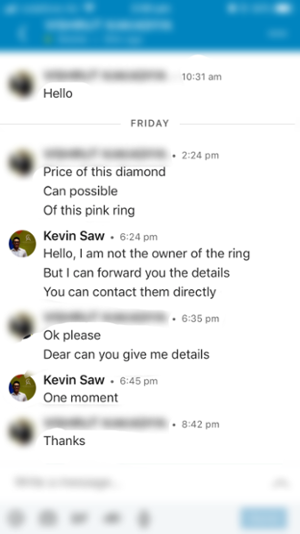 I had unintentionally become a star salesperson for the very happy owners of the pieces of jewelry (and new GemLightbox Turntable customers)
And the best part? Each post took only 2 minutes of my time.
You can recreate the same results in a 3-step process. Simply:
Record a 360 video using the GemLightbox Turntable and GemLightbox application
Upload to LinkedIn with a simple caption
Answer any sales inquiries