0 Comments
Published on:

March 14, 2018
Last updated:

August 8, 2022
When it comes to jewelry photography, perfection could be a bit of wishful thinking for others; hence, in this post, we're going to spill some more jewelry photography tips if you think your online sales need some shaking up to survive.
What can happen if your jewelry eCommerce page or website greets every potential shopper with poor product photography? There are two things we can think of:
1. The potential shopper will quickly exit the page, and on to your rival brand's page where the former feel valued because of the satisfying shopping experience the latter provides, or;
2. The potential shopper, who has been eyeing one of your jewelry pieces, will not let poor product photos deter her from getting what she wants, so she'll purchase one of your products with the risk of an impending item return or a fair to negative review. Take a look at the example below.
Do you think a scale shot of the product would have prevented the 3-star review? How about a clear, profile photo showing all the details of the product? Is it the shopper's responsibility to reach out to the jeweler to get the product information she needs, or it would've helped tremendously if the product details were outlined in the description box? Would the jeweler have avoided this event if only the product images delivered what it was purported to do so?
Absolutely!
"Did you know that 42% of online shoppers have made a purchase decision they later regret while 30% of all items ordered online are returned? According to 22% of the surveyed online shoppers, the product delivered looks different. This is just one of the top reasons behind product returns."
Avoid these common jewelry photography pitfalls when selling online with these five jewelry photography practices that'll make your product page trustworthy and credible.
Jewelry Photography Tips: 5 Product Photo Practices to Amp Up Your Online Sales
Practice #1: Manipulate your light sources to your advantage
If photographing your jewelry pieces using natural lighting is not workable, learn to manipulate your lighting sources to make it work in your favor. Some jewelers neglect the importance of good lighting, and this is where the pitfalls usually begin. Do you know that different lighting setups give different flattering effects to your product? For instance, you can use side lighting to showcase the beautiful intricacy of your designs while backlighting works best for glass-like jewelry products.
Our clients capture jewelry product images using the GemLightbox, as pictured above, as it allows them to get photography done in such a short amount of time without a grand studio setup. The GemLightbox is also an ideal choice, not only because of its consistency and results but also of its simplified approach, which doesn't require photography training and tutorials. Clients simply plug in the equipment and start capturing photos with their smartphone or SLR. See one of the photos captured below.
A lightbox is often recommended as it provides a soft lighting setup that can properly illuminate your products. You can also make your lightbox if you have all the necessary materials, but it might not be a viable option in the long run.
Practice #2: Avoid distracting background, especially for the main product photo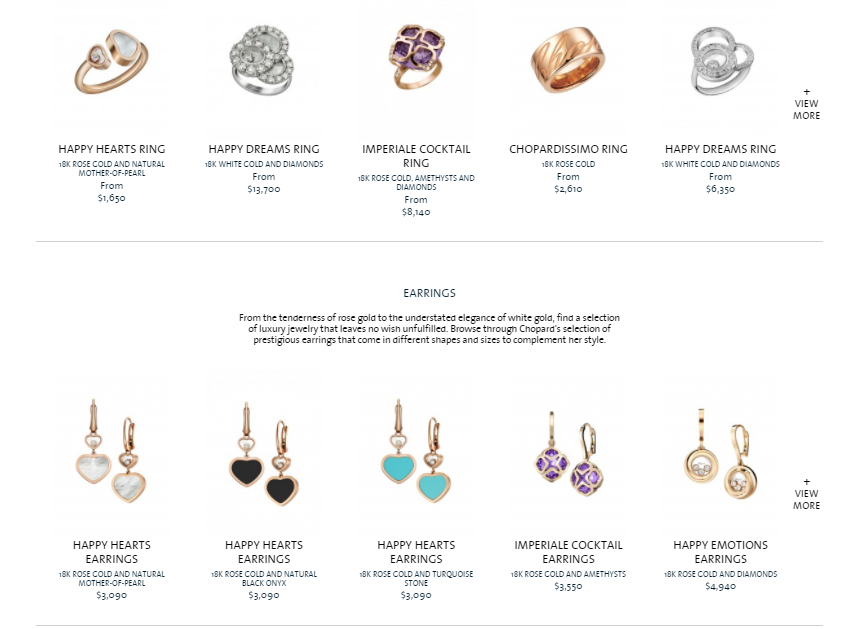 Avoid unnecessary, cluttered backgrounds, especially for your main jewelry product image. It's a barrier to a smooth buying decision as it can distract the shopper from examining the product details. It's easy to miss product features highlighted in the photo if there are too many elements in the background.
Another thing to consider is the color of your background. White background photography is very popular in eCommerce as it counters the negative possibilities mentioned above. It also makes your product page look neat and professional when the color and lighting are consistent with all other products on the page, as shown in the sample image above. Chopard's choice of a pure white background is impressive because of its colored jewelry pieces, in which true colors may be distorted or misrepresented when photographed against a dark-colored background.
Practice #3: Depict and describe
When it comes to selling or marketing jewelry online, always depict and describe. This means you have to show to your potential shoppers through your images the product qualities and features you wrote in the description box. The sample images above are taken from Bibi van der Velden's collection of Multiple Faces Necklace. The image shows six small faces along the chain. Without the zoom function, this product listing could've easily failed as the faces are too small to be admired by a potentially interested shopper. As you can see, such a pitfall was successfully avoided. As I zoomed in (image on the right), I was able to see in detail what each face was made of, its texture, and overall appearance. You can find another example below.
Practice #4: Supplement your white background jewelry photos with lifestyle shots
Lifestyle shots such as the one pictured above provide potential shoppers with an image to aspire to. Showing your jewelry products in real-life situations can set it apart from your competition because it creates emotions that connect potential shoppers and your jewelry. These emotions may be unique to your jewelry pieces as your shopper creates an image of herself that's probably only realizable if she wears your piece.
Practice #5: Lookbooks can inspire your potential shoppers
If you want a potential shopper to make a buying decision in your favor, you have to use lookbooks to educate her about how to style your products, and what types of dresses match your design, including when and where to wear them. Clear and exciting photos are essential when creating a lookbook as it aims to introduce different styling perspectives and product details while setting the mood for your jewelry pieces. Wanderlust+Co perfectly exemplifies this approach as it presents a rich 'lookbook experience' to shoppers who need inspiration on how to look stylish with their jewelry pieces no matter the season.
Your lookbook photographs can be your competitive advantage over other jewelry brands when done right. Ensure that it offers shoppers a visually gratifying experience – one that's woven with engrossing stories that are influential in making a purchasing decision.
Can you live up to customer expectations?
E-Commerce is hypercompetitive. You must evolve with it as it moves on or you'll be left behind. The low barrier to entry leaves no room for laxity, so you must fully immerse yourself in it to know what your shoppers want and need from you. Remember, digital retail is a visual competition where product images are king. Every day is a perfect time to unleash its power to pull up your conversion.