1 Comment
Published on:

January 20, 2018
Last updated:

May 3, 2023
Table of Contents
Silver jewelry is one of the challenging subjects to photograph. It requires in-depth photography knowledge and impeccable skills to control reflections, eliminate glare, and efficiently adjust to the quality of the piece you're working on. For instance, polished brushed, and textured silver pieces necessitate different techniques. The challenge is doubled when you have to photograph silver jewelry for commercial purposes as it's often recommended to photograph products on a white background for a more professional look. Clearly, silver jewelry asks for more than a one-size-fits-all photography solution.
How to Shoot Jewelry on a White Background
Have you ever wondered how other jewelers get seamless shots of their jewelry products on a white background? Do you envy how it looks clean, professional, and sophisticated with the…
"I am a custom silver jewelry designer and now photographing silver pieces for a website; however, I find it hard to photograph. The outcome looks awful despite trying different settings."
Through the years of working with thousands of jewelers worldwide, we've come to understand that jewelry photography is an area where jewelers normally require and seek help for. Like yourself, they want to present their products online in the most pleasing way to show their customers that they mean serious business. However, hiring professional photographers is costly, and their schedules don't meet sometimes. If you find yourself in the same predicament, don't worry. It's possible to take eye-catching silver jewelry images on your own as long as you have all the necessary equipment, are aware of the final look you're going for, and have the action plan to pursue it. Read on as we work with you in this process!
How to Photograph Silver Jewelry in Simple Steps
What You Need:
Camera/smartphone
Tripod
Lightbox/tent
Grey card
Lighting sources
1. Control reflections by using a lightbox/tent
The GemLightbox is a plug-and-play photography lightbox system that's specifically designed to capture jewelry images
A lightbox is commonly used by jewelers because it produces the softest light that's perfect for the nature of the product being photographed. The translucent sides, which act as light diffusers, surround the subject; thereby distributing the lights evenly while also eliminating unwanted reflections and harsh shadows.
There are different types of lightboxes available on the market. A lightbox kit normally comes with a tripod, light bulbs, and fabric backdrops. You can also DIY your box which may require ample time, but is totally useful for achieving great results. If you're photographing at home and need handy alternatives, you can use rolls of white paper or tissue paper among many others to diffuse light.
Although light tents/boxes are marketed as photography tools used by amateurs, you can find a few lightboxes that contain most, if not all, of the studio settings, so take the time to choose carefully. For instance, the GemLightbox was specifically designed to cater to the needs of jewelers. It comes with a reflection table, a shadow table, a necklace stand, and a smartphone holder. Its lighting temperature enables you to capture color-perfect and properly illuminated pieces while the Sparkles – a custom-formulated LED bulb installed within the box – allows you to bring out the natural sparkles of your gemstones without disrupting other elements of the photos. It's convenient and lets you capture up to 30 images in an hour.
2. Set up your lighting properly
For others, lighting can be the ultimate challenge. Don't let this stop you from achieving the results you desire. Take advantage of natural lighting but make sure not to place the subject in direct sunlight as it will distort the image. In case natural lighting is unavailable, you can use a lightbox and position the light sources on each side opposite each other to balance the lighting and block the harsh shadows. Remember to avoid mixing different light sources. If you're going to rely on natural lighting, turn off other sources of light like incandescent bulbs or lamps. Additionally, turn off the on-camera flash as it may create glare and blown-out spots. This will never produce a perfect silver jewelry image.
Jewelry photography is a trial-and-error process, even for professional photographers. As you start preparing for a photoshoot, you may find that in some cases, setting up a proper lighting source just to achieve the right reflection may take an hour or more. It is recommended that you document every step of the process so you can easily repeat it the next time you do another photoshoot.
3. Add contrast and capture accurate colors by using a grey card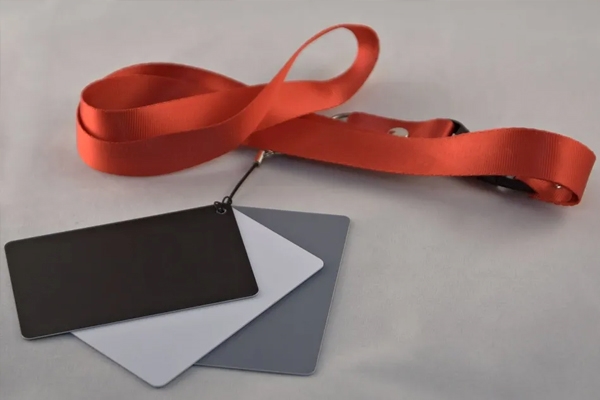 A grey card provides a reference point that serves as a guide when adjusting the white balance and exposure setting. It works due to its neutral tone that helps the camera examine and understand the lighting situation before prescribing the most appropriate camera setting. You can purchase grey cards from any photography tool shop or improvise your own. A non-reflective, grey paper fulfills the requirement.
A piece of silver jewelry may appear uninspiring and two-dimensional when photographed. Avoid this photography mistake by adding contrast through the use of grey cards. Simply hold the black strips near the subject or place them inside the box, which will add depth while making the subject more defined. It also helps in getting accurate color and exposure. If you're photographing silver jewelry on a white background, a grey card is key in bringing effects that will prevent the subject from fading in the background.
4. Take closeup shots
Sometimes it's hard to see the details on a silver piece of jewelry, especially when it's captured on a white background. This puts you at a disadvantage when selling online but you can counter this issue by taking close-up shots of your silver jewelry. Choose an angle or a unique detail in your piece that you want to highlight and capture that.
To take close-up shots, use the macro setting. If your camera doesn't come with a macro feature, use a macro lens.
Watch how we photographed a silver T & Co. ring in three simple steps using the GemLightbox and a smartphone.