0 Comments
Published on:

April 26, 2021
Last updated:

January 10, 2022
How do you protect your jewelry store from theft? And if you're a small jewelry business, should you be concerned about jewelry-related crimes? Are small-scale thefts as rampant as those sophisticated crimes you've last seen on the news?
Jewels have lured so many people that they have long captured the imaginativeness of filmmakers. For decades, tales of a jewel heist, both petty and grand, have graced the silver screen. In reality, jewelry theft is more than just a product of entertainment. In fact, in 2019, the Jewelers' Security Alliance (JSA) reported a total dollar loss of $101 million from US jewelry firms alone. Compared to the $53.4 million losses the previous year and despite the slight drop in the actual number of crimes, 2019 was a bad year for the industry with an 89.1% increase in losses.
Diamond-worshipping films are common. For instance, in Hitchcock's 1950s crime caper To Catch a Thief, beguiling Frances Stevens (Grace Kelly) seduces the former cat burglar John (Cary Grant), "Look John, diamonds…the only thing in the world you can't resist." Her diamond necklace glitters in the dark overshadowing the blazing view of fireworks from the balcony of the romantic French Riviera.
How do you take proper precautions from all the unreformed Johns in the world?
Find out below as we give you tips on how to protect your jewelry store from theft. But first, let's take a peek at some of history's most notorious jewelry heists.
The Most Notorious Jewelry Heists in History
1. Antwerp Diamond Center, Belgium
February 2003 marked what history would dub as the 'heist of the century,' which was a four-year hatched-up robbery that started when one of the thieves rented a small office in the Diamond Center. Posing as a diamond dealer, the thief along with the highly skilled gang members that he put up together managed to breach layers of sophisticated security measures, resulting in numerous emptied deposit boxes of loose diamonds, silver, gold, and other types of jewelry amounting to over $100 million.
2. The Graff Diamond Heist, London
London's largest jewelry heist at that time happened when two men posed as customers robbed the Graff Diamond store in August 2009. The two did not attempt to conceal themselves as they spent hours with makeup professionals and prosthetic artists to change their appearance. In the end, the robbers got away with 43 jewelry items that collectively amounted to $65 million.
3. Doge's Palace, Venice
An ideal movie-worthy heist, the Doge's Palace robbery in January 2018 happened on the final day of the four-month exhibition. The thieves who successfully delayed the alarm system stole a brooch and a pair of earrings in diamonds, gold, and platinum owned by the Qatari royal family in Venice. According to the Croatian Ministry, the jewelry pieces were worth an estimated $1 million and over $2 million respectively.
How to Protect Your Jewelry Store from These 4 Theft Techniques
1. Smash and Grab
Smash and Grab is a technique that involves smashing a display window, grabbing the valuables, and making a quick getaway.
According to the 2019 JSA data, jewelry stores in malls experienced the most Smash and Grabs. Further, most of these robberies happened right before closing, with 46 out of 116 cases that occurred within the last two hours before store closure.
The Smash and Grab technique is popular among unsophisticated robbers because it does not require elaborate planning; thereby, making it easier to carry out.
How Do You Protect Your Jewelry Store from Smash and Grab?
Keep doors and windows clear from obstructions so that employees can easily spot and monitor any suspicious passersby.
Install a door buzzer entry system to alert you whenever someone enters or exits the area.
Install overt and covert video surveillance cameras.
Put up signs that notify people of your 24-hour surveillance system within the vicinity.
Hire security personnel and have several employees on the floor at all times.
2. Grab and Run
Grab and Run is one of the most common techniques in a jewelry theft. Here, a thief posing as a customer walks into a jewelry store, approaches high-value jewelry items display, asks to see or try on the piece, and eventually, runs away with it.
In 2019, JSA reported a total of 616 Grab and Runs in the USA. Furthermore, most Grab and Run cases happened between the hours of 5 PM and 9 PM.
How Do You Protect Your Jewelry Store from Grab and Runs?
Be observant. Pay attention to everyone that enters and exits your jewelry store and inform all your employees of any suspicious behavior of a particular person should he/she decides to return.
Always ask for the customer's ID before allowing them to see or try on a piece. Keep the ID with you until the customer returns the piece, but always remember to verify the legitimacy of the ID.
Always stay with the customer as they try on the piece.
Don't take all your valuable pieces out of their showcases at once.
3. Distraction
A distraction theft happens when a thief steals from your jewelry store after tricking you into diverting your attention to something or someone else.
This type of robbery usually involves a group of individuals working together to trick you with their overwhelming behavior. Their antics may vary. For instance, others may draw your attention to money on the floor, fake illnesses like fainting, or create a chaotic scene out of nowhere. When one of them already got your attention, the other members of the group will start stealing.
While distraction is not as common as Grab and Run, it still happens more than other techniques like fraudulent credit card payments or sneak theft. In 2019, distraction theft resulted in an average loss of $20,214 in US jewelry firms.
How Do You Protect Your Jewelry Store from Distraction Theft?
Always be attentive.
Install a mantrap or a door buzzer for a better access control system.
If your store always receives an influx of customers, consider hiring more employees to avoid overwhelming the available ones. If possible, assign a person or persons to handle unexpected commotion.
Keep your showcases locked at all times. Remember to lock them right after you take out a piece to show to a customer. Don't keep it open or unlocked as you go through the transaction.
4. Sneak Theft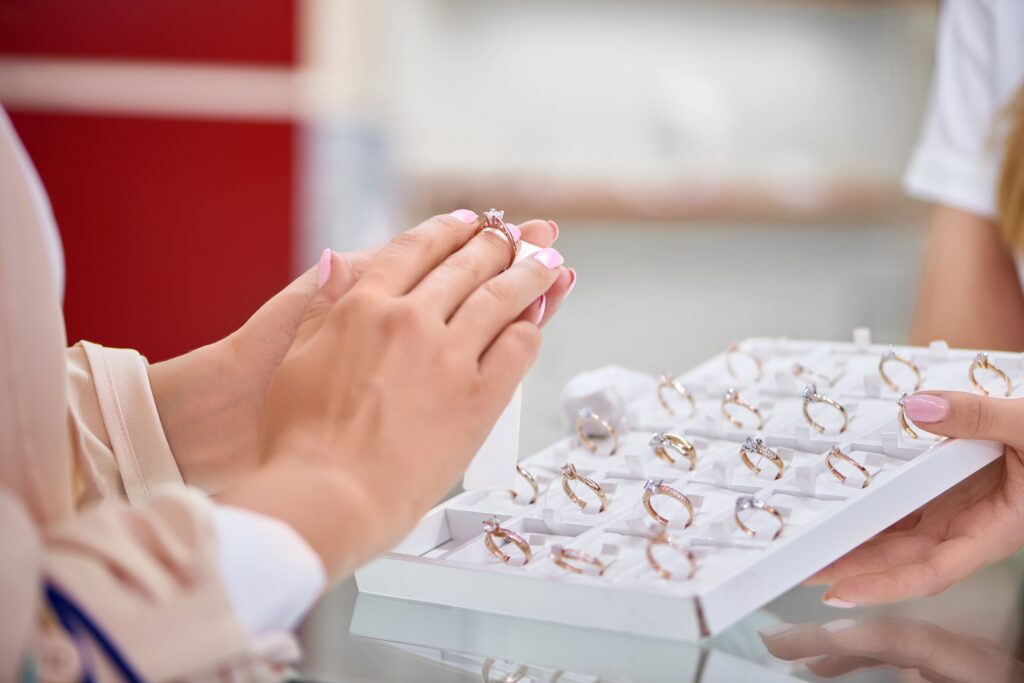 Sneak theft is almost similar to distraction theft; however, with sneak theft, a thief often works alone without causing a commotion. They may also ask to see an item or try it on and when they notice that you're not paying attention, they will nonchalantly pocket the pieces that are accessible to them.
Compared to distraction theft in 2019, sneak theft cases were low but resulted in higher dollar losses. For instance, the 63 recorded events created an average loss of $30,280 compared to over $20,000 losses from 73 distraction theft cases.
How Do You Protect Your Jewelry Store from Sneak Theft?
Install a door buzzer or chimes on your doors to notify you of the foot traffic.
Always make eye contact with each of your customers. This will allow you to remember their appearance.
Never settle with just one person on the floor. If you cannot afford to hire more or if you're a small business, at least have two personnel on the ground.
Attend to one customer at a time to avoid feeling overwhelmed or confused.
Do not show customers multiple items at once. Avoid bringing the entire tray of high-priced jewelry to the customer.
Never leave a customer alone with your jewelry piece.
Do not turn your back on them. Always be attentive as thieves will strike when they think you won't notice.
Always keep your showcases locked and keep keys on your person. Do not leave them lying around on glass displays where anyone can pick them up.
What safety measures do you have in place to protect your jewelry store from all types of theft?
In conclusion, jewelry theft is avoidable. But it requires consistent and accurate implementation of security measures. Train yourself and your employees to practice these tips and more to ensure the safety of your livelihood.
What other basic safety measures can you add to this list? Let us know in the comment below!