GemLightbox & Turntable Set
GemLightbox & Turntable set
Watch how to capture studio quality images and videos
GemLightbox & Turntable Set
Perfect photos and videos every single time
The GemLightbox & Turntable set includes the GemLightbox and Turntable which will allow you to capture studio-quality images and videos in one click. The Turntable is suited for all jewelry and powered by the GemLightbox App which is free to download and use.
The GemLightbox & Turntable set includes the GemLightbox and Turntable together.
Out of stock
Trusted by 10,000+ Jewelers
Capture studio quality images and videos
The simplest way to take jewelry images and videos. GemLightbox Turntable and Aerial set allows you to capture all your jewelry with one easy solution!
GemLightbox & Turntable Set
Results that sell
Examples below have been shot using GemLightbox & Turntable set
Features
Capture an aerial view of your jewelry pieces
"Daylight" is another lighting option perfect for hand photography, sapphires, emeralds and rubies. It creates a naturally lit warm lighting environment which simulates natural daylight.
Using the "Sparkles" light is a great way to highlight the fires and sparkles in your gemstones. To use the sparkle light, simply press the sparkle light button.
Reflector for your jewelry pieces
GemLightbox reflector is custom designed to bounce lighting back into the jewelry items
One on/off button, no training required! Simply plug in power and you're ready to go!
Capture perfect images and videos of your jewelry using just your smartphone
Become a Digital Jeweler Today!
Tanya Newbould from Del Pozzo Jewelry
Tanya Newbould of Del Pozzo Jewelry enthuses over the revolutionary influence of the jewelry virtual try-on feature on her business. Absolutely upping her game, Tanya raves, "This is the best product on the market!"
GemLightbox & Turntable set unique qualities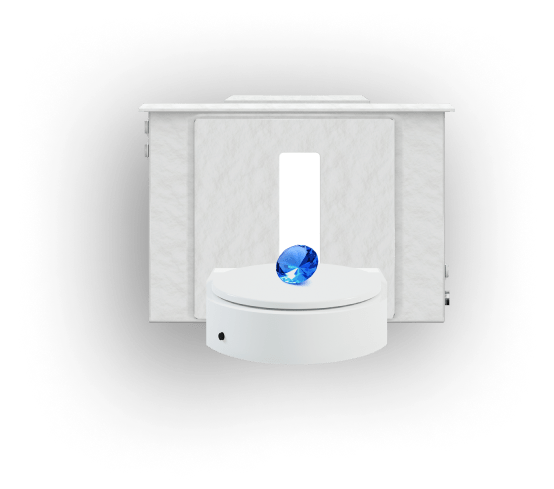 Studio quality
Capture studio quality 360 videos using nothing more than your smartphone.
Social media
Our data shows that 3 GemLightbox images a day is what you need to dominate social media.
Increase sales
Double the time customers spend shopping with you with beautiful 360 videos
Smartphone friendly
The GemLightbox App is free to download on both Android and Apple device
30 Days
Money back guarantee*
Frequently Asked Questions
Have a question? We've got you covered.
How long does shipping take?
All GemLightbox's are shipped out of our warehouse with tracking. Once the order has been placed and confirmed, our team will take up to 3 business days to ship the item out. Shipping takes between 3-10 working days depending on the destination.
Does GemLightbox work with DSLR?
GemLightbox works with both DSLR and Smartphones. We would recommend using smartphones for online images and DSLR cameras for catalog images. To see the GemLightbox in action with DSLR cameras click here.
Can you shoot opals and pearls?
Yes, GemLightbox works great with Opals and Pearls. Sparkles™ is proven to work especially well with Opals bringing out the natural fires in images.
Can I capture videos?
Yes! We have launched the GemLightbox turntable which allows you to capture studio quality videos using just a smartphone. See here.
What's the return & refund policy?
You have 7 calendar days to return the GemLightbox from the date you purchase it. The warranty period is 1 year from the date you receive your GemLightbox. For complete details on our returns, refund & warranty policy, please visit this page here.
Still need a Photography hardware?
Get your jewelry images edited to perfect by our retouching team, remove fingerprints, blemishes and scratches.