GemLightBox PRO + AI Hub Bundle
It allows any jeweler with a smartphone to capture studio-quality images and videos using the
Adjustable lighting technology
Capture 1 video and 4 photos in 15 seconds!
Create jewelry images and videos that sell
Your images and videos are how you connect with your customers.

GemLightBox PRO + AI Hub Bundle
It allows any jeweler with a smartphone to capture studio-quality images and videos using the
Adjustable lighting technology
Capture 1 video and 4 photos in 15 seconds!
This photo box is compact and you can feel the materials used are high quality. It produces a heavenly clean white background and it is perfect for all our sparkly diamonds, crystals and preciuous gem stones!
Trusted by 8000+ Jewelers worldwide
Contact us
Trusted by more than

10,000+

jewelers globally
Your online success is determined by the quality of your images and videos
Powerful alone. Better together
Increase online sales with Picup Media solutions
Hub Plans
Photography and retouching all in one using the GemLightbox Hub Make use of Augmented reality, catalogs and shareable links
Photography
Pixel perfect photography using your smartphone!
We are the proud photography partner for
Become a Digital Jeweler Today!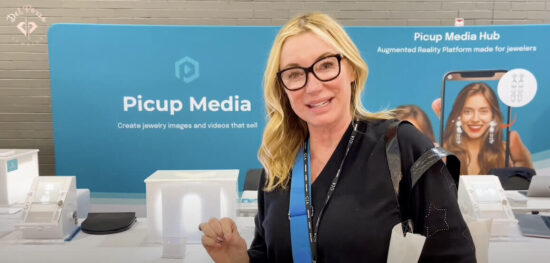 Tanya Newbould from Del Pozzo Jewelry
Tanya Newbould of Del Pozzo Jewelry enthuses over the revolutionary influence of the jewelry virtual try-on feature on her business. Absolutely upping her game, Tanya raves, "This is the best product on the market!"