0 Comments
Published on:

January 8, 2018
Last updated:

January 10, 2022
Photography, Retail, and Advertising
In the 1830s, Louis Daguerre introduced his gift to the world – the daguerreotype – the world's first commercially and publicly known photographic process. It was a big stride from the uncertain and time-consuming camera obscura or pinhole camera. From then on, photography started to change the world. It was supported by succeeding technologies that further bettered the way we take photos – from weeks to minutes, and finally seconds – the camera exposure time required to produce a successful photograph had significantly improved. Gone were the days when we would store and share wonderful memories by word of mouth. Photography enabled us to capture real-life experiences and beautiful emotions that would last forever.
Photography is a powerful tool for communication. It made retail and advertising a Utopian space for everyone – the lovers, dreamers, and wishers. This Utopian space is always accessible. The photos will make you want to step in and take part. It remains open and doesn't end even after you leave the space. Unlike other stories and product descriptions in text form, photos tell a story that knows no beginning and no end. It makes you engaged with the key moments in your life. For instance, when you're buying an engagement ring for your woman, that story and the emotions that go with it remain frozen in time, through the magic and art of photography.
The continuous inventions and developments in the field of photography have been driven by the desire and the need to fix the quality of images. Now and then, you read about launches of new photography equipment. Although we don't need to take it in small steps because of the advanced technologies that allow the industry to introduce bigger innovations in a short span of time, it is unfortunate that the bigger the innovations are, the more expensive it becomes. Thankfully, innovations don't only encompass new camera equipment. Technology has also enabled post-production processes that provide online jewelry retailers like yourself with the freedom to present the image quality you want to your consumers. One of these processes is photo retouching.
What is Photo Retouching and How Can it Help Your Jewelry Images?
Photo retouching is an image editing process that focuses on the enhancement and/or restoration of a digital or printed photograph. It involves technical services like adjusting the colors, sharpness, or white balance among many others. Unlike creative retouching that targets bodies and object manipulation captured in the photograph, photo retouching is concerned with the overall look of the photo.
There are currently a few reliable photo retouching companies online. Struck by the opportunity of the growing online shopping trend and the quick sprouting of online marketplaces, product image retouching has been popular among retailers, especially in today's visual culture where the more professional and appealing your product images look, the more you will sell. See the infographic below.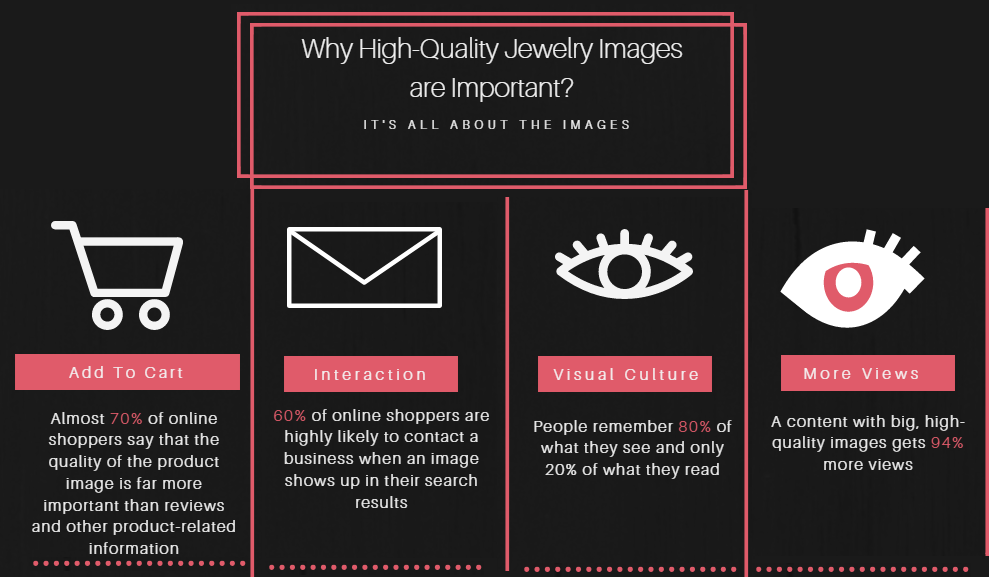 How Can Photo Retouching Improve Your Jewelry Images?
1. Scratch, dust, and other blemishes removal
When photographing jewelry, every blemish, scratch, dust, even your fingerprint may show up in a high-resolution photo. It is recommended to wear gloves or use a piece of cloth when handling your beautiful piece as it could magnify a sloppy piece of work. If you have forgotten to consider this factor, photo retouching could be your savior.
They say a photo is only as good as the subject being photographed; hence, cleaning your jewelry before the photoshoot is the first step to achieving professional-quality photos. However, not all jewelers pay considerable attention to this pre-photography step as the fact remains that some of you are still oblivious to the influence of good product photography on the consumer's buying decision.
Untidy jewelry is a sure way to tell your consumers that your product is of low quality. It questions your professionalism and speaks of your negligence; because of this, dust removal is a critical trust-building element between you and your consumer. Scratch and dust removal is the process of removing ugly blemishes from the photo. You can DIY the dust removal process if you consider yourself adept in Photoshop. The internet is a treasure trove of Photoshop tutorials, but remember to make a cost-benefit analysis as the process may take time for beginners. This may be a total time-waster since some photo retouching services come at reasonable prices.
2. Clipping onto a white background
While the subject should be the focus in every photograph, the things that surround it (or the absence of it) also matter. The background is one of the two most important elements that make up a perfect product photo. It helps increase conversion rate, converts the browser to a buyer, and reduce post-production processes due to high color accuracy and effortless consistency.
If you're in the process of starting your online jewelry business or don't have the luxury of time to supervise or conduct your own jewelry photo shoot, white background jewelry images can also be completed by a photo retouching company. Expert online jewelry photo retouchers can instantly make your product look presentable, sophisticated, clean and professional.
Do you have the confidence to follow Photoshop tutorials like other jewelers? You can check out basic jewelry retouching steps here or DIY a working environment by following our simplified approach in this article.
3. Straighten, align, and crop
A crooked photo lowers the quality of your jewelry image. There are many reasons why it happens which include an off-centered camera when you photographed the subject. Some of you may not notice it, but a crooked photo is very uncomfortable to look at as the viewers – your consumers – compensate for that tilt. This is against an effortless and enjoyable shopping experience.
Photo retouching processes involve leveling out crooked photos and cropping to make it appear more professional and easy on the eyes. From our experience, most jewelers would start with an aim to capture straight photos, but there are limitations that a simple press-and-shoot mindset wouldn't be enough to make this task a little easier. When this happens, don't frustrate. A professional jewelry image retouchers can fix it for you fast and easy.
4. Make your jewelry shiny and sparkly
Sparkle adds drama to the photograph. Women are drawn to sparkling diamonds because of the stunning prism of rainbows it produces when the light hits the stone. Its arresting quality is a head-turner while also adding romance to every relation. As such, presenting a dull and uninspired-looking jewelry image will send your consumers off your site and on to your rival brand.
Sparkly, shiny jewelry is often achieved by manipulating lighting during the photoshoot. For instance, using and mixing diffused and direct lighting will create a sparkle effect on a transparent stone while also capturing its true, vivid colors. Others use LEDs or halogen lights, whichever gives them the desired result. Sparkles can also be produced depending on the camera and lens you use.
Capturing the sparkle of a diamond and other gemstones can be extremely challenging. If you need assistance in adding that elusive sparkle effect in your jewelry images, you may consider talking to the experts behind the jewelry photo retouching companies; they know how to make your product look attractive to the buyers, especially in a way that will capture their emotions.
5. Retouching to studio quality
Aside from the services above, photo retouching also involves adjusting colors, lighting, and contrasts. Overall, it's intended to help you improve your visual presentation through studio-quality jewelry images that will lure your consumers on to your online storefront and all the way to the checkout button.
We always say that a single photo is worth a thousand sales. It's a way of visually assuring your consumers that your jewelry is not a waste of money. Product photos are a good substitute for the need for touch when shopping for jewelry online. Don't deprive your consumers of a first-rate visual presentation. Showcase as many photos as you can. In fact, eBay revealed that in order to increase sales by 5%, sellers must list better quality photos, and quality must also consider quantity to convince buyers to purchase. Be mindful though that quality should not be compromised. Make sure that each photo is clear and adheres to an excellent photography standard – one, which upon looking at it, answers the product-related concerns of the consumers – one that creates a Utopian space for online jewelry shoppers.
Do you want to read more photo retouching insights to improve your jewelry photography skills? Subscribe to our blog and be the first to receive our content!