0 Comments
Published on:

February 20, 2020
Last updated:

January 10, 2022
Table of Contents
Are you wondering what the jewelry inventory looks like this year?
The new year brings in new jewelry trends (or not). Keeping up with the trends is imperative for small and big jewelry brands as trends will dictate the styles shoppers would gravitate toward. In the process, the styles shoppers are predicted to buy would influence the inventory.
According to Susan and Adrienne, two of the women of Berkshire Hathaway, jewelry trends are strictly related to what you see in the fashion industry. The outfits strutted onto the catwalk have long dictated the way men and women accessorize themselves. In addition, big personality names also influence the path jewelry is taking.
For example, royal engagements are reported to have influence demands more than any other celebrities and digital influencers. Kate Middleton has been known for its "Kate Effect" since her engagement with Prince William in 2010 in which her Ceylon blue-sapphire engagement ring reportedly revived the sapphire industry.
The same can be said of Meghan Markle whose huge engagement ring – a large antique cushion-cut diamond with two smaller diamonds on either side that belonged to the late Princess Diana – was predicted to influence the demands of engagement rings, especially for its level of personalization.
Such prediction has probably just manifested in the recent fashion shows, but more than this, it's evident that the industry will be swinging back to the trends of the past, only in an updated direction. Watch out for the oversizing and over-bedazzling of jewelry pieces.
Jewelers, here are the pieces you need to stock up on based on this year's jewelry trends. Get ready to update your inventory!
5 Jewelry Trends to Stock Up on This 2020
1. Oversized Hoop Earrings
If you can't quit hoops, you don't have to! Hoop earrings are back to prove, time and again, that classic never goes out of style, only this time the pair is bigger and bolder.
Hoop earrings are not a new trend. This timeless ethnic symbol has been a major part of the black culture and was also worn by powerful women and royalties like Nefertiti and Cleopatra of Egypt who believed that such ornament enhanced one's beauty and appeal.
Black style influences could be found almost everywhere in the fashion industry like the hoop earrings that never really went away. It has stayed, tucked away in the jewelry box, waiting to be rediscovered.
2. Pearls Reinvented
This year might be the year of reinvention like the reinvented pearls on the runway. Pearls are the world's oldest gem. The most ancient pearl jewelry, the Susa necklace, was discovered in 420 BC in the sarcophagus of a Persian princess. It is now on display in the Persian gallery of the Louvre.
Given its history, it's only apt to say that they have been on trend for many seasons and reasons. This time, pearls are styled and worn in many different fresh ways. For example, the studs are out. Designers can play around with this gem by mixing it with different gems, metals. Pearls can also be worn as headpieces, thick, knotted necklaces, belts, and more.
For artistic designers, the options could be endless. This year, be crazy with pearls!
3. Chain-link Necklaces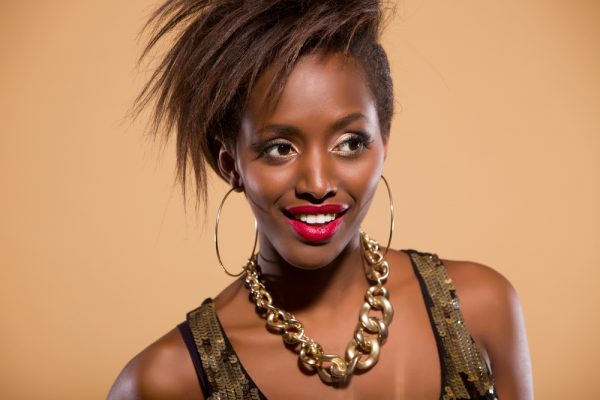 Wear it thin and layered or singular but big, bold, and chunky. Style it over crew necks or with open front silhouettes – whatever your style, always make a statement.
That's right! It's time to dig through your jewelry boxes and take those chain-link necklaces (or bracelets) to the party because this year, this look is back!
If you're a fan of Madonna and Versace, there's no better time to pay homage to the ones who made this trend big in the 80s, but now.
4. Colorful Pieces
This year, stock up on pieces that are big, bright, and beautiful.
Add sparks of color to your inventory and opt for more saturated hues to get as close as possible to runway trends. Colors can be achieved through a mix of different colored gems or beads.
Anticipate the idea that consumers would often find it challenging to style as outfit and accessories require color coordination to achieve an overall sophisticated look; hence, your inventory palette should lean towards contrasting colors, coordinating shades, and monochromatic color schemes.
5. Mixed Metals
In design, contrast adds visual interest and the same goes for this year's jewelry trends. If mixed metals were frowned upon in the past, the open-minded present is quick to alter such an etiquette to embrace the contemporary and interesting mixed metals trend.
Start stocking up on pieces with a mixture of silver and gold and explore from there. Contrast is the key here so start with what you have and market contrasting metals with similar jewelry styles to make it more cohesive to the eyes of your shoppers.
Is your jewelry inventory on-trend?
Indeed, fashion is cyclical. Some trends come and go and then, make a come back. This year, it's all about pieces that are big and bold. While these trends emerged in the past, they come back reinvented to suit the taste of modern and stylish men and women.
What other jewelry trends have you spotted? Let us know in the comment section!