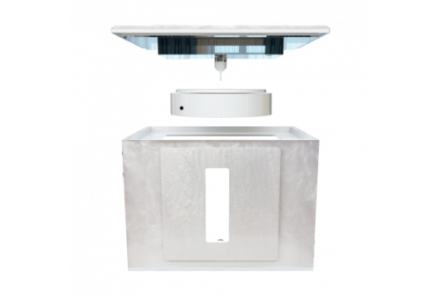 0 Comments
Published on:

November 18, 2019
Last updated:

January 10, 2022
Integrating video into your jewelry marketing strategy has measurable e-commerce benefits like increased conversion rate and reduced product returns, among many others. Eighty-three percent of marketers believe in the importance of video marketing campaigns while 53% of customers engage with a product brand after watching a video on social media.
Indeed, there is no denying the power of videos. It commands attention and demonstrates your jewelry products effectively by focusing on every feature that talks to your customers into buying. By implementing 360 videos, there are no exquisite intricacies that could pass one's eyes without triggering that desirable reaction from the reptilian and limbic regions of the brain.
In case you don't know yet, the reptilian and limbic regions of the brain have no capacity for language. They are the ultimate decision-makers and the attention gatekeepers. Penetrate these regions of your customers' brains and you increase your chances of converting them. One way to pass through this successfully is by using strong visuals that evoke intense emotional responses. After all, these parts of the brain react to visuals faster than texts.
Adding 360 jewelry videos to your marketing arsenal should be a no-brainer; however, some jewelers brush off the idea because of the effort, money, and time involved in the creation process. While that may be true for others, this does not always have to be the case as we will show you how to shoot 360 videos of necklaces with just a click of a button using the GemLightbox and the GemLightbox Aerial.
What Makes the GemLightbox Aerial Special?
Styling necklaces for photos and videos could be tricky for you and other jewelers, especially if you don't have the means to hire live models or mannequins. Others resort to laying it flat on the table or hanging them onto tree branches or necklace stands. However, this styling approach doesn't work all the time. At times, it's too cluttered, distracting for the customers, and unflattering. Further, some necklaces' designs are too intricate; they require a 360-angle view to communicate to customers that they're not as plain-looking as they appear to be. If you're looking for a price higher than normal, showing customers the intricacy of your creation from all angles would justify your asking price.
Aside from aesthetics, hanging your necklaces onto DIY props are not the most professional way to present your jewelry pieces. It will not always meet the personality of your brand. For example, if you're selling exquisite diamond necklaces, laying it flat on the table on a piece of cloth – no matter how fancy the cloth may be – neither scream exquisite nor elegance. Take a look at the styling blunders below.
The GemLightbox Aerial was developed to avoid these blunders. It's an add-on, plug-and-play solution designed for capturing long and dangling jewelry pieces in style.
Jewelry Photography: A Comprehensive Guide for Jewelers
Jewelry photography is a notoriously difficult process. The gems are highly-reflective, the pieces are commonly small, and colored stones don't appear as vibrant in photos as it is in reality....
How to Shoot 360 Videos in Style
Tuck away your jewelry stands. You don't even have to pretend like you're frolicking on the forest or gardens to find the most complimentary tree branch to hold your necklaces. With the GemLightbox Aerial, you can stay wherever you are and shoot 360 videos of necklaces with just a click of a button. That's how powerful it is!
Let's show you how. Don't blink. We promise you it's fast and easy.
What you will need:
The GemLightbox device
The GemLightbox Aerial
Your necklace
a smartphone
For this demonstration, we used a necklace with a colorful cubic zirconia pendant. The iPhone XS Max served as our camera.
Step 1. Plug the cord into the bottom of the Aerial device.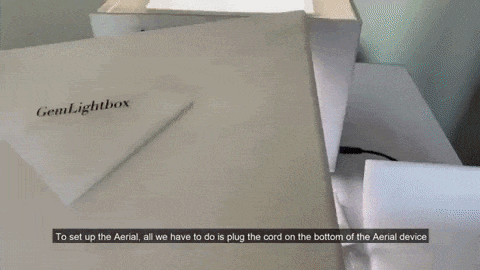 Step 2. Connect the cord to the power socket.
Once plugged in, place the Aerial device on top of the GemLightbox and connect the cord to the power socket found inside the box.
Step 3. Hang your necklace inside the GemLightbox.
Put the necklace onto the necklace holder and place it inside the GemLightbox. Stick it to the top of the Aerial device. The magnetic system on the very top of the Aerial device will keep the holder in place so that you can take your videos without setbacks.
Step 4. Return the shadow table inside and the reflector cover.
Step 5. Open the GemLightbox app.
Next, open the GemLightbox app and position your smartphone. Make sure your Bluetooth is on for quick device detection and then, click "Aerial" to connect. While you're here, you can also apply some adjustments. Zoom in, tap to focus, and adjust the brightness for a sharp and beautiful white background video.
Step 6. Click to record the video.
How to Use 360-Degree Jewelry Videos on Instagram
In this how-to guide, we'll teach you how to use 360-degree jewelry videos on Instagram. By 2020, video content is expected to make a whopping 80% of all online content.…
The Result
In just a matter of seconds, our iPhone XS Max and the GemLightbox Aerial Set captured a professional-quality 360 video of this colorful cubic zirconia pendant. What makes this even better is the efficiency behind the process. Since the result doesn/t require jewelry retouching, you can directly upload it to your social media pages or send it directly to your customers.
Now that's an excellent time-saver, right?!
Click the video below to see how we did it and get to know everything you need to know when using the GemLightbox Aerial.
Are you ready to shoot 360 videos of necklaces in style? Contact us and let's have a chat!