0 Comments
Published on:

November 16, 2019
Last updated:

November 26, 2021
Table of Contents
When we think of the great jewelry districts on America's East Coast, several candidates come to mind. 47th Street in Manhattan, known colloquially as the "Diamond District", certainly makes a convincing case, with an estimated ninety percent of diamonds in the United States passing through the shops nestled between Fifth and Sixth Avenue. The Jeweler's Row in Philadelphia easily joins its ranks, staking its claim as the oldest jewelry district in America and comprising of more than 300 jewelry retailers, wholesalers and craftsmen (although gentrification has affected business drastically in the past few years).
A thousand miles south, the jewelry district in Downtown Miami is poised to join the list of greats. Situated along NE 1st Street and E Flagler Street and the immediate surrounding areas, the district serves as an important financial, cultural and tourism hub for South Florida. It is a common misconception that the district is strictly composed of the Seybold Building and International Jewelry Center, which stand adjacent. However, a two minute walk towards Biscayne Boulevard leads to the historic Alfred I. Dupont building – a 17 storey tower abound with jewelers, watchmakers and artisans. Pawn shops and jewelry exchanges are ubiquitous on street level, and shoppers from near and far flow through the area, window shopping impressive collections of cuban links, high end timepieces and fine jewelry. But to understand the increasing draw and significance of the jewelry exchanges and buildings in Downtown Miami, and the land they are situated upon, we must establish the importance of a key figure in Miami's historical development.
Born in the early 1800s, Henry Flagler was an American industrialist and a co-founder of Standard Oil, the world's largest oil refinery of its time and best known for monopolizing the oil market until its dissolution in 1911. His partner was infamous American tycoon John D. Rockefeller. Though Flagler's oil ventures with Rockefeller were legendary, he is also well respected for another reason: the key development of many major infrastructures within Miami, and the greater Atlantic Coast of Florida. Most notably, he is the founder of the Florida East Coast Railway, which continues to operate to this day. It is no surprise, then, that Flagler is referred to as the Father of Florida.
In 1931, Downtown's Twelfth Street was renamed Flagler Street – one of many tributes to Flager's contributions to Miami. Although many areas of America fell into the Great Depression, Miami was an outlier: warm and inviting, and easily accessible by air as aviation standards continued to soar in that time period. The construction of Miami's first modern skyscraper in 1938, the Alfred I. Dupont building, ushered Miami into an exceptional period of prosperity. Considerable financial blooms in the '50s generated by the end of World War II, and a tourism boom through the 1930s to 1960s brought about in part by Flagler himself, further cemented Flagler's Street as the preeminent business and retail district in Miami.
Half a century later, Downtown Miami and its jewelry district continues to thrive from the actions of its benefactors. But history lessons aside, let us take a look at the finer details, and what Downtown Miami's jewelry district truly has to offer.

The Seybold Building

Ask any Miami local where to shop for jewelry, and they will most likely point you in the direction of the Seybold. Adorned with bold, capital letters, the Seybold spans ten floors and over 280 luxury jewelers, ranging from watchmakers to custom jewelry designers. The first and second floors host a number of premium jewelry stores. The higher levels also contain stores with fine selections of merchandise to browse, but evenly interspersed between appraisal specialists, repair workshops and private, high-end jewelry offices.

Albert's Fine Jewelers
Entering his 10th year of business, Albert Albaladejo from Albert's Fine Jewelers continues to dazzle old and new customers alike with his beautiful collection of fine jewelry and extensive knowledge of all things sparkly. Albert's mission statement is simple: "to guide customers through a personalized journey that goes beyond a shopping experience". It's no wonder why shoppers continue to return to this charming establishment.

Buchwald Jewelers
Buchwald Jewelers is internationally renowned as a trove of fine jewelry and engagement rings, with sibling stores in Belgium, Atlantic City, and New York City. Furthermore, you will find every watch brand you've ever dreamed of here, from Rolex to Audemars Piguet and everything in between. Additional services include expert watch and jewelry repairs, and full appraisal services. Our verdict? No matter what you're after, Buchwald Jewelers has you covered.

Barclays Jewelers
Headed by dynamic duo Raju and Tina, Barclays Jewelers offers over 40 years of expertise in the jewelry industry. With a deep commitment to customer satisfaction and building long term relationships, Barclays is less of a jewelry store and more of a family reunion. Total care and trust go a long way in the purchasing process of a jewelry piece; in this regard, Barclays Jewelers goes above and beyond.
From loose diamonds and diamond jewelry to custom jewelry designs and rare timepieces, the Seybold has it all and is a must-visit for any jewelry connoisseur.

International Jewelry Center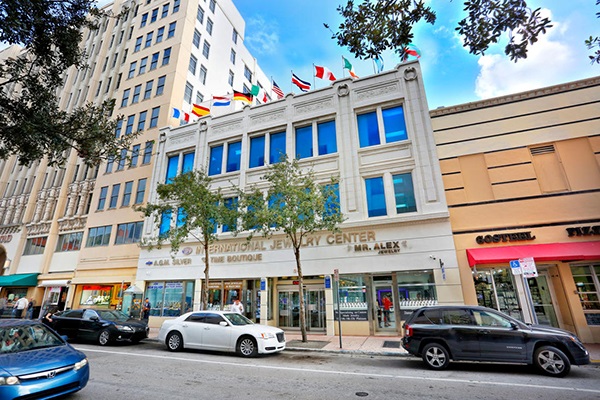 Right next to the Seybold building, you will find the International Jewelry Center (IJC). Although much smaller in size, the center still contains a variety of jewelers specializing in all sorts of high end jewelry. The IJC spans 3 floors and, like the Seybold, contains a number of jewelry exchange stores where you can find all sorts of fine jewelry and luxury goods.
As expected, high-end watch boutiques are also prevalent. Whether you are looking for an iced-out hip hop timepiece or something more low-key, the IJC has something for everyone.

Time Boutique
Purchasing jewelry can be a daunting experience, especially for first-timers. Luckily, there jewelers like Abdo, the affable owner of Time Boutique. With his seemingly boundless knowledge of diamonds, watches and fine jewelry, and honest, laid-back approach for his customers, Abdo provides the ultimate shopping experience. Welcome to unrivaled comfort and decadence.

Alfred I. Dupont Building

The Alfred I. Dupont Building, or simply "the Dupont", is a 17 storey historical triumph erected in early 1939. Currently, the ground floor serves as a large venue space for all types of functions and events, such as weddings and gala dinners. From the second floor and above, the building is predominantly occupied by highly exclusive jewelry and watchmaker offices.
Most of these offices will require a booking in advance for a meeting, but if you are after "cream of the crop" jewelry pieces or are looking for a custom style or design, you should look no further!
Burma Jewelers
If you are looking for a highly personalized jewelry purchasing experience with unmatched service, then look no further than Burma Jewelers. Whether you're after a new, sparkly pair of diamond drop earrings or an once-in-a-lifetime engagement band, you'll be well looked after by this expert, family-run jewelry office.
Are you ready to visit?
If you are itching for an experience in jewelry paradise, then make sure Downtown Miami is on your list. Bordered by the hip neighborhood of Wynwood to the north, and vibrant Brickell to the south, as well as world-famous South Beach to the east, Downtown Miami is the ultimate East Coast jewelry destination.