0 Comments
Published on:

April 1, 2020
Last updated:

January 20, 2022
One of the many questions we received from jewelers like yourself pertained to social media – how to handle social media during the COVID-19 outbreak?
First off, this air of cautiousness and uncertainty is valid. Now is the time for humanity, not promotional content. If you, as a brand, are unsure of how to behave on social media and you don't know the brand tone and voice you should adopt, or are simply clueless about how to handle it all together, follow along as we guide you on how to weather this crisis without losing your social media footing.
Social Media in the Time of COVID-19
The implementation of lockdown, home quarantine, physical distancing, and the banning of social gatherings has significantly changed the way brands engage with their customers. The concentration of customer engagement online has become more prominent these days as evidenced by the increase in users' engagement with digital content. According to Socialbrakers' State of Social Media Report: The Impact of COVID-19, brands have resorted to decreasing their paid ads as a means of tightening budgets while pushing more organic content. Further, more fans of Facebook European brands are spending more time online, which translates to increased brand engagement and page visits. Despite the reduction in ad spend, Socialbrakers recorded a consistent 12-16% increase in Facebook activity, which peaks at 8 p.m. every day of the week.
This analysis tells us three things. First, organic strategies partnered with the right content prevail in this time of crisis. Second, COVID-19 has changed the way the audience interacts with brands and lastly, brands are accelerating their digital transformation because those that do not are likely to be in great peril.
So, you see, just because we are all in crisis, it doesn't mean that you should cut back on your social media investment for fear of offending your audience. The key here is to understand your audience and your customers and know the type of content that will resonate with them. This part is critical as posting the wrong content can make you lose in the long term. It's best to get it the other way around, that is, to lose in the short-term but gain in the long-term.
Let's begin!
How to Handle Social Media During the COVID-19 Outbreak
1. Lead by example. Show them how you are supporting the community during the crisis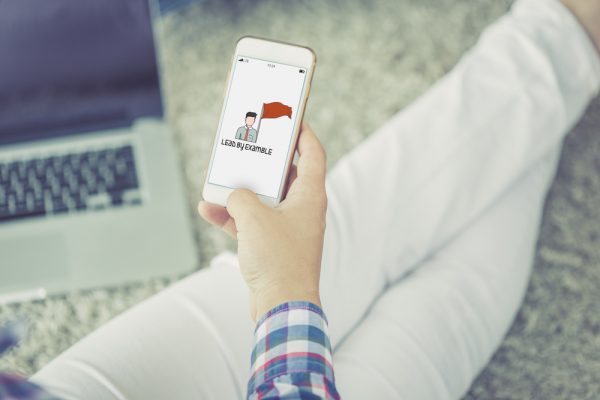 Who are you as a brand and how can you be useful during this difficult time?
Don't hesitate to tell your audience how you are making a difference. If you are supporting relief efforts and causes that help the vulnerable, now is the perfect time to show it to the world using your social media.
Additionally, if you have launched your own charitable work, go ahead and inform your audience about it. For example, London-based jewelry brand Alighieri is donating 20% of its website sales to the Trussel Trust who supports Food Banks around the UK. If you have a similar donation drive, create a very straightforward text post on Instagram or Facebook to alert your audience. It doesn't have to be too sale-sy because your focus here is not so much about gaining sales but more about encouraging donations for those in need.
Always remember that acts of kindness can inspire others to do the same.
Finally, when you introduce your donation drive to them, make sure to update them about the funds you have collected and where those funds went. Be responsible and don't lose the trust that your audience gave you.
2. Keep your audience informed about the health and safety measures you have in place to protect your employees and your customers
Use your social media to inform your audience about the health and safety measures you are implementing to ensure that your employees and customers are protected if you managed to stay open. For example, remind your customers not to try on jewelry in your store. Assure them that you are extensively and frequently cleaning your store particularly touchable surfaces, doors, trays, handles, counters, and more.
Further, communicate to them how you are protecting your employees in this time of crisis regardless of whether you are operating online and/or in-store, partially operating, or temporarily closed. A study conducted by Accenture revealed that 65% of customers are attracted to brands that treat their employees well. This finding matters more now than ever. As the world rallies together to fight against an invisible enemy, brands' values and commitment to their employees will be tested.
On the other hand, if you closed your physical jewelry store temporarily and shifted to complete online transactions, do not forget to use your social media to update your audience about the policy adjustments you made. For instance, tell them about the extension to your returns and exchange policy, warehouse safety policy and procedures, and any changes in your packaging to ensure the highest hygiene standards.
3. Make your audience feel that you care
As we've mentioned, now is not the time for aggressive selling, and doing so could destroy your brand reputation in the long term. Instead, put down your entrepreneur hat for a moment and just be like everyone else – be human.
Your audience will always appreciate your thoughtful social media postings, especially in a time like this when everyone is struggling. Showing them that you care doesn't have to be done in a grand gesture. A simple note thanking them for continuously following your brand and staying loyal is worth more than gold in this difficult time. Ultimately, wish them well.
4. Socialize online for a cause
Did your community launch a public health campaign as a response to COVID-19?
Go to Instagram and you would see personalities and brands joining "challenges" or launching their own public health campaign. For instance, the NHS Handwashing Challenge and the WHO #safehands challenge had some well-known personalities to take part in the challenge to encourage the public to wash their hands to fight the spread of coronavirus. The videos uploaded to Instagram by personalities and other participants show themselves washing their hands following the proper handwashing guidelines given by the WHO.
This handwashing challenge has also led to a viral Tiktok dance challenge after a coronavirus-inspired song created by a Vietnamese singer Khac Hun and Vietnam's National Institute of Occupational Safety sparked a new dance craze that involved rubbing the hands together.
Loads of people have joined in and uploaded their own version. You, too, can join to raise awareness among your audience and customers. Upload your handwashing challenge version and don't forget to tag someone from the jewelry industry to continue the cause.
5. Be mindful of the tone of voice
No matter what you post online, always consider the tone of voice in your communication as this tone represents your brand personality and values. Steer clear of sarcastic, sale-sy communication strategy and adopt a more empathic and compassionate tone. Empathy will help your brand survive.
Should you continue promoting your new jewelry collection?
Some brands continue to promote their jewelry pieces but not in a very aggressive manner. In fact, they do mostly if a portion of sales goes to institutions that help the vulnerable and the frontliners who badly need personal protective equipment (PPEs) and surgical masks.
Be sensitive to the fact that most people have lost their jobs so, posting expensive items may be deemed insensitive and inappropriate by others. Additionally, be careful of using special occasions to promote your jewelry items. For example, encouraging customers to buy gifts for Mother's Day, especially if they won't be able to visit their mothers during this occasion. Such an act could be perceived as capitalizing on the crisis. Consider the idea that there are people who have foregone celebrations during this difficult time because, for them, it could be the most sensitive and moral decision at the moment.
The key here is to know your audience before putting your content out there.
6. Keep abreast of what's happening in the world
Lastly, keep yourself updated with the latest developments on coronavirus disease so you can easily adjust your communication strategy. Ensure that your messages align with the latest updates and anticipate consumer behavior changes as it happens. Be flexible to accommodate these changing needs.
Overall…
Social media is a place where jewelers can connect with their audience and customers, but remember that in this time of crisis, leave corporate-speak at the door. Always talk meaningfully and genuinely while taking into consideration that people are anxious, and anxiety won't lead to purchases.
It's difficult. There is no one way to do it right but thousands of ways to do it wrong. When in doubt, err on the side of humanity.
Stay safe, jewelers! You are not alone. We are in this together and we will get through this together!