360° videos and images anytime, anywhere
Introducing GemStack: GemStack is a the world's first AI jewelry turntable made specifically for gemstones and jewelry. Simply place any small jewelry item onto the GemStack, download the app and click to capture photos and videos anytime, anywhere.
Every GemStack comes with a 12-month GemHub during our giveaway at no cost. Once this period ends, you can either choose the free plan or be billed $199/month. You're free to cancel anytime after the first year.
---
360° videos and images anytime, anywhere

AI retouching and background removal

Instant sharing to customers and social platforms
Trusted by 20,000+ Jewelers
This is GemStack
Automate your entire photography process in one click! Capture studio quality images and videos.
GemStack
Celebrating a decade of Brilliance to our 20,000+ customers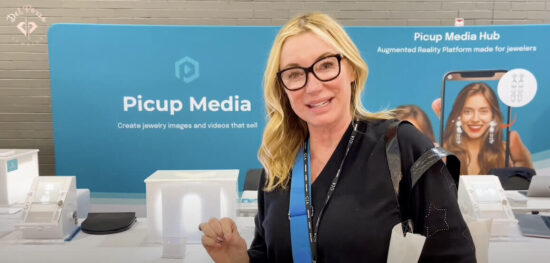 Tanya Newbould from Del Pozzo Jewelry
Tanya Newbould of Del Pozzo Jewelry enthuses over the revolutionary influence of the jewelry virtual try-on feature on her business. Absolutely upping her game, Tanya raves, "This is the best product on the market!"
GemStack
Professional quality
Pixel-perfect images and videos at the touch of your fingertips.
Plug-and-play
No set-up required: take professional videos and images at the click of a button.
Portable
Take this smartphone-sized platform with you wherever you go. No power outlet needed.
Creative
Get creative by using the GemStack with different backdrops to accentuate your jewelry even more.
30 Days
Money back guarantee*
Frequently Asked Questions
What is the $90 fee you're asking me to pay during this giveaway?
We want to say thank you and celebrate our birthday with as many customers as possible. To ensure that we can, we're asking you to pay:
Flat rate global shipping fee: so that we can get your GemStack to you as quickly as possible, wherever you are in the world
A small service fee: so we can make sure our team can process your order as soon as they receive it
Taxes: Unfortunately, these are unavoidable! But we've made sure to pass along the smallest amount we possibly could
Why are you doing this giveaway?
We've been a part of the global jewelry business for ten brilliant years. All along our journey, our biggest champions have been our customers – the passionate jewelers, entrepreneurs, and artisans that use our products every day.
We want to to thank you for your support and celebrate our birthday together with you. That's why we've decided to give away GemStack Free to 10,000 customers!
What are the GemStack Add Ons?
GemStack Add-ons comprise five unique attachments that magnetically attach to the GemStack. These add-ons are designed to showcase larger jewelry items, watches, and multiple gems on the turntable. The set includes:
Ring Stack – Displays rings upright
Turntable Extension Stack – Broadens your display platform
Timekeeper Stack – Specifically designed for watches
Tweezers Stack – Crafted to provide a tweezer perspective
Earring Stack – Designed to display earrings
Your free GemStack already comes with a 360° turntable and 8 different-sized slots built in. So don't worry, even without the GemLevels you can plug-and-play. You can always choose to upgrade with the GemStack Expansion Pack later down the line.
Discover more at: https://picupmedia.com/gemstack-add-ons/
What happens to my GemHub subscription at the end of the 12 months?
As part of the Brilliant Birthday Giveaway, you get a free 12 month subscription to GemHub. After 12 months, you will be billed $199 a month automatically. Cancel anytime after the first 12 months by giving us one month's notice via the app.