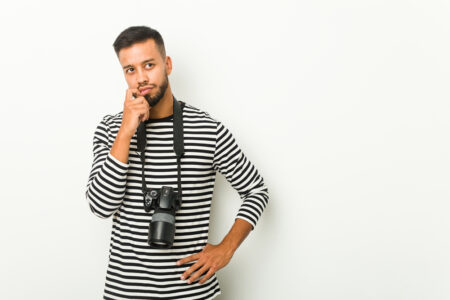 0 Comments
Published on:

July 7, 2020
Last updated:

January 10, 2022
Smartphone vs DSLR ⁠— is the best smartphone enough to solve your common jewelry photography woes?
Can smartphones replace your DSLR?
In this post, we're going to show you how to photograph jewelry with the GemLightbox using both a smartphone and a DSLR. Smartphones and DSLRs are both capable of producing professional-quality results, but the question as to whether one is better than the other depends on the purpose of your photography. You will have clarity about which device to use for what purpose as we go along, but first, take the time to watch the video below to have a grasp of the way each device functioned for a particular jewelry piece.
Let's discuss each component to help you understand which photography device fits your usage. In this photography session, we will be demonstrating the process with a three-stone diamond ring set in an 18-karat white gold setting. We're going to use the same jewelry piece throughout for better comparison.
Let's begin!
How to Photograph a Ring with DSLR and the GemLightbox
Tools and Equipment:
tri-stone diamond ring
Fuji film X-T2
60mm macro lens
Eclipse
Step 1. Put the three-stone diamond ring inside the GemLightbox.
First, turn on the GemLightbox device and remove the front reflector cover. Position the jewelry piece inside the GemLightbox and make sure it is centered.
Step 2. Go to your camera and adjust the settings.
Next, put back the front reflector cover and go to your camera to adjust the settings.
For this one, we used a 60mm lens. This lens is ideal for general photography. It is also sharp and capable of producing nice colors and contrast.
We also set the ISO to the lowest possible to avoid graininess. ISO is the sensitivity of your camera sensor to light, which affects the exposure of the image. Low ISO means low sensitivity to light, which is what we need in bright conditions to avoid over-exposure.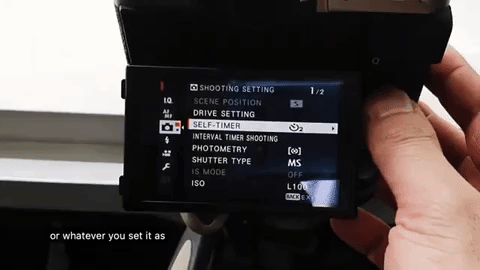 Notice that we also set the self-timer. Self-timer is a shooting mode that counts down before taking the photo. There are multiple timing options for you to choose from. Here, we used the 2-second timer to prevent blur usually caused by camera shake.
A self-timer when combined with a tripod, as we did in the photo, is extremely useful. Ultimately, it helps you achieve an absolute critical sharpness in your photo, especially that even the slightest touch of your finger on the shutter button can cause vibrations.
Step 3. Tap to focus and click to capture.
Finally, when you're all set, tap to focus and click to capture.
The same process applies to smartphones; however, you'd find that smartphones are easier and less complex than the DSLRs. Take a look below.
How to Photograph a Ring with a Smartphone and the GemLightbox
In this demonstration, we used the same three-stone diamond ring while replacing major devices.
Tools and Equipment:
Three-stone diamond ring
iPhone 11 Pro Max
The photography process using a smartphone is almost similar with the GemLightbox other than the device replacements and the fact that the use of smartphone makes photography simpler and time-efficient, as you can see below.
Place the three-stone ring inside the GemLightbox.
Put back the front reflector cover and open the GemLightbox app.
From your smartphone screen, tap to focus and zoom in and out as desired to get a perfect white background. Then, simply click to capture.
In just a matter of seconds, we were able to capture a professional-quality, white background photo of a three-stone diamond ring. You can see the complete process below.
Below you'll see how to capture a 360 video of the three-stone ring with a smartphone and the GemLightbox. It's simpler than you could imagine.
How to Capture a 360 Video of a Ring with a Smartphone
We prefer using a smartphone and the GemLightbox for capturing 360 videos. This is because the smartphone makes the complex process of 360 videos way simpler, especially with the help of the GemLightbox app.
The tools and equipment used were the same as the ones above with the addition of the GemLightbox turntable.
The GemLightbox app was designed to help you capture jewelry images and videos with optimal quality. Once you're there, connect via Bluetooth then go to "camera" and switch to video mode.
Step 2. Click to capture.
After switching to video mode, position the smartphone and get ready to capture. We positioned the smartphone sideways here, but if you want to capture vertically, the GemLightbox comes with a smartphone holder to help you capture hands-free and to reduce camera shake.
The GemLightbox app is made to be flexible, so we made sure that we have what you need to showcase the designs of your jewelry no matter how intricate they are. This means that if you want to capture a 360, 90, or 45-degree video, you can do so effortlessly by clicking the cog symbol to switch between different angles and motions.
How to Capture Jewelry Images and Videos on a Black Background
We also demonstrate how to capture jewelry images and 360 videos on a black background using a smartphone, a DSLR, and of course, the common denominator ⁠— the GemLightbox.
The tools and equipment remained the same with the addition of Eclipse, an add-on accessory designed for capturing beautiful black background jewelry images and videos in just a click.
To use Eclipse, simply follow the steps below.
Step 1. Take the white lid off the GemLightbox and put the Eclipse on top of the Turntable.
Step 2. Lift open the Eclipse and place the ring inside.
After placing the Eclipse inside the GemLightbox, lift it open and position the jewelry inside before putting back the front reflector cover.
Step 3. Go to your camera, adjust your DSLR settings, and click to capture.
After positioning your jewelry, go to your camera and adjust your DSLR camera settings. Make sure to adjust the exposure setting to avoid overexposed images. For instance, for this image, we had to tune down the exposure setting to achieve a complete and beautiful black background photo.
Once you're happy with your overall settings, click to capture.
We also used the same Eclipse accessory for capturing a 360 video of the same jewelry on a black background using the iPhone 11 Pro Max. With the GemLightbox app, the process was quicker, fool-proof, and simpler.
Setting aside your DSLR, get your smartphone this time, and open the GemLightbox app. Then, switch to video mode and click on the filters button to choose Eclipse, see below.
After choosing the correct filter, position your smartphone. Then, tap to focus, zoom in or out, and brighten up as necessary. Finally, click to capture. Don't forget to click 'save' after every capture.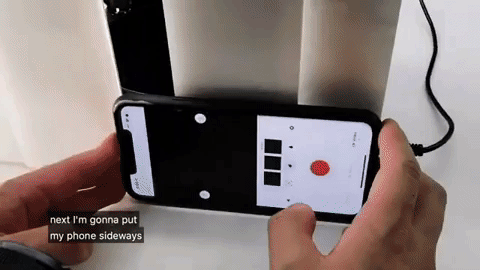 As you can see, in just a click of a button, we were able to capture a beautiful black background 360 jewelry video of the three-stone diamond ring.
Such ease of use and effortless process would have not been possible with the DSLR, especially if you are not a professional photographer and are not well-versed on exposure, ISO, and aperture settings, among many other intimidating array of buttons.
Jewelry Photography: Smartphone vs DSLR
Let's now take a look at how a smartphone (iPhone 11 Pro Max) performed when compared to a DSLR (Fuji X-T2), especially in terms of quality.
Three-Stone Diamond Ring Photo on a White Background
As you can see from the results above, while the DSLR image came out nicely, sharp, and fully in focus; however, compared to the smartphone image, the contrast and the background are not completely white. Hence, DSLR jewelry images usually require photo retouching.
The smartphone image and 360-video are good as they are and you can directly upload them to your social media pages straight from your phone. It saves you a great deal of time and effort.
Three-Stone Diamond Ring on a Black Background
This time, let's see how each photography device fared on a black background.
Capturing 360 Videos on a White and a Black Background
We captured both 360 videos with the iPhone 11 Pro Max as it is just not possible to do the same with the DSLR, especially with all the seaming and stitching required should anyone attempts to do so.
Smartphone vs DSLR: What Makes One Better Than the Other?
As we have mentioned at the outset, each photography device serves unique purposes. It's not really a question of superiority but more of the purpose behind your photography. By knowing the strengths and limitations of each, you'll be able to understand how to use both devices to your benefit.
Let's see what makes a smartphone and a DSLR a yea or nay.
Picture Quality
Anyone will probably say that a DSLR can capture better quality photos than a smartphone, especially because of the bevy of features and adjustable settings it has, which gives users more freedom to control the quality of the images.
While this is true, let's not forget that technology has been rapidly improving, particularly in the smartphone department. Currently, the largest camera sensor in terms of megapixels is 48MP. This is excluding Xiaomi's 108-megapixel camera, which is only currently available for the Chinese market.
The iPhone 11 Pro Max has a 12-megapixel camera but with the GemLightbox's perfect jewelry lighting environment and the GemLightbox app, we were able to capture a professional-quality photo that is even better than the DSLR, especially if it's only for social media and other web purposes.
Accessibility and Portability
With over 3.5 billion users worldwide, nothing can beat smartphones in terms of accessibility and portability. In fact, most of us even carry more than one smartphone in our bags and pockets.
Its also undeniably portable unlike the bulky DSLR and not to mention its tripod accompaniment. No one wants to lug all the heavy equipment just to capture a small piece of jewelry. Hence, smartphones win for being accessible and portable, which makes jewelry photography possible anytime, anywhere.
File Sharing
Sharing jewelry images and videos from your DSLR requires effort but it's not exactly rocket science. Modern-day DSLRs now have various connectivity options such as WiFi, Bluetooth, or via Near Field Communication (NFC) to facilitate a seamless file transfer. You can also connect with your phone or laptop and from there, share your files on different social media platforms.
These options are not necessary when you have your smartphone. You simply capture and immediately post it to your Facebook or Instagram in just a matter of seconds. File sharing comes naturally with smartphones. If you're a busy jeweler, you would love this convenience.
Cost
It's true that iPhones and other high-end smartphones are expensive; however, premium-quality DSLRs costs way more than the premium smartphones. Adding up to the exorbitant price of DSLRs are lenses and equipment maintenance to ensure that it's always in tiptop condition.
Skills
There's a reason why DSLRs often come with thick manuals. The array of buttons could be intimidating for non-professional photographers, especially if you're a beginner who never thought of the 'exposure triangle' prior to your first purchase of DSLR.
DSLRs require skills and photography knowledge. After all, how can you capture excellent jewelry images with your DSLR if you don't know what those buttons are for and how to set them.
Learning how to use a DSLR takes time and lots and lots of practice.
Your smartphone, however, is a different story. Coupled with the GemLightbox, you can forget about ISO, aperture, and all those jargon that only scare the novice photographer in you.
The GemLightbox is a no-training required jewelry photography solution that lets you capture studio-quality jewelry images and 360 videos in just one click using your smartphone. The GemLightbox and your smartphone are a powerhouse tandem. It's quick, easy, and simple, which means anyone in your team can be a photographer.
Smartphone vs DSLR: Which One Should You Choose?
Truth be told, there's really no competition here. In fact, we use both DSLR and smartphone depending on the purpose. For instance, if we need jewelry images for printed marketing materials, we use DSLRs; however, if we only need photos and videos for websites, e-commerce platforms, and social media communication, we grab our smartphone and use it.
The downside of using a DSLR, as you can see in the results above, is the time it requires for a photo to become usable as it would need post-production work such as jewelry photo retouching and polishing. Hence, for the effort it requires, we only use it for grand marketing communication materials. If we will use it for all purposes including web materials, the outcome would not compensate for the time spent photographing, especially if we can achieve the same outcome in a fraction of time and cost.
In this case, always choose efficiency and increased productivity, especially if it doesn't compromise quality.
Frequently Asked Questions
Are phone cameras better than DSLR?
While others may say that DSLRs are better than phone cameras, smartphones are getting better and better each year.

We can say that smartphone cameras and DSLR are both superior jewelry photography device, especially when used according to purpose. For instance, your smartphones can work well for images and videos meant for web use while DSLR is more ideal for printed materials.
Can smartphones replace DSLR?
No, but smartphones are getting really close.

Smartphone camera technology has come so far since the first camera phone in 2000, and it has never stopped improving. While most camera phones right now are already capable of capturing raw files, which gives users greater editing control, it is not enough to say that smartphones will supersede cameras; however, it will always be a powerful photography tool for many, especially for busy business owners and those who are always on the go.

The question is not whether smartphones will replace DSLR because each device functions for different purposes. The question lies in portability and accessibility. Which one is the most available when you need it? Over-used as it sounds, but the best camera is the one you always have with you ⁠— and you know what that is.
What is the best background for jewelry photos?
Backgrounds can tremendously affect the appearance of your gemstones and metals, so choosing an appropriate background is a critical task.

In jewelry photography, it's always a head-to-head contest between a white background and a black background. Similar to smartphone vs DSLR, it all boils down to what you want to achieve.

If you're photographing product listings for e-commerce platforms like Amazon or for your web store, we would suggest a white background as it is neat and clean and look professional. It takes away all the distractions and really invites your target buyers to focus on your product. Additionally, most e-commerce platforms like Amazon and eBay have a strict white background photo requirement, so you have to stick to the rules to avoid suspension.

On the other hand, use a black background for light-toned gems because the darker background creates contrast, which then adds drama to the photo. Black is often associated with luxury products. It is classic and timeless like diamonds; thereby, making it a perfect photo background.
And there you have it!
Which device do you use often when capturing jewelry images and videos? Are you happy with the quality you get out of your DSLR or smartphones? Let us know in the comment section below!