0 Comments
Published on:

June 28, 2019
Last updated:

January 10, 2022
Table of Contents
Serving as an important networking and showcasing platform for jewelers and their products, the Hong Kong Jewellery & Gem Fair, hosted by Informa Markets (previously known as UBM), recently concluded its annual jewelry sourcing event from 20 June to 23 June at the Hong Kong Convention and Exhibition Centre.
The event was a glittering success with over 2,000 exhibitors and 30,000 jewelers from across the globe. The Fair astounds attendees and guests annually not only with its vast 70,000 square meters of exhibition space but also with its diverse line of exhibitors and special events; thereby, keeping its reputation as the most important and the largest mid-year international jewelry exhibition.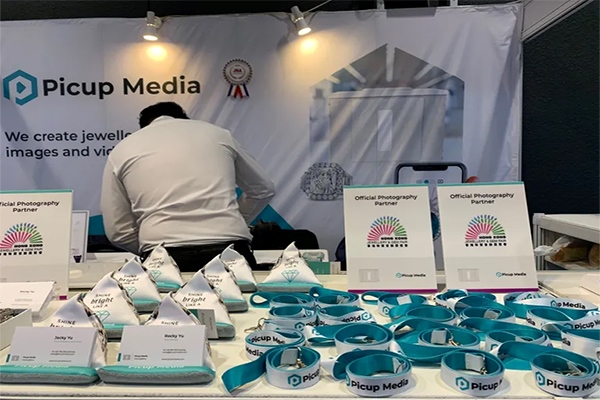 A Partnership that Dazzles
For this show, Picup Media and Informa Markets joined forces once again to provide an exhibition-wide complimentary jewelry photography service for all exhibitors. Having previously collaborated at the 2018 September Hong Kong Jewellery & Gem Fair, as well as Asia's Fashion Jewellery and Accessories Show in March 2019, Picup Media was confident and will always be confident in its vision to capture studio-quality images and videos for every exhibitor.
Four Days of Sparkle
As the Official Photography Partner for the show, Picup Media played an invaluable role in ensuring that every jeweler and exhibitor would have a clear understanding of what a first impression could do to their jewelry business, and that first impression starts with the quality of product imagery they put out for the world to see.
With Picup Media's signature photography solution – the GemLightbox – set up on portable carts, the mission began and the carts traversed each exhibition hall to capture studio-quality images and videos. Those jewelry images and videos would then be collated in a single platform.
The GemLightbox units on its portable carts are all set to move from one exhibition hall to another Through immense preparation and effort, the operation proved to be wildly successful with over 15,000 jewelry images and videos captured using the GemLighbox in just four days. Crucial details including stone type, metal type, and price were also recorded. This outstanding achievement solidifies Picup Media as a revolutionary force in today's and tomorrow's digital jewelry world.
Some of the GemLightbox-captured jewelry images at the show are shown below and they are sure to put twinkles in your eyes!
Exhibitors and attendees flocked to the Picup Media booth day after day to watch educational and engaging product demonstrations, and the GemLightbox did not disappoint. The effervescent and vibrant atmosphere made for a busy but enriching four days of capturing unique jewelry and gemstone pieces.
This sparkling success was made possible by the convenient and intuitive design of the GemLightbox. Its ability to capture and share such a large collection of jewelry images and videos in a single platform is incredibly beneficial for marketing and cross-promotional purposes, selling and trading, and increasing brand awareness and outreach for all participants. Needless to say, the GemLightbox did what it promised to do and will continuously do so, and that is, to usher jewelry exhibitions, exhibitors, and jewelers all across the globe towards a multifaceted but bright and glittering digital jewelry world.
Picup Media Shines Through!
Picup Media would like to thank the Hong Kong Jewellery & Gem Fair for another marvelous show, and Informa Markets, for another tremendous opportunity to provide a complimentary jewelry photography service, through the GemLightbox, for every exhibitor. With more exciting features to arrive soon, the September Hong Kong Jewellery & Gem Fair is shaping up to be a show to remember.
Watch the video and see how jam-packed it was, with every attendee all smiles to have experienced the GemLightbox effect.
You too can experience its revolutionary effect! Don't forget to drop by at our next show, let's chat, and see you there!