0 Comments
Published on:

February 19, 2020
Last updated:

December 3, 2021
Are you in search of new jewelry marketing tips to try this year? Your jewelry marketing ideas matter now more than ever. Let's fill you in!
The MarketWatch, a financial information firm that provides business news, data, and analysis, predicted a growing global gems and jewelry market size with a CAGR of 1.9% in the period of 2020 to 2025. Additionally, the marriage jewelry sales – engagement and wedding rings – was forecasted with a growth of 2.60% year-over-year while the personal jewelry and watch consumption was forecasted with a total growth of 4.22% year-over-year.
These figures translate into consistent voracious consumer appetite for gems and jewelry. And as such, not only present more sales opportunities for jewelers but also a rather stiffer competition. As jewelers scramble to snag younger consumer groups, the marketing terrain continues to change as brought about by unstoppable digital innovation.
Feeling unsure and scared? Don't let digital fear paralyzed you.
In this post, we're going to equip you with five jewelry marketing ideas to make you stand out from the noise – that more than attention, create resonance to help you establish the relationship you want with your target consumers.
Let's begin!
5 Jewelry Marketing Tips to Boost Your Sales
1. Adopt diversity marketing
Jewelry is designed for the human body and as such, carries a collective appeal that transcends what many may think of as boundaries like culture, race, age, and other personal identifiers. This is where diversity marketing comes in as it allows you to target consumers from different backgrounds and help you establish healthy relationships with your diverse consumers.
While the backlash to racist, ageist, sexist (and other -ists) is not as loud in the jewelry marketing industry as it is in other retail sectors like the beauty and the apparel industry, partly because of the nature of the products, jewelers can leverage inclusive marketing in many ways.
For example, think of how storied jewelry brands struggle to attract younger generations who, contrary to others' beliefs, are still buying diamonds but not just in a similar way that older generations do. If you're one of the brands or independent jewelers facing the same struggle, perhaps, it's time to examine the status of diversity not only in your marketing department but also in your marketing campaigns. If your jewelry marketing ideas don't resonate with younger consumers, those ideas will not translate into conversion and sales.
As a solution, avoid using the same type of models in your marketing campaigns all the time. Hire models from different cultures, of different colors, age, and more. Step outside of your marketing comfort zone and include other consumer groups in your brand story.
2. Stand out on Instagram by offering variety in your posts
As a jeweler, texts posts on Instagram might have not probably crossed your mind, which is understandable given that it's a photo and video sharing social media app. But who says you must abide by what's dominant? Only dead fish go with the flow.
In a social media world dominated by photos and videos, variety in types could really set you apart. For example, the brand State St. Jewelers uses text-only posts in different ways using witty, empowering, and motivating quotes or simply showcasing their positive brand reviews. Adding text-only posts sparingly not only add character to your Instagram grid, but it will also give your followers a break from your monotonous photo-only posts.
The key here is timing and depth. Knowing when to use text-only posts will keep its appeal intact while the emotional depth of your message guarantees engaged old and new followers. Don't forget to design your text-only posts to make it more visually appealing. You don't need to be a designer to create one, especially with all the free apps available online at your disposal.
Lastly, don't forget that offering variety in your posts should not compromise the personality of your brand. Be consistent and creative, but don't let it stop you from diversifying your content.
3. Collaborate and arrange a jewelry styling and redesigning event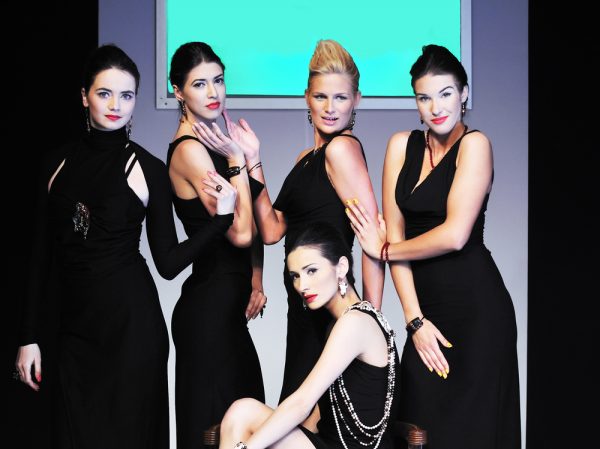 Take your consumers from online to offline by organizing a jewelry styling and redesigning event. Spice up the traditional trunk shows and collaborate with clothing business owners you know to add more value to your existing and potential consumers.
You don't have to be big jewelry or fashion brand to pull this off. If you're a small business jewelry owner and you know someone that runs a clothing store, team up for a collaborative styling event. If your consumers are typically clueless about how to style your jewelry or which type of outfits go well with your designs, it's time for a styling event and to show them how you would style it with the help of your partner. Show which neckline goes well with different necklaces, the fabrics that seamlessly match your earrings, bracelets, and all other pieces. It's like a lookbook in the flesh.
Furthermore, you can also incorporate a jewelry redesigning service to go with your jewelry styling event. If you have a benchman on site, invite consumers to drop by at your event and have them bring their outdated, unworn, or broken pieces should they be interested in having it redesigned.
4. Make it spin!
Jewelry videos don't have to be boring, especially when you're appealing to different groups of consumers. Most of them have probably seen jewelry photos visually presented in the same composition. Create excitement and elevate it further by using 360 videos and adding effects to enhance the beauty of your creation.
In the 360-video above, you can see the breathtaking pendant created by Travis the Jeweler and photographed using the GemLightbox at this year's AGTA GemFair Tucson Show. This seductress was made with over 300 stones, a large and vibrant boulder opal, VS diamonds, tanzanite, tsavorite, garnets, hyalite opal facets, 7 elongated matching tourmalines, and a single emerald. Unlike other 360 videos, this one creates more drama by changing the background from white to black, alternating between slow and fast shooting motion, and zooming in and out into the pendant to bring focus on to the craftsmanship, the burst of colors, and the intricacy of creation.
When capturing 360 videos, think outside of the box and be creative.
5. Explore the potential of short digital films
This year, use even more videos than you ever did in the previous years!
Product videos are continuously growing in popularity. In fact, it was predicted that by 2020, an average person will spend 100 minutes daily watching online videos.
What's more? 99% of polled marketers will continue to use videos this year as ROI derived from videos have shown to increase alongside the length of consumers viewing time. As it turned out, 48% of polled consumers are more inclined to watch videos that reflect the specific products or services they're interested in.
How do you implement this, you ask?
It's time to explore the potential of short digital films! Take for example India's Platinum Guild International, a marketing organization that collaborates with jewelers and manufacturers to develop the global platinum jewelry market. The #GreaterTogether video above is one of its social campaigns, which not only highlights platinum jewelry pieces but also celebrates relationships anchored on the progressive concept of equality, mutual respect, and partnership.
Such short digital films are an excellent marketing campaign as it not only markets the product but more so humanizes the brand and tells an inspiring story of love and relationships; thereby, making it relatable to the viewing public.
It tinkers on human emotions and emotions influence buying behavior.
And there you have it!
Do you have other jewelry marketing tips up your sleeve? Let us know in the comment section below!