0 Comments
Published on:

December 18, 2018
Last updated:

January 10, 2022
Are you one of the finest shops housing the most important jewelry collections?
Do you need a marketplace that caters explicitly to your targeted semi-luxury and luxury shoppers?
If you think you're one of the sophisticated jewelry dealers, designers, and/or curators in town who holds the most beautiful jewelry on earth, 1stdibs is specifically created for you!
1st dibs describes itself as 'the leading online marketplace for the most beautiful things on earth.' And that's pretty unquestionable. If you sign up and browse through their wide array of collections, you'd see luxurious pieces of jewelry items (and other collections of furniture, fine art, and interior among many others) – all tempting the eyes of every jewelry connoisseur worldwide.
1stdibs started its journey in 2001 in one of the prominent antique markets in Paris, France. Its founder, Michael Bruno, carefully hand-picked reputable dealers, and the virtual marketplace has, since then, become widely known as the world's leading online destination for beautiful treasures that may not be easily accessible to the market.
If you're designing and retailing premium quality jewelry, you wouldn't want to miss your spot in what seems to be the internet's creme-de-la-creme of online luxury.
How to Sell Jewelry on 1stdibs?
As with dealers in other categories, jewelry dealers pining for a spot on 1stdibs must apply to sell on the online platform. Prospective dealers must complete the application form including proofs of credibility as a seller and your evidence of a top-notch jewelry inventory.
Once you've completed the process, 1stdibs' specialists will review your application, If they deemed that you're a prestigious dealer with a set of merchandise that matches the taste of their targeted audience worldwide, pat yourself on the back. You were just hand-picked and are considered to be the best of the best.
Learning how to sell on 1stdibs is the easiest part, but maximizing your revenue growth? Hmmm…maybe not as easy.
How to Maximise Your Revenue Potential as a Jewelry Dealer?
1stdibs is a bit saturated jewelry market. Currently, there are more than 72,000 jewelry and watches listed on the site – sold and unsold, as you can see below.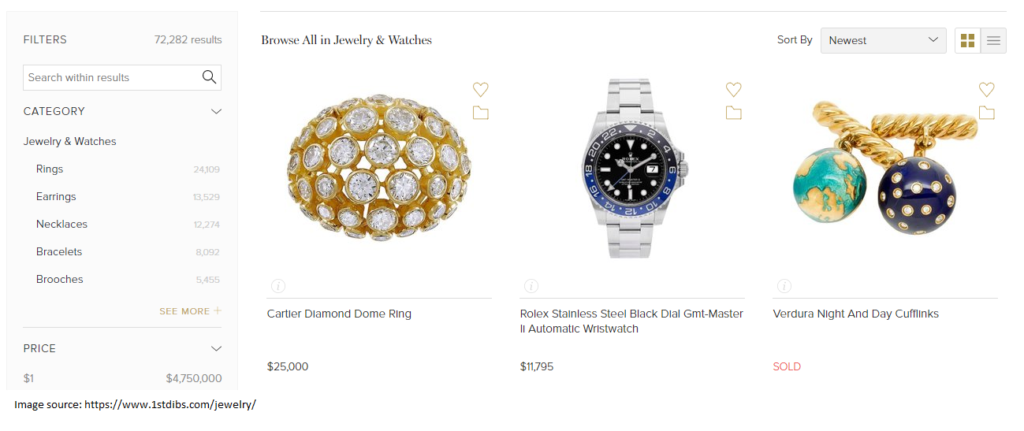 Notice that 1stdibs focuses more on marketing the jewelry and not so much about the dealers. Dealers don't have a customizable online storefront similar to other online marketplaces you know. When you click on one of the listings, it'll show you the creator/dealer of the item. Though you can click on the dealer's name; it will only bring you to all the items listed by the same dealer.
For others, this could be a challenge as it gives dealers lesser flexibility in terms of building customer relationships. The site also has stricter rules concerning communication between the buyer and the seller.
So how do you stand out?
1. Produce quality jewelry images listing
Jewelry images are money!
Similar to other popular online marketplaces, the best way to make your target buyers purchase your jewelry is by showing professional-looking jewelry images. Remember that you're selling luxury jewelry. The images you present to your buyers should justify the luxurious quality of your necklaces, earrings, and rings.
As seen in the image below, the use of white background photography is prominent all across the site. It sets the tone of the jewelry image and immediately locks your buyer's eyes to the design and the subject as a whole. White background jewelry images eliminate all distractions and create a clean, and sophisticated jewelry visual imagery that helps your buyers make a purchase decision.
2. Present consistent quality images
Many sellers neglect the importance of consistency when listing jewelry images online. However, this could cost you money if you failed to pay attention to it.
Consistency speaks for your brand. It should mirror your professionalism, and whether or not, you take your business seriously. Take a look at the gold necklace images above. If you were a luxury shopper, would you buy it considering that it's a big-ticket purchase?
Do those images have the quality that assures you of a premium gold necklace in real life? The inconsistency of the white background used in the images alters the look of the necklace every time the background changes. And this can create doubts in your buyers' head. Online selling is about building trust. Often, it only takes doubt to lose your shoppers forever.
To achieve a consistent white background, consider some jewelry photo retouching processes which steps are outlined here, so you're guaranteed that your jewelry looks elegant offline and online. The process may be time-consuming, especially if you're not adept at Photoshop, but the result can help maximize your sales potential.
3. 1stdibs is not so keyword-driven so make sure not to lose your shoppers with your blurry images despite being the right item
A quick search using the key terms "emerald stone engagement ring" will bring you thousands of some related and unrelated results as seen in the image below. It's difficult to get found so don't indeliberately drive your shoppers away with your unclear and not-so-sharp images when it's the right item the buyer is searching for.
4. Let the shoppers know if your price is negotiable
Since you and 1stdibs are independent parties, you set the price for your jewelry items; however, the latter allows the shopper to make an offer, or you can inform them of your private offer.
When sending private offers or accepting offers from the shoppers, think thoroughly and don't forget to consider factors like the original amount you paid when you initially acquired the item, its rarity, market price, and other offers you have received from other interested shoppers. These factors will help you come up and accept a price that is fair for you and your shopper.
5. Always be truthful and accurate
Be responsible and always truthful when describing the jewelry you're selling, including its price and condition. If the jewelry is new and has never been worn, make such an indication to make the shoppers aware of what they're buying.
It is important to always price your item fairly and accurately as 1stdibs deserves the right to cancel any sales and purchases if they found out that the item was priced or described inaccurately.
Do you think you have what it takes to become one of 1stdibs' sophisticated and credible dealers and/or collectors? If so, get your inventory ready, let their specialists know, and amaze luxury shoppers with your sparkling jewelry items.