0 Comments
Published on:

February 28, 2018
Last updated:

January 10, 2022
Do you want to market your handcrafted jewelry pieces online but don't know where to start? Your chosen platform contributes to your online selling success; hence, in this series, we will discuss every possible option you have, so you can match your selling goal to your effort. Let's begin by understanding the work involved when selling on Etsy.
Etsy is a global marketplace that houses special, extraordinary items, from handcrafted jewelry pieces to the most unique and vintage treasures. As of 2016, it had 1.75 million active sellers and is the second most popular online marketplace among online sellers in the U.S. Although Etsy found itself in a few controversies in the past – including its ineffective policing of mass-manufactured items, the marketplace has remained popular as evidenced by its increasing gross merchandise sales. In 2017, Etsy sales reached $3.25 billion from $2.84 billion the previous year.
Is Etsy a profitable platform for jewelers?
If you go to its website and search for the keyword 'jewelry', you'll discover that there are over 12 million jewelry items of all types currently listed on the site. This is perhaps the same as all other online marketplaces. They are oversaturated, which can make you feel like penetrating the market is almost impossible. However, your profitability depends on your item and the work and effort you're willing to dedicate to ensure that you get found by your target customers. As in any other endeavors, your success is anchored in your business strategy, knowledge, patience, and continuous work. There are some who had to shut down their stores and others like this teen who paid for college by selling on Etsy. The answer, therefore, is in your hands.
If you're a risk-taker (remember, the universe rewards the brave!), here are some of the pointers to guide you through on your journey to winning hearts and wallets on the Etsy platform.
What are the fees involved?
Etsy is the most affordable way to start online selling. Check out the fees below.
See the payment processing fee per location here. Renewal of expired listing costs the same ($0.20).
UPDATE: Effective 16 July 2018, the transaction fee went up from 3.5% to 5% and it also applies to the cost of shipping. Click here to read more about the updated fee and the OPTIONAL monthly subscription plan
A Jeweler's Guide to Online Marketplaces: How to Sell Jewelry on Etsy
Opening an Etsy shop
Opening an Etsy shop will probably be the easiest part of your journey. To do this, follow the steps below.
1. Go to the Etsy website or click this link.
2. Click Sell on Etsy, as shown below, followed by 'Open your Etsy shop' to register. Supply all the information.
3. Once registered and after you've confirmed your account, continue supplying all the necessary information – from naming your shop all the way to setting up your billing information. Don't forget to click 'Save and continue' every time.
4. When you're done choosing a name for your shop and after stocking your shop, which we will discuss further in the next section, it's now time to set up your payment methods.
You have two primary options to accept payments
Etsy Payment is the preferred method for you to get paid. When you enable this option, you allow buyers to pay you conveniently using credit cards, Android Pay, Sofort (for buyers in Austria and Germany), PayPal, iDEAL (for buyers in the Netherlands), Etsy gift cards, and Apple Pay. If you choose Etsy Payments, you'll receive your sales money directly to your bank account. Remember to set up your preferred deposit schedule. You can receive funds daily, weekly, bi-monthly, or monthly, but be aware that some countries have a minimum amount required to carry out daily disbursements of funds. Etsy Payment is limited to certain countries only.
Sellers in countries where Etsy Payment is not available can accept payments through PayPal. If these two don't suit your needs, you can also accept payments by check or money order.
5. When setting up your billing information, remember that Etsy may require your credit card information, depending on your location. The credit card should be any of these: a Visa, American Express, Mastercard, Carte Bleue (for those located in France), or Discover. The credit card you keep on file will be used for identity verification. You don't need to keep a credit card on file if you're from Austria, the Netherlands, or Germany.
6. As soon as you completed your billing information, you're all ready to open your shop. Click the 'open your shop' button at the bottom of the final section. Don't worry if you forgot to supply other optional information. You can still go back and edit it after you open your shop. Click here for Etsy's complete setup guide.
Congratulations!
You're now ready to sell your beautiful jewelry creation.
Listing an Item
Listing your jewelry item is an easy process. After you registered your account, simply click 'Your shop', as shown below, and begin adding your jewelry images.
Add as many jewelry images as allowed to entice your target customers. Etsy allows you to upload up to 10 product images to ensure that customers can see every detail of your items. Fill up all required listing details including product descriptions, pricing, and shipping information. Your shop should have clear and comprehensible return and refund and shipping policies to avoid any misunderstanding with the buyer. Once you're done with all this, click 'Publish' at the bottom of the listing page to make it active and visible to Etsy shoppers.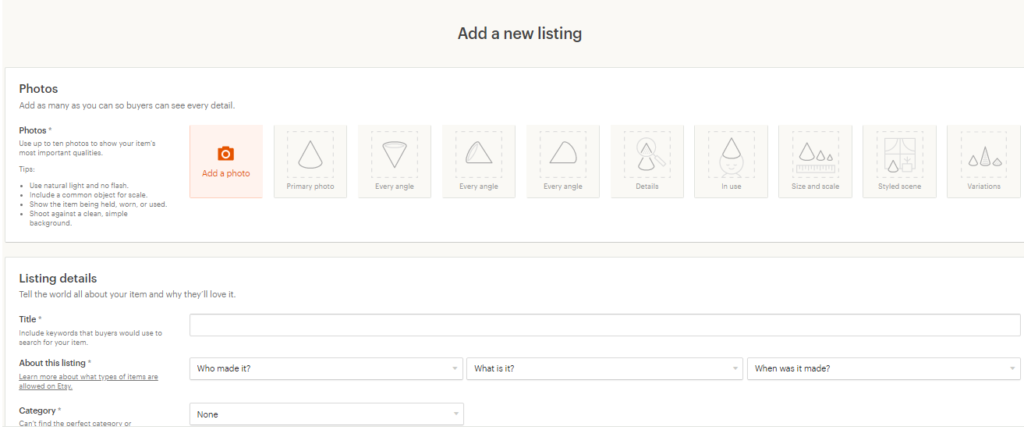 Easy, right? But how do you ensure that your target shoppers can find you considering all the active listings in your category? This takes us to the next section.
How to Get Found by Your Target Customers
Etsy will only show items that are likely to be purchased by its shoppers; hence, its algorithm considers your quality listing score, which determines how well your item performs in the search. If a buyer 'favorites', views, or purchases your product listing, this will strengthen your listing quality score. Therefore, you should work towards enticing target customers to engage and interact with your product listings. This can be done by presenting excellent jewelry product photography along with other practices which include the use of keywords, tagging, and adding attributes to your listings. Continue reading below to know more about these practices.
Jewelry Photography for Etsy
Based on the survey conducted by Etsy, 90% of shoppers, as shown below, believed that the quality of product images is the most critical factor when making a buying decision.
Photographing jewelry is challenging because it is usually small, reflective, and complex. But just because it's difficult, it doesn't mean it's impossible. There are many reasons you should endeavor to showcase high-quality jewelry images.
– It attracts your target customers.
– It presents your items clearly, which helps potential buyers to see all the intricate details and designs.
– It reduces the number of questions from customers as visual presentation already answer it for you.
– It helps the customers visualize the product and envision a lifestyle that matches your items.
– It evokes emotions, which is critical given that all jewelry purchases are emotional.
– And of course, it helps strengthen your listing quality score; thereby, increasing your position in Etsy search.
Some Essential Types of Jewelry Images
A studio shot is your primary photo, which is properly done when captured on a plain white background with an appropriate amount of light so your customers can understand what you're selling. Additionally, when photos are clear, customers are highly likely to check your store to examine the item further. Consider the jewelry photos below. Which one of these two provides you with an understandable product message? The photo on the left has a cluttered background that might distract the buyer while the one on the right tells you immediately what is being sold and attracts you further with its clear details.
A lifestyle shot, as shown in the example below, is another jewelry image type you can include when listing your item. This can encourage your shopper to create a story around your item or envision a lifestyle they can enjoy by wearing your jewelry.
A scale shot is necessary when selling jewelry, so your customers will understand how small or big the item is. This can prevent any possibility of a negative review or returns. In the image below, the seller shows the scale by photographing the bracelet when worn. As you can see, it gives you an idea of how small the personalized 'love' handwriting. It immediately sets proper expectations.
Detail shots such as close-up images and other photos displaying your item at every angle will positively contribute to the quality of your visual presentation. This will save you time as other interested Etsy buyers will likely send you messages asking for more photos. When you make them ask for it, you risk losing that customer. Remember, Etsy is oversaturated with sellers, especially in your category. See how this one Etsy seller highlights the features of his/her blue sapphire ring.
These are a few of the essential types of product photos that you can use when you list an item. You can further impress your target customers by adding other types such as packaging shots and your process shots to let them into your creative jewelry process.
How to Capture Jewelry Product Images that Will Make Etsy Shoppers Click
'How do I gain traction with jewelry and are there any tips on getting better photos?"
If you're able to register an account successfully, head to the forum section and you'll discover that jewelry photography and jewelry, in general, are some of the topics frequently discussed by Etsy sellers. Sometimes, it would feel like jewelry photography is rocket science because no matter how others follow tips and tricks, they still end up with non-working fixes.
The good thing about displaying high-quality jewelry photos is that it eliminates your jewelry photography process from your moments of problem identification. Take a look at one of the reviews left by a buyer. When you list a poor jewelry photo – it can lead to product misrepresentation. When a buyer's expectation is not met, you attract negative reviews, which can affect your store performance. One of the criteria that determine your placement in Etsy search is customer experience; hence, negative reviews will do no good when trying to increase your probability of getting found.
If you're a jeweler who takes photographs of your handmade jewelry pieces, don't worry. You can take high-quality jewelry images with some tips and tricks. Check out our comprehensive jewelry photography guide. It's packed with jewelry photography solutions may it involve photographing necklaces, pearls, rings, and silver pieces among many others.
Etsy Jewelry Images: Post-Production Process and Jewelry Photography Solution
"Even shots that are achieved in camera need some post production. This is because no matter how well a product is made, when you magnify it at 100 percent, you see more than the human eye can see. Something that looks smooth as you hold it will have scratches, chips and other imperfections magnified."
Unlike other online marketplaces, Etsy doesn't have a strict image requirement, but the photos you display will affect your placement in Etsy search and your overall performance. Your listing is dependent on your perception of quality which is why it is common to see an inconsistent visual presentation on the page. As shown below, some jewelry photos are captured against cluttered backgrounds. There are also items with excessive props while others are out of focus and blurry.
To avoid distracting your target customers when looking at your items, consider the benefits of the post-production process. In this post, we detailed how photo retouching can improve your jewelry product images to ensure that it represents the true personality and worth of your brand.
Here's an example of how Picup Media polished a sapphire ring for its client.
Jewelry Photography Solution
According to Digital Commerce 360, 51% of Etsy sellers work independently, 57% have other jobs outside of their creative entrepreneurship, and 36% have full-time employment. These data highlight the need for a fast and cost-effective photography solution. In fact, faster photo editing and photography approaches are one of the many exchanges you'll see in forums.
There are many ways to speed up your jewelry photography process. For instance, others resorted to the DIY photo lightbox to achieve consistent lighting and a more professional jewelry image quality. You can also purchase a mass-produced lightbox, but you'll get optimal results if the tool is specifically designed for the nature of your jewelry pieces. Watch the video below to see how we photographed a Tibetan bead bracelet using the GemLightbox and a smartphone, which will allow you to photograph as many photos as you can in seconds.
Product Descriptions
This is another perfect time to be creative because dull and uninspiring product descriptions don't sell. Take advantage of Etsy's spacious product description section by humanizing your items through the use of emotive words. Always write product descriptions that appeal to the customers' emotions, so it will be easier for them to establish a connection with your item. When you're able to bridge this gap successfully, you give your customers reasons to open their hearts and wallets to you. Give them a story they can relate to, and they will highly likely add your item to the cart faster than you can say "product descriptions."
It's difficult to find unique and creative product descriptions on Etsy. You'll notice that most sellers focus on straightforwardly listing the materials used, dimensions, and other pertinent details; however, it's also not impossible to come across sellers who attempt to sell emotions, such as the seller below who has nearly 4000 reviews with an overall 5-star score.
Keywords and Tags
Listing your jewelry items using commonly searched keywords and key terms are one of the many ways of bringing your target customers to your store. It's easy to build a list of keywords you can use. For example, look at your jewelry and answer the following questions:
What are you selling? (A ring)
What type of ring is it? (Engagement ring)
What is the primary material? (Diamond)
What's the color of the diamond? (Yellow)
From the following questions above, you're able to create a key search term immediately: a yellow diamond engagement ring. This is just one of the brainstorming methods you can use to build a keyword list. Always check the quality of the keywords you come up with. You don't want a keyword with no market or isn't used by your target customers. There are many tools (and techniques) you can use for free when searching for high-traffic Etsy keywords. These are outlined below.
Your first good source of keywords is the Etsy search itself as it gives you a lot of keyword suggestions, as shown below. Notice how we typed the search term, 'diamond ring' and it offers several more keywords? Choose the ones applicable to your item. This is a great starting point, especially that those keywords are the actual search terms used by other buyers every time they look for items to buy.
Etsy strives to make online selling as easy as possible for its sellers. One of the changes made to reflect this effort could be seen in your 'Shop Manager' section. You can go to 'Stats' → 'Customers' to view other searches by your customers. As pictured below, customers are also searching for moonstone ring, natural sapphire ring, and leaf ring sterling silver among others. If you have listings that match these searches, you can use it as your keywords; otherwise, you can expand your inventory to accommodate this demand. Searches that appear in this section may vary per store as it considers your target customers.
To understand which of your keywords perform well in terms of bringing you traffic, you can go to 'Shop Manager' → 'Stats' → 'Traffic' and scroll down to 'Search Terms.' In the sample image below, 'Aquamarine necklace' is the most searched term.
Once you're done with your keyword brainstorming process, ensure that you use it strategically. Keywords and key terms should be placed in titles, product descriptions, and tags. You can use up to 13 tags per listing, as pictured below. Maximize it to increase your chance of getting found as each tag is an opportunity to bring your customer to your listing. Tags appear at the bottom of your listing page.
And there you have it!
Etsy may seem like a lot of work, especially if you're new to the platform but you'll get in the groove once you start selling. Like other online marketplaces, selling successfully on Etsy is not as easy as throwing all your listings onto your page and vegging out on your sofa in front of your screen for the rest of your Etsy journey. It entails continuous hard work, experimentation, and learning. When you find yourself lost in the process, don't frustrate. Go to the Etsy forum section where you're free to post questions and join in on discussions. Reach out, and helpful sellers will come to you. Etsy forum is a fertile source of information, insights, and some entertainment. Be sure not to miss the fun!
Do you know other techniques on how to sell jewelry on Etsy? Feel free to share and comment below!