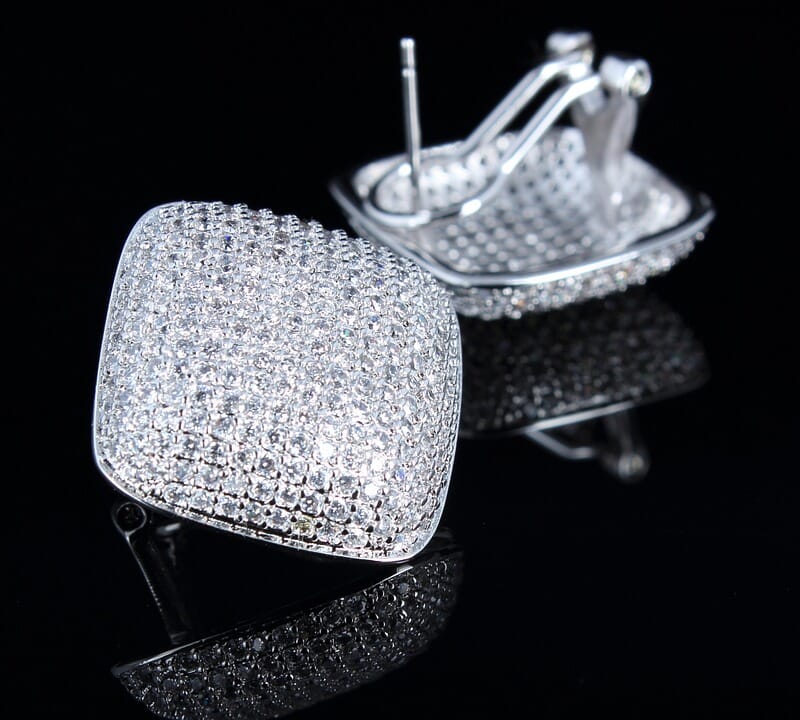 How to Photograph Earrings in Five Simple Steps
Are you struggling with jewelry photography? Do you feel that your creative vision isn't manifested in your jewelry images; that your unique and sophisticated designs are not properly captured because you lack the expertise, or the products are just too difficult to work with? In this post, we will teach you how to photograph earrings in five simple steps!
Product photography is one of the powerful online shopping trends this 2018. The latest publicized survey on shopping habits, preferences, and behaviors revealed that 78% of online shoppers relied upon product images when making buying decisions. The need for touch to online shopping has translated into growing demands for more quality images to breathe life into the products. For some jewelry retailers, this is a tall order that's a bit difficult to accomplish because of the complexity of the products. Nonetheless, it was a call for you to step up your game.
In this post, we're going to share with you a few valuable tips on how to respond to that demand successfully. Just like how no two diamonds are alike, each type of jewelry should be photographed differently using different photography techniques. Here, you will learn how to photograph earrings without spending on unnecessarily expensive photography equipment. Click here if you need ring photography tips or here for necklace photography techniques.
How to Photograph Earrings in Five Simple Steps
1. Ensure you have all the equipment you need such as the following: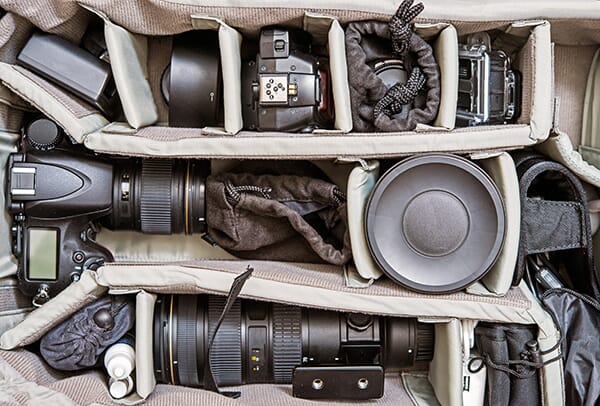 Your camera or smartphone and lens
Lighting source if you don't have access to natural lighting
A tripod
Light reflectors and diffuser, alternatively, you can use white fabrics, a roll of pure white paper, a foam core board, or a lightbox. You can DIY a lightbox or purchase a commercialized one but make sure that it's designed to meet your needs.
Earrings stand and other props depending on the type of earrings
Other backdrops if you're going for a more creative look
A table you can work on to level the lighting source and your product
2. Know and understand the functions of your camera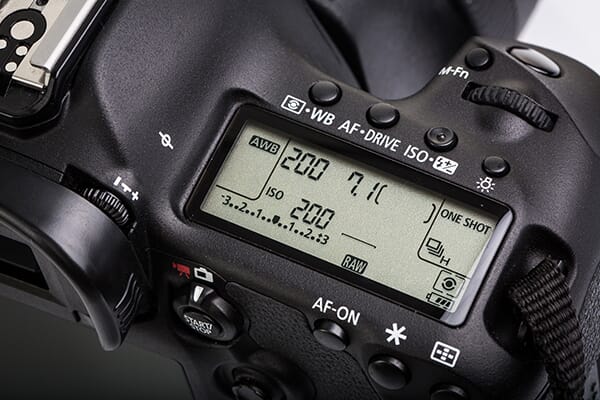 As we have established in the previous post, understanding the fundamentals of light is the key to mastering jewelry photography. These fundamentals include functions like aperture, shutter speed, and ISO. When you know how to make appropriate adjustments using these components, it would be easier for you to control reflections and eliminate common jewelry images flaws like harsh shadows, glare, and shaky and grainy outcomes.
Read here for a more detailed discussion of the components mentioned above including a few effective jewelry photography lighting techniques you can use for your next photoshoot. Remember to turn off the on-camera flash when photographing your earrings or other pieces of jewelry as direct lighting would be too bright for the product; thereby, resulting in glares. Additionally, always set your camera on manual settings; while it's tempting to leave it on auto-mode, it's not the friendliest route for DIY photographers who are aiming for studio-quality jewelry images. You're free to work with auto-focus on, but this is as far as you can get when it comes to the automatic setting. You must take control.
3. Know what looks good for the type of earrings you're photographing
Long/Dangling Pair of Earrings
A pair of dangling earrings, especially long dangling ones, is the most difficult type to photograph because it doesn't stand on its own. This means that if you have intricate earring designs, you have to think of creative ways to capture the back and front side of the pair without cheapening your product.
Common Don'ts: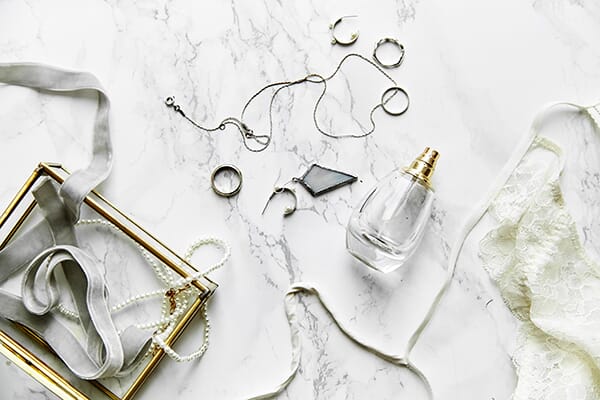 Don't group different pairs in one photo
Group photographs are a way to turn your online shoppers away. This isn't easy on the eyes and defeats the purpose of product images. When the jewelry image appears too cluttered, the shopper would have a hard time focusing on the details. Think of your product image as your salesperson that can answer the shoppers' questions. If the latter isn't satisfied, they won't linger. They'll just likely leave your shop and turn to your competitors. Keep in mind that you only have 7 to 8 seconds to draw them in. Don't push them away in a second.
Avoid using distracting props
Don't hang your dangling earrings on teacups or other similar unappealing props as it could easily distract your potential shoppers. We've seen a lot of earrings hanging on teacups. It appears to be a common sight on various online marketplaces. While this will do the job of letting the earrings stand, you're compromising the aesthetics area of your work. Whether it's plain or printed cups, the overall result is visually unattractive and doesn't attain the professional-quality you're aiming for.
Don't let it lay flat on the table or if you must, be sure to show the great composition
A flat arrangement, without consideration for composition, communicates a lack of style and creativity. Poor display of jewelry like this misrepresents the true quality of your product and the sophistication of your brand. Aside from this, flat composition makes it harder to get some tiny details in focus. It may often appear blurred if you're not cautious about your camera settings.
Do's/Fixes: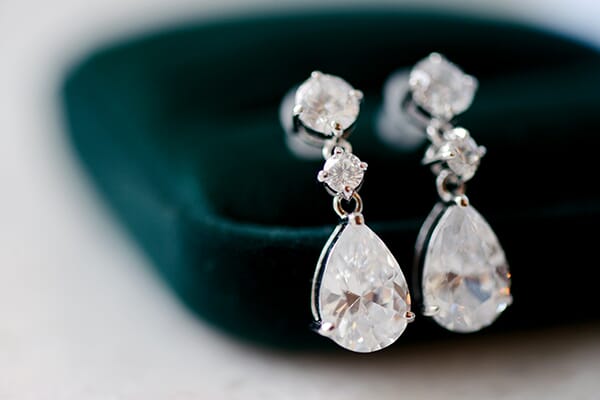 Use display boards that will allow you to suspend your earrings for photographs
These display boards may be reflective or non-reflective depending on the look you're going for. Amazon has an enormous collection of display boards for jewelry product photography like this one. Always consider the color when purchasing. Online marketplaces like Amazon, eBay, and other e-commerce platforms and retail websites prefer a white background for a more studio-finish quality.
Alternatively, you can DIY an earrings holder by using a roll of white paper, fishing string, a white acrylic thread or any clear thread you may have at home to suspend the piece, and just retouch and polish the background afterward.
If you're using a glossy display board, ensure that you clean the board before photographing to remove blemishes on the surface that may ruin the outcome. Lower your piece until it reaches the glossy platform if you want to capture good reflections but don't overdo it.
Always photograph each pair individually instead of grouping different pairs together.
It will keep your product in focus and will help the shoppers examine the details more closely and free from distractions.
Stud Earrings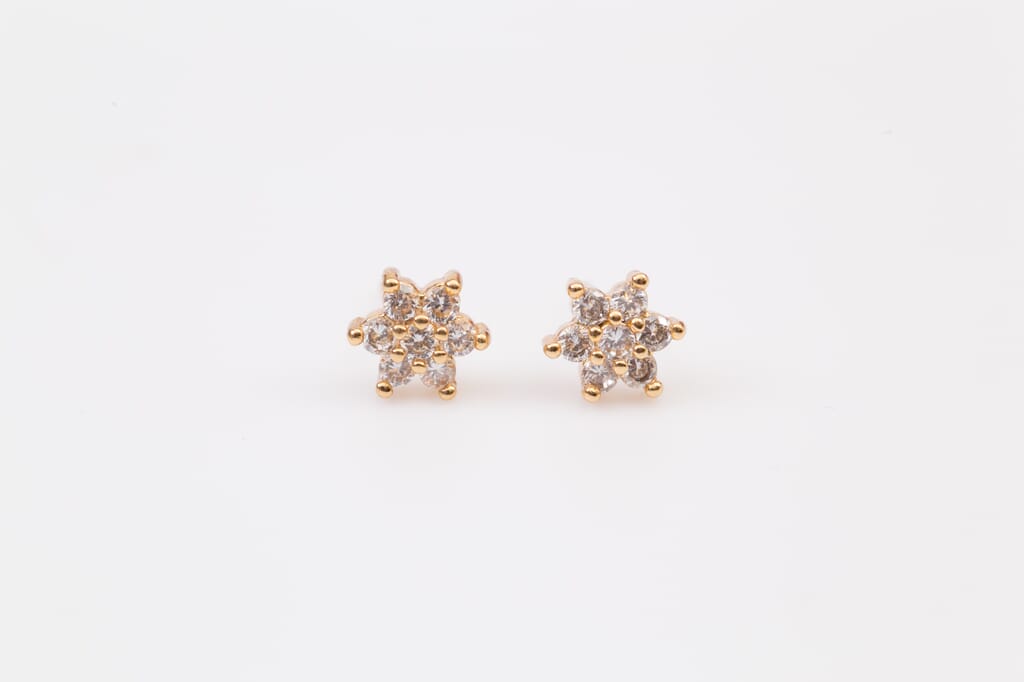 Unlike long and/or dangling earrings, stud earrings are pretty straightforward with a few considerations to avoid a dull finish.
Place the earrings on the platform
As mentioned, if you're going for a clean, white background, use display boards as linked above or a roll of a full frontal view and will provide you with the correct height to shoot.
Position the studs next to each other, but not too close to the point of covering the side details.
Create interesting compositions by capturing different angles
For instance, aside from capturing the frontal angle of the pair, you can also show side angles to highlight the back details of the earrings and the texture of the material. Does your pair have push backs, screw-on, clip-on, level or latch backs? Use your jewelry images to communicate details to your shoppers. It will eliminate the time you've to spend in answering customer questions.
4. Photograph to show scale
Showing the scale is critical in product photography as it gives your shoppers a size of reference. Showing scale is a technique often neglected by retailers, but it can improve the quality of your jewelry images by helping shoppers visualize how big or small the stones you've used. Don't keep them guessing. The inability to touch and try on the products is challenging enough for them, so exert effort to ensure that they enjoy their online shopping experience.
There are three ways to show scale. Use your good judgment and taste as each method has its downside.
Indicate size by photographing your earrings next to a coin
Other jewelers use pennies for size reference; however, coins may not be an ideal prop for scale if you're selling internationally since different countries have different currencies. Nevertheless, always clean your coins before photographing so it won't ruin the overall look of the image.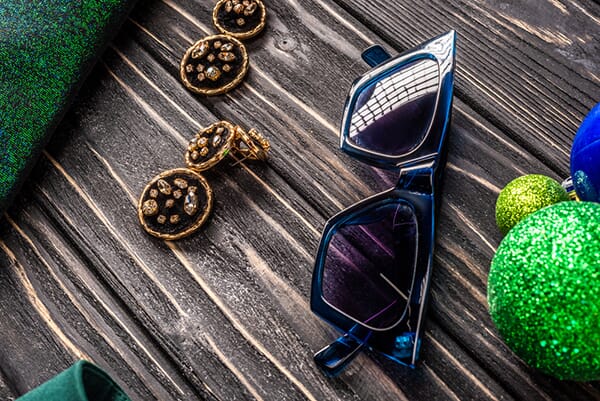 Other jewelers communicate size to their shoppers by using a mannequin
It seems to be an easy and modern solution as it eliminates distractions present in live models like makeup and hair. It's also preferred by others who are concerned that shoppers may be put off by live models for sanitary reasons. It may work if you'll mention in your product description that the model is wearing another pair exclusive for photoshoots. Live models may not work for one-of-a-kind handcrafted jewelry.
For a better visual presentation, a mannequin can show only one earring at a time.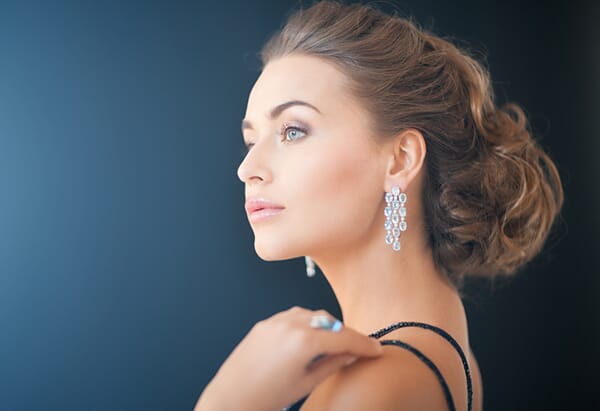 Don't forget the product information
Include the exact dimensions (length, width, depth, height, etc.) in your product description.
5. Retouch your photos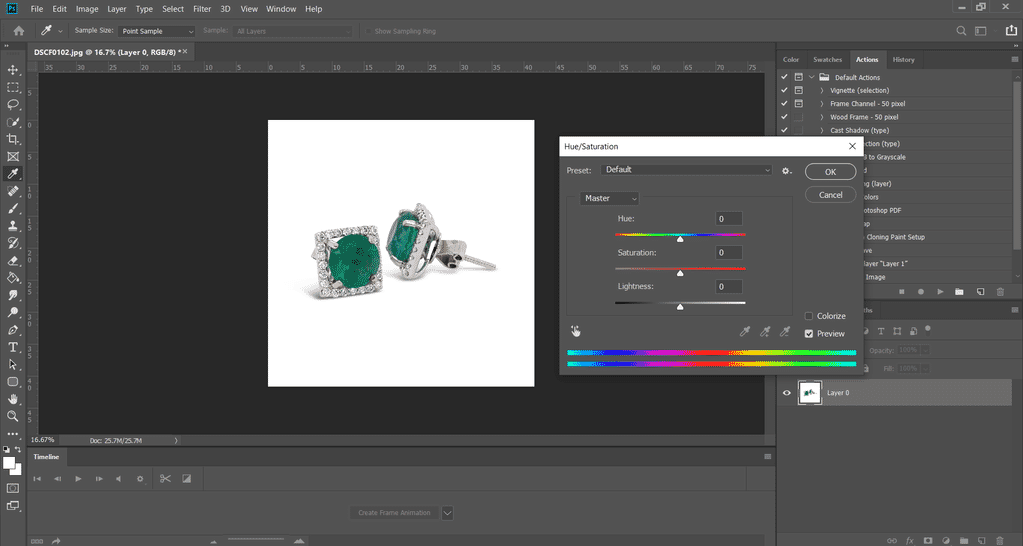 Retouching your photos is easy if you have advanced photo editing skills. You can simply eliminate blemishes and adjust colors, lighting, and contrasts through Photoshop. If this is a process you haven't done before, you can scour the internet for free photo retouching tutorials. You can also outsource this to expert photo retouchers online for a quicker finish at reasonable prices.
Product images are one of the predicted drivers of sales growth this 2018. Display earrings images and other pieces of jewelry with assured confidence that your shoppers can envision their styles with your product. Think of this, if your shoppers can retain 80% of what they see than what they heard or read, how do you want your brand to be remembered?
Watch how we photographed a pair of earrings using the GemLightbox and a smartphone.