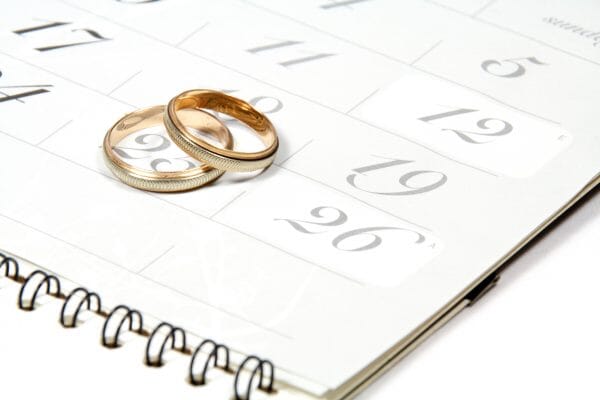 Last updated December 17, 2019
Key Dates Every Jeweler Needs to Know for 2019
According to the U.S. Census Monthly Retail Trade Survey 2016 survey, jewelers make 20% of their annual sales in December.
From a financial perspective, relying on a single month for the majority of your sales is very unhealthy. For a healthy business, you'd want steady cash flow throughout the year so you can manage your spending. Where you fail to pay your financial obligations, you may be subject to insolvency and litigation. This problem is compounded by the fact buying jewelry inventory can get quite expensive. On the flip side, when you sell jewelry, your markup can go up to 100%. So it's happy days if you can turn over your goods consistently!
Therefore to better manage your cash flow, there are many special events throughout the year that presents great sales opportunities for your jewelry business. Sales opportunities that are otherwise neglected or forgotten year after year.
That's why we've taken the time to compile the key dates jewelers need to know throughout next year. You'll feel more comfortable knowing that you can achieve more consistent sales. So grab a pen and marker and get ready to find out the key as we go through month-by-month for 2019!
Key Dates for 2019
January
1 – New Year's Day
15 – Martin Luther King Day (US)
February
5 – Spring Festival (China)
14 – Valentine's Day
18 – Presidents' Day (US)
March
24 – Cash Mob Day (AUS)
31 – Mother's Day (UK)
April
1 – April Fool's Day
5 – Qingming Festival (China)
15 – Tax Day (US)
16 – Patriots Day (US)
19 – Good Friday
21 – Easter Sunday
22 – Earth Day (US)
23 – St. George's Day (UK)
May
1 – Labour Day (UK, China)
5 – Cinco de Mayo (US)
6 – Early Bank Holiday (UK)
12 – Mother's Day (US, Canada & Aus)
27 – Spring Bank Holiday (UK)
28 – Memorial Day (US)
28 – Spring Bank Holiday (UK)
June
10 – Queen's birthday
17 – Father's Day (US & UK)
19 – Winter Sale (AUS)
July
1-31 – Independent Retailer Month (UK)
1-31 – Wimbledon (UK)
4 – Independence Day (US)
August
7 – Qixi Festival (China)
26 – August Bank Holiday (UK)
September
2 – Labor Day (US)
13 – Mid Autumn Festival (China)
October
2-7 – Golden Week (China)
14 – Thanksgiving (Canada)
14 – Columbus Day (US)
31 – Halloween
November
5 – Bonfire Night (UK)
11 – Single's Day (China)
28 – Thanksgiving (US)
29 – Black Friday
30 – Small Business Saturday (US)
December
7 – Small Business Saturday (UK)
2 – Cyber Monday
7 – Green Monday
12 – Double 12 Festival (China)
14 – Free Shipping Day (US)
14 – Free Shipping Day (AUS)
21 – Super Saturday
25 – Christmas Day
26 – Boxing Day (AUS, UK)
31 – New Year's Eve
Building Long-Term Success
While there are many ways to improve your cash flow, long-term strategies are more viable for building your business' survival and success. An example of a long term strategy is building your personal brand and customer relationships. With fierce competition for both online and offline stores, it's important that your jewelry business stands out and stays on top of your audience's mind throughout the year. This ensures that when your customer is ready to make a jewelry purchase for any particular event as listed above, they'll visit your website or store first.
Understanding Your Customer
So how do we get into the back of our audiences' minds?
Firstly, you want to be where your customers hang around the most. With a bit of research, you can understand your customers' behaviors and create strategies around them.
Just take a look at these social media statistics for the social media behemoths Facebook and Instagram: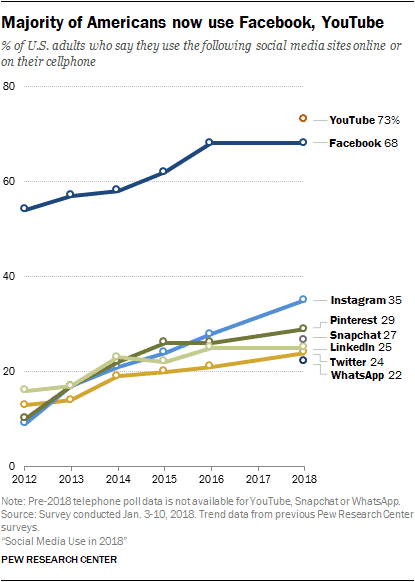 With a whopping 68% and 32% of all Americans using Facebook and Instagram respectively, your jewelry business should really have a presence on these two social media platforms.
If you've set up a business page on Facebook or Instagram, you can use their native insights function to obtain key metrics such as engagement per number of followers, engagement per post and the time your followers are most active. Optimize your posts using trial and error – it will take a while to see what works best with your audience but with the results that you will achieve, it will be worth it!
Staying on Top of Your Audience's' Mind
Now that we understand where most of our customers are and their behavior, the next step is to stay on top of their mind. It's honestly no big secret – to stay on top of your customer's mind we simply need to post high-quality and engaging content consistently onto your social media channels that you have identified in the previous part.
Consistency and repetition can boost your branding but more importantly, it can increase your revenue by 23% as your identity gets instilled in your customers' mind; thereby, attracting repeat purchases.
Combined with high-quality images and videos of your jewelry, it's a surefire way to attract the attention of your audience
Just check out Elverd Designs Instagram page below. As you can see, the layout on the page is consistent with recurring high-quality images of themed, product and lifestyle shots. The layout is mesmerizing and users are more likely to associate the different colors with the jewelry designs.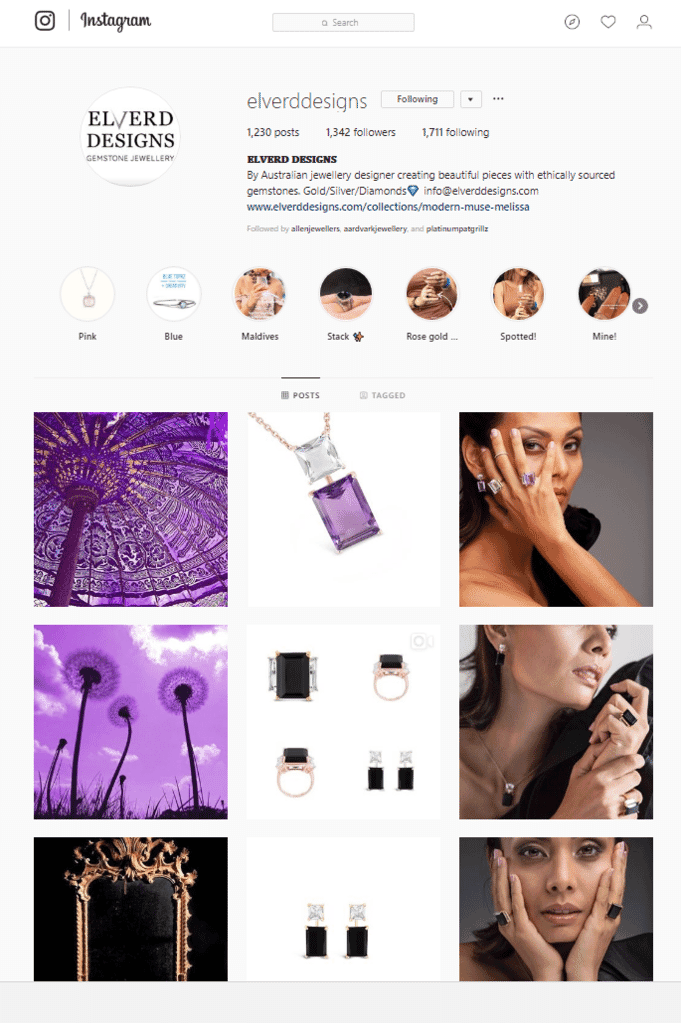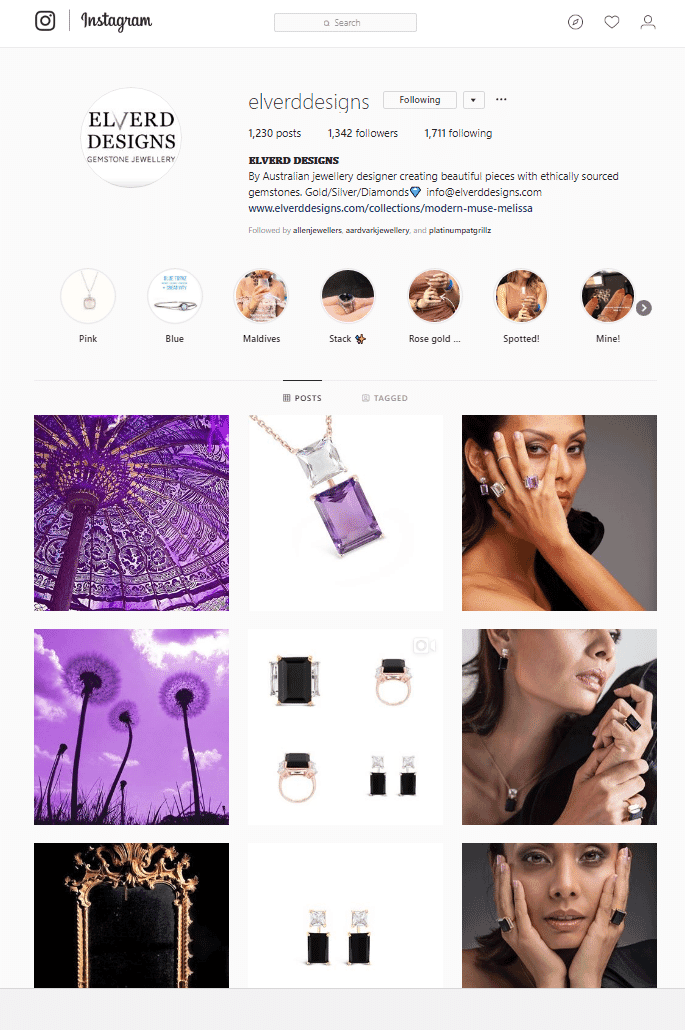 Building Your Presence Before the Key Dates
Now let's combine everything from the previous parts in this post together. You want to be promoting your products well before the key dates. Your calendar should now have reminders set up appropriately for each key event. For example, we'd want to start posting for internationally celebrated events such as Valentine's and Christmas one month in advance. For smaller but noteworthy dates such as Black Friday sales, we can start promoting 1-2 weeks ahead of time. Post 1-3 times daily and you're guaranteed to see growth in your brand and sales consistently throughout the year.
About Us
Picup Media is a leading partner in the jewelry industry, working with over 5,000 jewelers to create pixel-perfect images that will make your customers click "Add to Cart". To start your free trial, simply click here.